The Aluth Pola, a Justice for Animals fundraiser is being organised for the fifth time and will take place on Sunday, March 26th from 10:00am – 6.00pm at Body Bar, No. 3 Jawatte Avenue, Colombo 05.
The March 2023 Aluth Pola features over 25 home businesses that practice sustainability, local manufacturing and sourcing, and most of which are run by women. Vendors will be selling many unique and exciting products: plants, food, baked goods, batik, upcycled clothing, pre-loved books, jewellery, art, and more.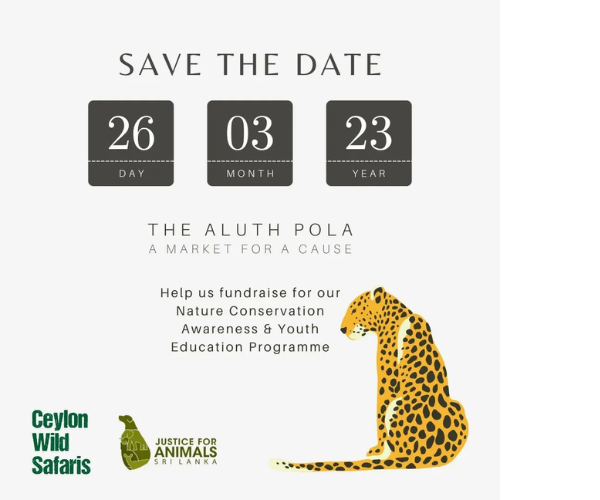 While they usually organise the market to fundraise for our beloved homeless cats and dogs they wanted to do something to combat the loss of Sri Lanka's biodiversity. Therefore they are raising funds for a 2-day educational nature conservation programme for unprivileged children in partnership with Ceylon Wild Safaris, a sustainable safari operation in Yala.
This is a collaborative project that intends to nurture fascination and give them basic knowledge about our beautiful local wildlife, conservation and sustainability.
Additionally, they have invited other conservation groups such as SCAR (Small Cats Advocacy and Research), Pearl Protectors and the BIO Diversity Project to join the market this year to raise collective community awareness about ongoing projects and animal welfare and conservation.
Justice for Animals' core programme is population control [and Rabies eradication] via spay-neuter-vaccinate-treat programmes.