Today on the Buzz I speak to a young man who lives in San Francisco. He has been doing his best to do something for Sri Lanka. His project Serendisco will be a fresh breeze that helps Sri Lanka to be seen in a new light by people from other parts of the world. We spoke to Dilain about Serendisco.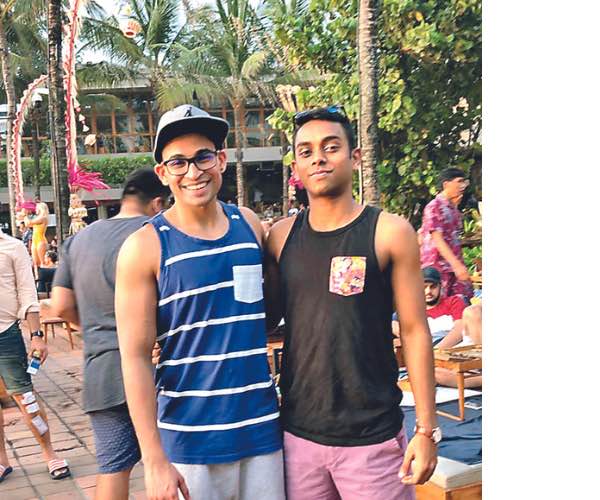 Why would you say this will be Sri Lanka's Premier Annual Music Festival?
Our priority will always be hosting the highest quality music festival – this means always getting the best international artists to the island, partnering with the best brands in our country and paying close attention to small details like festival ambience and experiences. To top this off, we'll always align ourselves with the best talent Sri Lanka has because we want to spotlight the deep local talent pool of our island. With increased representation through art and music, we want this festival to inspire the youth of Sri Lanka to pursue their passions in the creative arts by providing them with a platform to reach all corners of the world. The name Serendisco is inspired by Sri Lanka's old name 'Serendib' which is also the word that 'Serendipity' was derived from. We picked this name because we will ensure Serendisco is renowned globally for being the premier music festival of Sri Lanka and our identity is directly tied to our island.

Tell me about Klingande Offaiah.
Klingande is a pioneer in Tropical House Music and was one of the first producers to blend live musical instruments with electronic music. He's played at the biggest music festivals like Tomorrowland and Ultra, so we are very excited to host him in our island paradise, where tropical house music fits in perfectly. Offaiah, a British native currently residing in Florida, is an upcoming artist from the globally renowned Defected Records label. He plays more upbeat disco house music and often blends classic 90s hit songs into his sets. He is guaranteed to give people a great time on the dance floor and we believe he's going to be a hit at the first edition of Serendisco Music Festival.

You say one of the key features of this event is "fostering tourism", do you feel the world is ready to travel to SL to experience an event like this?
I think it's a matter of us, Sri Lankans, going out there and showing the world what we are truly capable of, rather than waiting for the world to be ready. If you look at Bali, they have figured out how to position and market themselves to the world, but natural beauty-wise, Bali has no edge on Sri Lanka – if anything we have so much more to offer – from nature to culture to wildlife. Sri Lanka is a tropical paradise that is positioned so well to reap the benefits of events like this. If we bring the best international artists and curate the most exceptional ambience, I believe there will be tons of young adults around the world eagerly waiting to make a trip to Sri Lanka for Serendisco. We need to realize what a huge benefit it is that Sri Lanka remains nice and warm throughout the winter months; folks from Europe will be itching to make a trip to see their favourite artists play in a warm beachside location while their countries see the sunset at 3 pm. My goal is to create a new reason for tourists to visit our island, and once they are here, they will extend their stay to see everything else this beautiful country has to offer.

More details on the headliner Klingande?
Klingande is renowned for crafting unconventional and mesmerizing soundscapes, frequently incorporating instruments rarely found in traditional electronic music. I remember when his track 'Jubel' went viral back in 2015 and it's probably one of the most popular songs amongst young adults in Sri Lanka. 'Jubel' has amassed over 600 million streams on all platforms worldwide and is considered a tropical house anthem by most. He'll be visiting us from France together with his Saxophonist and the two of them will play alongside each other at the Music Festival at Galle Face Hotel. I feel Sri Lankans have a special appreciation for it. Saxophonists and are excited for them to put on a stunning show at our Inaugural event.

Tell me about your background, and what inspired you to do this.
Since I was around 16, I've been organizing events with this same group of people. Back then it used to be primarily for our school friends, and we didn't sell tickets as profits were never our incentive, we did it to bring people together so that the ones we love can cherish these moments together. From there, the group split across the world to pursue higher education. I went on to UC Berkeley in California to pursue a degree in Data Science and Economics. Today, I work as a Product Manager in San Francisco, and the rest of the team are professionals in a variety of disciplines from medicine to finance to technology. We are a close-knit friend group and I've continuously expressed my unwavering desire to do something to help Sri Lanka. We decided we finally can provide something beautiful for our people and the love for our country led us to say this year, no matter what, we will go out there and host our first event.

How has it been putting it together from the US?
Extremely challenging. I have a newfound respect for the folks who work across such drastic time zones. It has been countless nights of no sleep and I'm probably averaging about 3 hours of sleep over the last month. Working in a country that has a 12-hour time difference from Sri Lanka adds a heavy layer of complexity to the whole process. But this has been an extremely rewarding journey. It's great to be stuck here in the US, and still be able to have an impact on Sri Lanka. My love for our island is beyond my imagination and I will do whatever it takes to take Sri Lanka to the next stage of holistic development. Regardless of the challenges, I wouldn't want to have it any other way and am very grateful for my team and support system that has given us the courage to make this happen.

What would you say the youth in Sri Lanka are missing out on?
This is a tough question because, for everything the youth in Sri Lanka are missing out on, there is so much they can do and achieve in the country if they want to. I think there is a lack of genuinely fun, exciting, large-scale festival experiences in the country. We've observed festivals across the US, UK, and Australia and identified that a music festival is so much more than just music. It needs to have fun games, cool decorations, interactive experiences, and good food and drinks. It's this holistic experience that allows people to enjoy the moment and have a great time at events like this – which are meant to be sources of joy and excitement. We want to bring this to Sri Lanka, and we have committed to never compromising the quality of our event. That's why we secured the iconic Galle Face Hotel for our first event –where else to host the best event if not for the stunning oceanfront venue in the heart of Colombo? We don't want to host just another live music event in Sri Lanka, we want to have a carnival and festival come together to highlight Sri Lanka as a destination that is full of joy and remind everyone that we are known for our smile. Let's put that smile back on our country's face.

What's next for you, and your company- what would be the next show?
Next for me is to find more ways on how I can have a bigger positive impact on my country. I'm eager to put Sri Lanka on the map for luxury tourism and believe the natural beauty of our country does most of the hard work for us, already. It's just a matter of building the right narrative and backing it up with hard work. Our company, Coconut Coast, is committed to this mission as well. We will use our platform as a vessel to spotlight Sri Lanka on the global stage of music festivals. Our next show will host a much bigger international artist, someone who is considered a legend in the industry. We have a shortlist that we are working with today, all of whom have been carefully picked to suit Sri Lanka's vibe. We will extensively market our first event in Australasia and Europe such that travellers around the world are made aware of how exceptional and fun Serendisco is.


Who has inspired you to take this journey?

There have been many individuals that have inspired me along the way to different degrees but a few names that come to mind are my parents, the late great Kobe Bryant, my late friend RJ Pimentel, and the legend Fred Again. I've realized life is truly short and we just have to go out there and do what we want, what makes us happy. However, it takes a lot of hard work. No one talks about the sacrifices as much as they talk about the outcomes, but I've been lucky to have people in my life who have shown me the importance of hard work, discipline, and perseverance. I was fortunate to have met Ranil Fernando, a founder of Sunset Music Festival during my time in California and he had a profound impact on my ability to get this off the ground this year as well. Ultimately, the end goal of my team remains to bring the legendary Fred Again to Sri Lanka within the next 5 years and mark my words, we will find a way.

Tell me about the tickets.
We've spent countless hours deliberating within the team to figure out the best value for money for our esteemed festival goers. We felt it was vital to get the best local and international talent on our lineup while also hosting the festival at the best venue possible. But this wasn't enough for us as we understand this is not just about music. That pushed us to go partner with exciting local brands that provide fun and exciting games and experiences. Attendees can buy tickets at serendisco.appigo.co and we have 3 separate tiers based on when tickets are purchased. We have a very limited supply of 1,000 tickets so I encourage all to buy your tickets soon, before they run out. We believe nowhere around the world would one be able to see these international artists at the price we are offering, especially at a historic hotel that is both beachside and in the heart of the city.