Today on the Buzz I speak to Dr. Lanka Jayasuriya - Dissanayake, the Chairperson - Indira Cancer Trust. This Trust came to life from a true, painful story. It is now a place of hope to many who are battling Cancer. The month of October is dedicated to create awareness on this matter and break the stigma which is attached to it. As someone who lost mummy to cancer, I can understand how unfair this disease is. Today I want to dedicate this column to every brave person who is fighting the battle against cancer, remember you are strong and you can fight this.
To the lovely gentleman who are reading this please encourage your mothers, sisters, wife, friends to go and check and seek the help. Be very supportive and very persistent in making this happen. Let's all speak about it; let's all create awareness about it not only in October but all year long. Hi TV too has brought awareness on this project.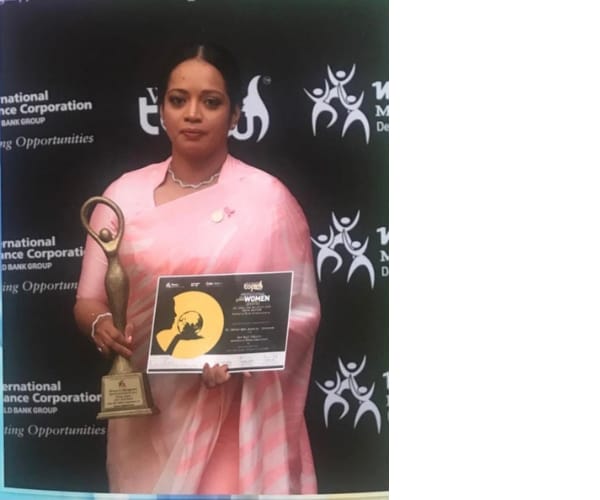 q

What is the Story Behind Indira Cancer Trust?
Indira Cancer Trust was set up after the passing away of Indira Jayasuriya, a 40-year-old mother of two young children. She was diagnosed with breast cancer in 2008 and had successful treatment with surgery and chemotherapy. She had her first child in 2011 Thilini and during her second pregnancy was again found to have a recurrence of breast cancer which had spread. She refused treatment at that time due to her pregnancy and delivered a healthy baby boy, Dilan. She spent a year with her son and took treatment as well and then in November she fell ill again. Her family was with her for a week in her unconscious state holding her hand and witnessed a very peaceful and comfortable death. She was pain free and the medical staff ensured she was comfortable. This prompted her father Former Speaker Mr Karu Jayasuriya to set up an organisation with the sole aim of supporting families. Indira passed away on 2 November 2016. Her funeral took place on 10 November 2016 and an organisation to support cancer patients and their families was set up on 27 November 2016.
q

What made you start the TLC campaign?
Breast Cancer is the highest female cancer and is the most common cancer among women globally and locally. There are 12 persons diagnosed with Breast Cancer daily in Sri Lanka whilst every day 2 people die of breast cancer. The sad part is that breast cancer is curable and yet we see so many people who die from breast cancer . This is the exact reason why we started TLC. Without confining it to October this is an easy action to take by each and every woman above 20 years of age and costs nothing and only 5 minutes of your time every month. This campaign was started by Breast Cancer UK after a lot of research and to date has been carried out in many countries. Scientific research has shown that the TLC campaign has been effective in initiating behavioural change of the general public to start examining themselves.
q

Do you feel Sri Lanka is fully aware of breast cancer and its prevention?
Prevention for cancer is the same for all non-communicable diseases and there are ample advocacy campaigns that are available for prevention activities targeting healthy lifestyles with clear messages on Healthy Diets, Physical Activity, Tobacco and Alcohol avoidance. So, prevention messages are known and Sri Lanka is aware. However, it is the early detection messages that needs to be promoted and especially for breast cancer and when considering this message Sri Lanka is not fully aware.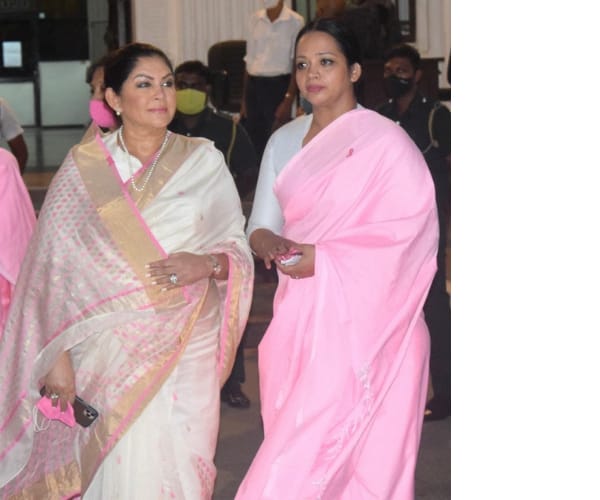 q

Why is there a stigma in talking about it in public?
CANCER – This is a taboo word and one that instills so much of fear and apprehension for anyone who utters the word – Why is this? Because cancer is associated with death, so much of suffering, hair loss and being shunned away from society. With advancement in treatment and early detection Cancer is curable. Unfortunately losing a breast through surgery and hair loss has many implications that a woman has to face from society. This is the exact reason that there is stigma talking about it in public.
q

What's the thinking behind wearing pink on Wednesdays?
The pink ribbon and also the pink colour are associated with breast cancer and normally the month of October is considered the Pink Month. Mr. Roshan Mahanama initiated Pink Wednesday as he got to know about the international campaign. We wear pink on Wednesdays. He started as he has a mother, wife and also 3 daughters and now a granddaughter and feels that he has to be responsible and ensure that the ladies in his life are looked after and he needed to do his part. Wearing pink on a Wednesday is a reminder of breast cancer and especially the message to all women above 20 years to examine themselves.
q

What's the current situation in Sri Lanka regarding breast cancer?
As explained earlier as well, every year there are about 7000 females who die of cancer. Of this about 20% have breast cancer. A large number of women with breast cancer in Sri Lanka are diagnosed at a fairly young age when her family responsibilities within the family is high.
q

Where do you think we should start in providing more information about it? is it on a school level?
The message is very simple and very clear. All women above the age of 20 years MUST do a monthly self-breast examination seven days after the start of their menstruation and all other women MUST fix a day. This message MUST be carried at all levels and not confined to schools. The most cost-effective source for messaging is social media and electronic media and this must be used to target both men and women above 20 years to promote the message of TLC.
q

How was the partnership in working with Roshan Mahanama?
Mr Roshan Mahanama initiated the Pink Wednesday concept and he has been silently conveying this message for many years. In 2020 during the October 2020 breast cancer month activities, we at Indira Cancer Trust contacted Mr Mahanama and initiated a campaign for Pink Wednesday which was launched on the first Wednesday of 2021 – 6th January. We carried the message on social media and practiced the pink Wednesday by ICT team who wore pink and also posting specific messages on social media. We try to connect with different organisations and encourage them to practice the Pink Wednesday by wearing pink and a pink ribbon and to remind others of self-breast examinations.
q

What are the ongoing projects at the Indira cancer trust?
Indira Cancer Trust was started in 2016 and to date we do over 20 projects that support patients with cancer and their families. This includes Sri Lanka's first helpline for cancer, livelihood support, children's scholarship scheme, help with medications, investigations, equipment, provision of dry rations, programmes that support children with cancer and much more. There are also several landmark projects that are being done as world's first and also Sri Lanka's first. The biggest project yet for Indira Cancer Trust is "Suwa Arana" Sri Lanka's first Paediatric Palliative Care Centre that is being built near the Apeksha Hospital Maharagama and we hope to open the doors to children in February 2023. We also provide natural customised hair wigs to patients with cancer who undergo chemotherapy – we have given over 1600 wigs and we are very thankful to the support of Mrs Ramani Fernando. We have stopped taking hair now but hope to re-start next year. We have also now upgraded from hand wafted wigs to machine wafted wigs through the programme Sonduru Diriyawanthi which is a collaborative effort of Kumarika and Lions Clubs of Galkissa and Bentota.
We have a very committed team that includes 3 staff members, 10 volunteer coordinators and a pool of over 600 volunteers. This is the strength of the organisation.
q

How can one contribute and be a part of this project?
The best way to support a patient is by giving your time that is by volunteering. We have many programmes to support and due to COVID we also have virtual volunteering. In addition, you can also support the programmes we do. We also would like to invite you to support the landmark project Suwa Arana where you can even sponsor a room in the name of your loved one who may have battled cancer. You can also contribute by purchasing ELLE the mascot for Suwa Arana for your loved one where the proceeds go for Suwa Arana Building fund.
q

As October is a month for breast cancer awareness what have you planned for this year and what are the upcoming plans you would like support in?
Although October is Breast Cancer Awareness Month – Indira Cancer Trust continues programmes for breast cancer awareness throughout the year and observes Pink Wednesday. We urge organisations and individuals not to confine breast cancer awareness to October only and to observe Pink Wednesday to remind yourself and your loved ones to do a self-breast examination every month. This appeal goes out to all women above the age of 20 years and also to all the males to remind the ladies in their life to do the same.