Today I'm happy to speak to a Sri Lankan-born Canadian who carries Sri Lanka loud and proud in her heart. Talia is a confident, resilient, and ambitious woman who seeks to break boundaries within the beauty industry and advocate for gender and racial equality for all. She has been chosen as a National Finalist for Miss Universe Canada 2022 and will be competing on May 14th, 2022 in Toronto ON, Canada.
She has had the honour of being partnered with not 1, but 2 charity organisations for her humanitarian work in conjuncture with Miss Universe Canada. She was initially partnered with SOS- Children's Village Ukraine to aid in raising awareness and funds for the children of Ukraine who have endured extreme adversity due to the ongoing Russian Invasion. However, due to the economic crisis in Sri Lanka, Talia was conflicted as to her moral obligation to aid Sri Lanka and help the people of her birth country not discounting the magnitude and the hardships the people of Ukraine face but also recognising the lack of international support and media coverage offered to Sri Lanka. Therefore she reached out to the Miss Universe Canada Organisation and asked them if it would be possible to be partnered with both SOS Children's Village Sri Lanka and Ukraine and raise funds for both charities by distributing her funds equally between the two organisations.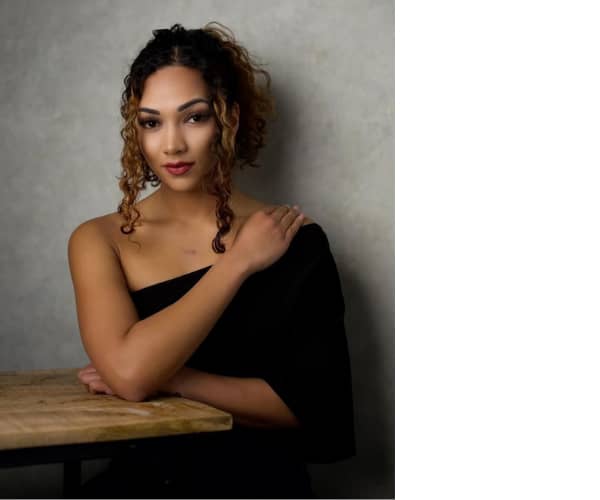 She completed her Bachelor's degree in International Relations from the University of Calgary in November 2020. She is currently living in London, UK working and pursuing her Master's Degree in International Law at the School of Oriental and African Studies- University of London. Today, I sit to speak to her about her journey and what she hopes to do. Please do continue supporting her and keep those votes going.
What made you enter a pageant? My decision to participate in Miss Universe Canada came after experiencing extreme hardships and adversity. In 2020 I was involved in a major car accident that really changed my perception of life. I learned how blessed we all are to be here and that in the blink of an eye everything could change. Therefore, after that day I made up my mind to seize any opportunity that came my way and pursue all my dreams and goals. I also wanted to enter this pageant to use the platform to advocate for gender and racial equality globally and be a voice for minority communities.
What does miss universe Canada look out for in a person? Miss Universe Canada looks for someone who can represent Canadian culture, values, and customs on a global platform. Someone who embodies the very essence of being Canadian; someone who is kind-hearted, friendly, empathetic, and sincere. They emphasise the ladies being truly authentic to themselves and being confident in their own skin. One thing that really stuck to me is when the National Director sat down with the girls and told us 'If you are in this for money or fame, you are in here for the wrong reasons, we want someone who can represent the country and use this platform to advocate for change and social justice.'
You are working with the SOS children's Village and have also found a way to get back to the Sri Lankan children. How does this work and how can one contribute? I was initially partnered with SOS Children's Villages in Ukraine, however following the developments in Sri Lanka I was conflicted as I believed that I could be doing more to help my birth country in difficult times such as these, not discounting the significant impact the Russian invasion has had on Ukraine and its people. I, therefore, reached out to the Miss Universe Canada organisation and asked them to consider letting me partner with both charities so that I could do my part and use this platform to advocate for not one but two important causes. I am extremely grateful to the organisation for creating an exception and allowing me to partner with both SOS Children's Village Sri Lanka and SOS Children's Village Ukraine. As a result, I managed to host 4 fundraisers in 3 different countries. I hosted a puppy yoga class in London UK, Rumble for a Cause, and Honey Bar Charity Gala in Calgary AB, and I currently have an event in conjuncture with Matsuge LK Colombo, Sri Lanka, beauty for a cause charity raffle.
Tickets are currently being sold to enter a raffle draw where 4 lucky winners will be picked for permanent makeup services. Additionally, Matsuge will be matching 50% of the total proceeds to allocate dry rations to needy families enduring hard and difficult times. I also have a Go Fund Me page currently running where all proceeds collected will be evenly distributed between SOS Children's Village Sri Lanka and Ukraine.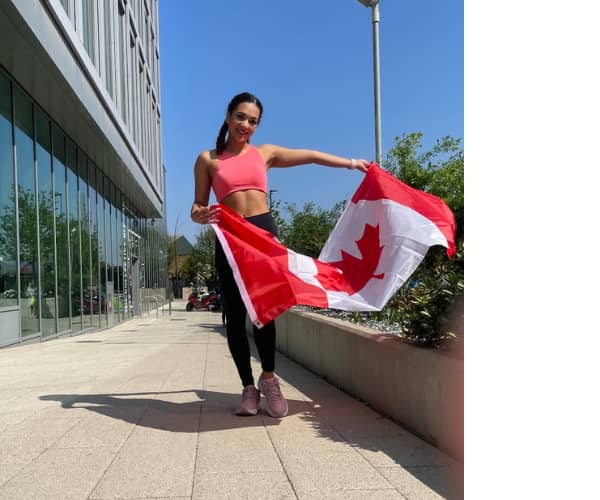 I know there's a voting line for you. if you can give us more details on how the voting system works, and where would this place you, if you have a good amount of votes? There is currently an ongoing People Choice Vote, where the person with the most votes will automatically enter the top 20 of Miss Universe Canada and with an opportunity to represent Canada in another international competition.
Voting can be done by clicking on the link; where everyone gets one free vote and additional votes can be purchased for a price. I would really like to ask you all to take a second out of your day to vote for me and share the link with friends and family.
It's a tough time for Sri Lanka. if you are asked to use the Miss universe platform to convey a message about Sri Lanka what would you say that will have the international community help us? I would use the Miss Universe platform to educate people on the unity, courage, and determination of the Sri Lankan people. Sri Lanka has come together to unite and fight for a better future for themselves, and for future generations. It takes a lot for an entire country to band together and speaks up against an administration of oppressors. I would encourage the international community to do their part and aid Sri Lanka navigate these troublesome times by supporting the cause and bringing awareness to pressing issues such as medical, electricity, and gas shortages, and high inflation rates and use the platform to bring more accurate information to people globally.
Tell me about what inspires you in life and how would you describe yourself? I would describe myself as someone who never gives up on what they believe in, someone who is resilient, tenacious, empathetic, and hard-working. I am a firm believer that in order to be the best version of yourself you have to fully embrace who you are as a person by first starting with your flaws and shortcomings. It is only by doing this that we remain true to ourselves, and help others believe in themselves. Therefore, my inspiration in life has been to always follow my heart and be true to who I am as a person.
What is your definition of an empowered woman? My definition of an empowered woman is someone who is resilient, tenacious, strong ambitious, and believes in themselves. Someone who is empowered will always fight for what they believe in and stay true to themselves. Empowered women help and support each other, they don't tear each other down but are there rooting and cheering them on constantly. I strongly believe that the most empowering thing anyone can do is to never give up on themselves and fight for what they believe and what is in their hearts.
How important would you say looking beautiful is, and for those who have lost their self-confidence what would you tell them when you describe beautiful? For me, beauty is something that comes from within. I don't believe that beauty is surface level, beauty emanates from our heart, character, and personality. In order to be beautiful, you have to truly love yourself first and be confident in the person that you are and the value you bring to the people around you.
Sri Lankan beauty queen who has inspired you all you have looked up to? A Sri Lankan beauty queen that has really inspired me is Mrs. Rosy Senanayake. In my personal opinion, she has used her platform of winning Mrs. World to advocate for important causes domestically and used her platform to bring awareness to Sri Lanka, and represent a beautiful island on such a global scale.
If you win the Miss Universe Canada title what is a course that you continue fighting for? I would use the Miss Universe Canada Platform to advocate for gender and racial justice globally and to be a voice for minority communities everywhere. I want to encourage young girls everywhere to pursue their dreams and not let fear or others' opinions dictate the terms of their lives. You are worthy, you are enough, and you are here for a reason don't dim your light to make anyone else shine.