Full Name - Dhayanie Williams (Dee)
Hometown - Melbourne, Australia
Status - Married
Birthday - 17th May
Passions - Cooking, Travelling, and Gardening
Favourite Colours - Orange, Dark Blue and Turquoise green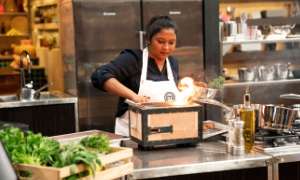 Tell me when did it all start, the love for cooking?
When I was around 10 or 12 years old, I started learning to cook from my mum and grandma. It was my mum who encouraged me to cook and read cookbooks, and she is an extremely passionate cook herself. As I was in boarding school, I rarely had the opportunity to cook and experiment. Then when I moved to Melbourne, Australia in 2007 it opened a whole new world of cuisines. Arriving in Australia I was inspired by the variety of cuisines and cooking cultures on offer and I found my strengths in the kitchen as Asian and Sri Lankan, and a confident
an all-rounder in Indian, Malaysian, Thai, and Singaporean flavours.
There are so many levels we don't see on TV when it comes to Master chef, tell me about the process? And how was the experience?
I firstly applied online and answered several questions. Additionally, you need to upload some photos of your previous cooked dishes and a video cooking a dish. After submitting the relevant information, you will be invited to a facility with others in your state to compete in a Mystery Box Challenge. If the Production Team are happy with your dish, you will be asked to come the next day to make whatever dish you want to, that day I made Watalappan. If the Production Team is happy with that dish, you will be required to complete various written tests. Afterward, you will go into a selection pool with other contestants around Australia.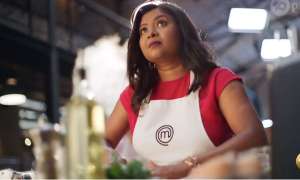 The MasterChef journey is great, it can also be very stressful when you have to cook something in a given timeframe and when you are away from your family and friends. However, I wouldn't swap this experience for anything. It was also great to learn so many different cooking techniques and recipes from fellow contestants, judges as well as guest chefs.
How was it to serve something Sri Lankan to the judges, and what were the comments off-camera?
It was an honour to serve Sri Lankan food as I have been making Sri Lankan food for so many years. I was very confident that I can make a Sri Lankan dish that would be tasty for the judges, as I didn't make it too spicy. I know that Matt Preston and Gary Megan love spicy food, especially curries and Southeast Asian flavours, so I was confident that I can make something for the judges. However, I was a bit worried about George Calombaris, as he is known to have some issues with spices, especially with chillies. I received a lot of positive comments for the Sri Lankan dishes that I created not only from the judges but also from the production staff.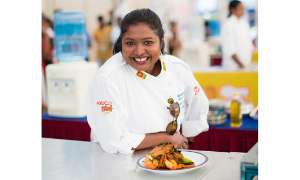 Tell me about your days in school?
I attended boarding school in Kandy for 12 years (Mowbray College Kandy). I remember after every holiday it was very difficult to go back to boarding school and I use to start crying for a week in advance and try to convince my parents to see whether they will allow me to stay for another week. I was very adventurous and independent in school, whilst at school, I participated in a lot of drama and poetry competitions (in all three languages).
Living in a boarding school there were strict regulations, we did not have many outings, the only time we could go out was to church every Sunday. But it was an amazing time growing up in a boarding school, I had lots of friends and I also learned to be very independent from a small age.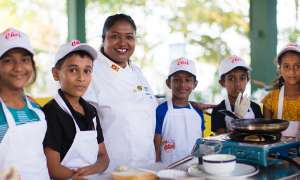 What has been the biggest challenge in this industry?
The biggest challenge for the culinary/hospitality/tourism industry is that it needs to be changing constantly to keep up with the competition and the demand. I find you need to come up with new ways to satisfy customer needs. For example, from a restaurant's point of view, the menu needs to change often (something like Summer menu/Spring menu etc). Additionally, the restaurant needs to look at what is in season that can be used for cooking.
At the moment the world has been experiencing the COVID 19, and many of the restaurants are
not designed for take away options, during this pandemic some restaurants have had to introduce
a takeaway option.
Who is your biggest critique and support when it comes to food?
My husband Michael is the biggest critique when it comes to the food I make at home, he rates whatever I cook out of 10, if the score he gives me is low I get angry with him! However, because of his constant feedback and support I think I have improved a lot in the last couple of years.
What do you personally like to cook?
I love to cook anything and everything, but personally, dessert is the most rewarding. When making a dessert you need to have lots of patience and it is more challenging than making a savoury dish. For example, being able to temper chocolate is a lot harder than making a Sri Lankan dish.
How is life in Australia and how much is Sri Lankan food loved there?
I really enjoy my life here in Australia, however, during the initial stages when I was new to Australia it was tough being away from my family and friends. One of the greatest aspects of living in Australia is that you are exposed to so many varieties of cuisines. In Melbourne, as it is very multi-cultural and diverse, there are so many different ingredients on offer to experiment and learn. I think a lot of Australians really like Sri Lankan food, nowadays Sri Lankan food is a lot more exposed in Australia, due to the number of Sri Lankan restaurants all around Australia.
Who are you inspired by?
My Mum is the biggest influence in my culinary world because she was the person who initially taught me how to cook. When I was younger, I loved to watch her cook and see how passionate she is about cooking.
How has the journey been so far? And what's next?
I have launched my catering arm of the business where I am able to cater for private functions, birthday parties, etc The media arm of the business creates cooking and product review videos. Through videos, I can collaborate with various brands and cook meals with their products. I was recently part of Supreme Chef Season 2 as a Judge and a mentor for the contestants, which will be telecast on Sirasa TV & Shakthi TV on Sunday 14th. I am planning to launch a range of spice mixes. Also, my culinary and travel adventure of Sri Lanka videos will be launched later in the year. I would also love to do more work to promote Sri Lankan tourism around the world. I was lucky to get the opportunity to collaborate with Jetwing Hotels and show people around the world some of the lovely places that I visited throughout Sri Lanka quite recently.