Full Name - Apinash Sivagumaaran
Hometown- Colombo, Sri Lanka
Status - Engaged
Birthday - 15 May 1989
Passions - Eating, Travelling, Cars
Favourite Colours - Orange
Today on the Buzz I feature a talented man who has made solid brand with a true Lankan identity. I'm sure it's been a tough run to make it what it is. Apinash Sivagumaaran who founded ISSO is on the BUZZ to tell us about what's new and what's trending in the restaurant world and what the new normal is, with the COVID situation.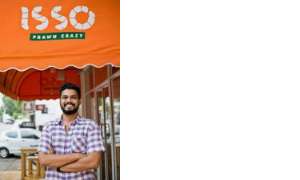 How is the food industry surviving after COVID? More people are dining out once again, which is great to see after many months of less social interactions.There are a lot of cost components when running a restaurant apart from the food cost; you need to account for rent, salaries, utilities, cost of being hygienic/safety, delivery commissions etc. The food industry has taken a beating post-Easter last year and now again due to the COVID crisis. Right after the lockdown, there was a shift in customer behaviour where demand for food delivery was higher than dining in. Restaurants which used to depend 20-25% on delivery channels now depended on 80-100% on them to generate revenue. The high costs of delivery commissions make it hard for delivery dependent businesses to survive during these times. However, it is promising to see a shift in demand from delivery to dine in.
What would you say is your biggest challenge in this industry? The restaurant industry is very sensitive to change in market conditions. Example; the Easter attacks and Covid-19, both affected the restaurant industry - Unlike industries like education, health-care, banking or construction – the restaurant industry is always impacted with any external forces disrupting the eco-system. We are very dependent on consumer psychology on safety and affordability.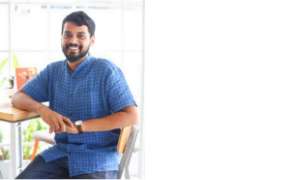 How did you work on the "ISSO" concept? And the way food is ordered? From the beginning, Isso was created to offer a unique dining experience, using high-quality ingredients, catering to the local audience at prices that can be considered reasonable. Even today, our focus is trying to understand who our customer is, and how we can enhance our customer experience. We wanted the ordering process to be simple, easy to order and customisable. Everyone has their own preferences, we feel the future is to be able to customise dishes to individual preference (spice levels, salt content etc).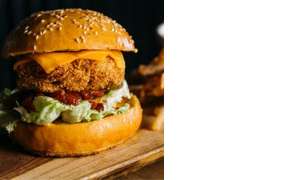 How do you react to negative / positive comments? My first boss always told me, "Feedback is the breakfast for champions!" With negative comments, we always try and understand how/why we ended up receiving such a comment. We take immediate action to address such feedback and make sure it does not happen again. The customer is always right at ISSO, we want to make sure he/she does not experience the same situation again. At ISSO, we are constantly trying to improve ourselves. It is always great to hear positive feedback, we share them with our whole team and we are extremely thankful when we hear them. We strive towards consistently maintaining standards so that any positive comment we receive is always part of our overall product.
What do you feel local business should concentrate on during these times? During times like these, we encourage other businesses and customers to support other local businesses, so that we can all get through this together. Times are tough, but we must remain optimistic and understand better days are ahead. We are spending our time improving our internal processes, building a strong team and re-creating a restaurant experience for the future. Businesses should concentrate on re-innovating themselves and building a brand for the future during these times.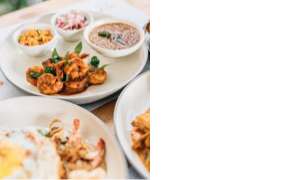 What would you say is missing in the restaurant industry? A Local Awarding body/guide (National Restaurant Awards); which have guidelines and encourage restaurants to maintain high standards and to experiment/re-create dishes. Most markets have such bodies and this puts a spotlight on small independent restaurants to strive and create great dishes/experiences.
Who has been your biggest support? My mother, through the toughest of times, has always been my biggest support; she has always encouraged me to keep going and not give up on my dreams.
How has your family supported you in this process? Were they worried that you are starting your own business? Initially, my dad asked me to "get a real job once I'm done setting up my take away joint!" Haha. But once they saw the energy that went into setting up Isso, my family has been nothing but encouraging to keep pushing myself. They have been extremely supportive and constantly remind me of how far ISSO has grown in the last 4 years. I am grateful to have a supportive family who have given me the freedom to always do what makes me happy.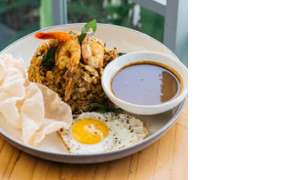 How was school life? And what did you want to be when you were growing up? School life in three words would be: Amazing, Simple and Stress-free! I always saw myself as someone running my own business. I am exactly where I want to be today!
What do you think Sri Lankan Youth Are missing? We have it all, nothing is stopping us from dreaming big and chasing them! We have access to technology, reading/learning resources, platforms to seek funding and lots of energy as young individuals! We need more Sri Lankan youth with the right mindset, wanting to create businesses and products for the future, solving problems and having an entrepreneurial spirit.
What has been your favourite travel destination and why? The Netherlands, feels like home!
Describe your day at work? At the moment, I spend most of my time working closely with all team members; be it the uncle who manages our parking lot, our barista or our head chef. Taking in as much feedback as possible and re-engineering internal processes to improve our employee/customer experience.
Isso did expand, how is it doing? What is next for ISSO after the COVID wave? Our local expansion since our first outlet down Jawatta Road, is our flagship outlet on Ananda Coomaraswamy Mawatha which opened in Sept 2018. Apart from local expansion, we did open our first overseas outlet in Male, Maldives. Unfortunately, due to the expiration of our lease, we had to give up our first outlet down Jawatta road a few months ago. Due to the lockdown and continuing curfew status in Male, our outlet there remains closed in the Maldives. In terms of new outlet openings, we are currently working on opening an outlet in the Battaramulla area towards the latter part of the year followed with three more outlets in major cities across the island by end 2021. In terms of our business, we are working on re-engineering our business processes and adapting to technology to build a strong Sri Lankan restaurant brand that creates an impact on the Sri Lankan economy and its people.
How did you work on the menu? We first try and identify what flavours work for the local market and try to re-create them. We have broken down our menu into different palates/cuisines our market craves. Our goal is to serve Prawn dishes from around the world, under one roof! We have worked with many consultant chefs as well as our in-house chefs to create recipes. We encourage all our staff to try to create new dishes using Prawns as a core ingredient.
If...
WHAT IF YOU COULD SAY A SENTENCE WHICH THE WHOLE WORLD COULD HEAR, WHAT WOULD YOU SAY? Be kind!
WHAT IF YOU COULD LIVE PERFECTLY WELL WITHOUT SLEEPING IF YOU HAD NO NEED TO SLEEP AT ALL, HOW WOULD YOU SPEND ALL YOUR NIGHTS? Work on growing my business.
WHAT IF YOU WERE GIVEN THREE WISHES, WHAT WOULD YOU WISH FOR? Prosperity to Sri Lanka (it's time now, we deserve it!) End hunger. To be able to travel again.
WHAT IF YOU HAD TO CHOOSE BETWEEN A WONDERFUL ROMANTIC RELATIONSHIP THAT WOULD END AFTER ONLY A YEAR, OR A SO-SO RELATIONSHIP THAT WOULD LAST YOUR ENTIRE LIFE, WHICH ONE WOULD YOU CHOOSE? Option 1
WHAT IF YOU COULD EAT ONLY ONE FOOD FOR THE REST OF YOUR LIFE? WHAT FOOD WOULD YOU CHOOSE AND WHY? The ISSO Burger, it's really damn good! I've had it for lunch, for at least two weeks straight!
Just for Fun...
If not for ISSO where would you be dining most of the time in Colombo?
Café Japan! The real deal!
Uber Eats / Pick Me food - who is your pick? Option C: Direct delivery from ISSO!
Fun...
What do you think a 10-year-old you would tell you now? Enjoy life!
What is the biggest lie you have ever told? I don't lie!
What's a question you'd like to answer, but no one asks? I don't know.
Tell me 3 things you remember about kindergarten.
My friends who I still hang out with
The playground
Taking our first class photo
What would you do if you were invisible for a day? Probably play a prank on my soon to be wife!
Do you ever talk to yourself? When and what do you say? All the time! Haha. It really depends, if something goes wrong and is concerning – I try understand why it had happened or how I could fix it by talking to myself. Sounds funny, but it works for me.
When you're having a bad day, what do you do to make yourself feel better? Try get some space, clear out my mind, go back in and try to fix the problem!