Drama in Sri Lanka is changing, and only for the better with more quality plays with an intimate small setting. And this is one and as someone who has shared the stage with Lihan Mendis the director I can only expect the BEST
'Gruesome Playground Injuries' written by Pulitzer Prize finalist Rajiv Joseph is the third production by the Broken Leg Theatre Company after the tremendous success of 'Art' in 2011 and 'God of Carnage' in 2013.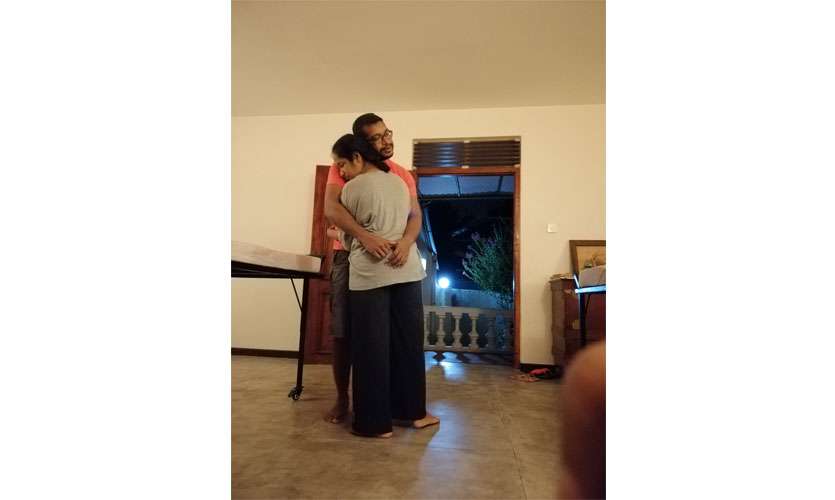 THE STORY
Over the course of 30 years, the lives of Kayleen and Doug intersect at the most bizarre intervals, leading the two childhood friends to compare scars and the physical calamities that keep drawing them together.
Performed by Shanaka Amarasinghe and Imani Perera, the play will go on the boards at the Punchi Theatre on the 12th, 13th and 14th of October at 7.30pm
I met up with the cast for more on this play
Play: Gruesome Playground Injuries
By : Pulitzer Prize-Winning American playwright
Venue: Namel Malani Punchi Theatre, Borella
When : 12th, 13th, 14th October 2018 at 730pm (running time 75 mins)
Tickets : Punchi Theatre Box Office TeL - 112 67 21 21
Directed by : Lihan Mendis
Performed by : Shanaka Amarasinghe and Imani Perera
Why has it been so long since Broken Leg Theatre Co. put on a play?
Since our last
production
we've had a mix of marriage and migration problems. Some marriages ending, some beginning and various migrations of company members and their children. Getting everyone together was hard. We're still not completely together except in spirit, but this play seemed a little too exciting to pass up. We don't see two player scripts performed too often in Colombo. It's been hard work, but worth it.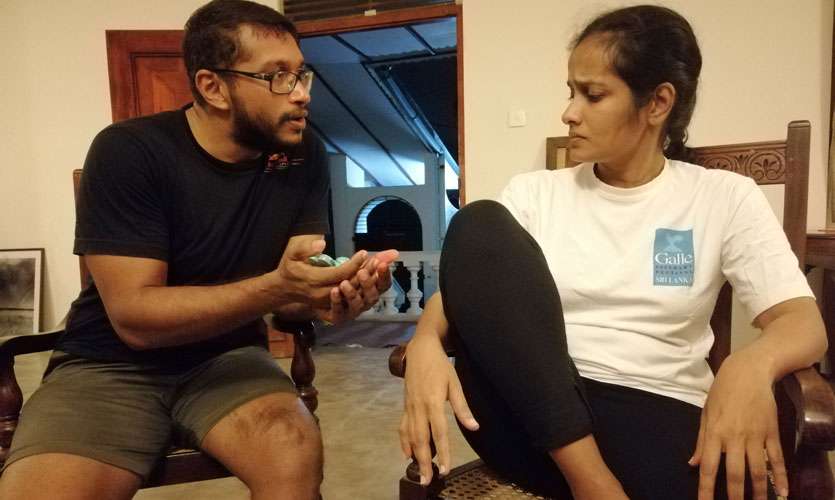 Tell us about Gruesome Playground Injuries. What's it about?
It's a play that tracks the lives of two childhood friends, from their initial encounter with each other to what may or may not be the last. The play takes place over thirty years and encounters the protagonists in various situations where pain is the focal point, whether it be emotional pain or physical. The play is an exploration of how we deal with pain, how we inflict pain, and also how comfortable we are in pain as well. That being said it examines these themes through some wonderfully poignant and some downright hilarious moments. Human relationships are truly entertaining things.
So what's it like having Lihan as your Director?
BLTC has always been about doing projects that are a bit different, and to give experience to those who will eventually be household names. Lihan is the first one who said he was interested in performing this play and BLTC were happy to offer him an opportunity to direct it. Having seen Lihan on stage and speaking to him we had no doubt that he had the required sensitivity and vision to pull this off. It's been a learning curve for him as well working with actors who are significantly older than him, while also handling the production aspects almost single-handedly. It's been a baptism of fire for him, but he's been superb. It's an exciting time.
Who is your cast?
It's hard to believe that Imani Perera and Shanaka Amarasinghe last acted together way back in 2003 for the University of Colombo. They've both done a bunch of stuff since then, but this is their first classic two-hander.
There's a buzz about Imani being back on stage, after she last played Maria in 'Sound of Music' by the WSP. We conducted some auditions with a few hand-picked people and Imani's understanding and interpretation of Kayleen on a first reading was amazing.
Shanaka only made it because he bribed Lihan with his mum's iced coffee, which is consumed in copious amounts at rehearsal. He's also had some experience at being beaten up and injured, which helps him play Doug a little more convincingly.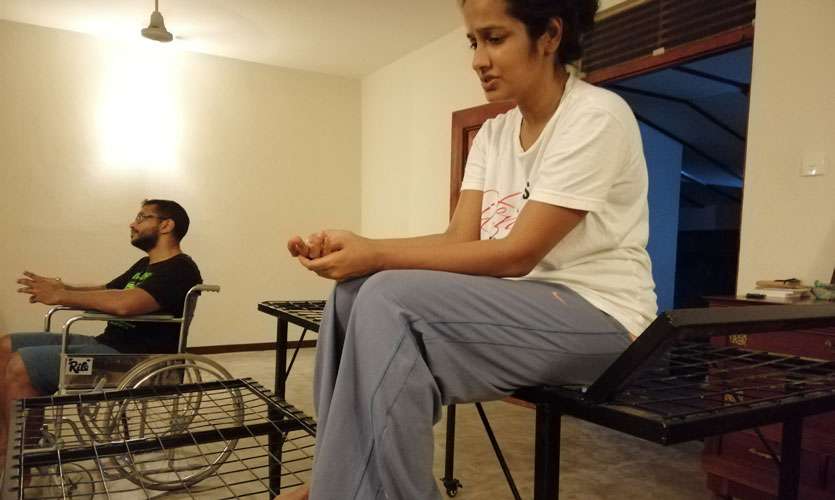 What can people expect from the play?
Rajiv Joseph is an American playwright who won a Pulitzer although not for this particular play. His use of language is incredibly tight and demands a lot from his actors. You can expect to laugh, and you can also expect to cry. It's just that sort of play. The back and forth, the comedy, the heartache all leaves you really rooting for the two characters by the end of the play.

Joseph calls for the costume changes to happen in a particular way to show the passage of time and that is a novel aspect of the play as well.
BLTC has done two uproarious comedies already, and we thought Colombo was ready to sink it's teeth into something a little less generic, more intimate and relatable.
What is the hardest thing about putting on a play in Colombo?
Firstly of course theatre is not professional. So our actors need to juggle high-stress jobs with learning lines and rehearsals. The commitment to do this has to be experienced to be appreciated.
Secondly of course has been the difficult to obtain sponsorships. We are truly grateful to those who have come on board with this project in the current environment, but it would be nice if everyone who complained about the lack of creative work, put their money where their mouth is. Corporates can lead the way, but unfortunately not many do. BLTC are certainly not the only ones affected by this.
What's the best thing about the rehearsal process?
Where do you begin? The journey of actors discovering and living their characters is indescribable. BLTC does not have a 'core group' so to speak and having young people collaborate and work so efficiently together outside of their usual silos has been a breakthrough.