Today I'm proud to feature a talented man who I'm so proud of. I met King long years back in 2008 when I was in television, he has been in the field of television and filmmaking for more than 15 years. He started his career as a producer at Young Asia television in 1999, producing a magazine peace program aimed at educating youngsters about the ethnic conflict. While working for YATV, King had the opportunity to represent Sri Lanka at forums like the World Conference against Racism held in Durban South Africa in 2001. He also had the opportunity to work for Worldview Rights in Norway as an Audio video specialist with issues related to Burma and North Korea. After his stay in Norway for 2 years, King left to London to work for a satellite television network Namely the
East West
broadcasting network, producing youth related magazine programs.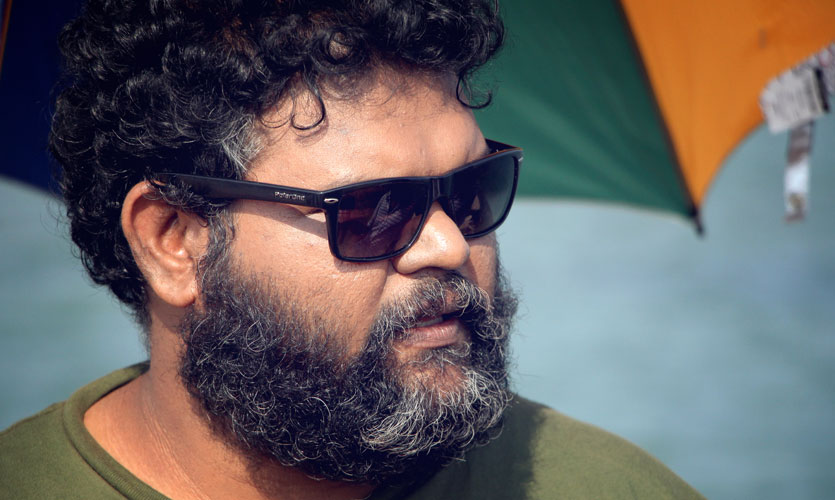 During these years King also had the opportunity to work for many international networks and channels – King also took things into his hand with all his knowledge in TV and established a company of his own by the name of Hazon International in 2004 and produced many Individual profiles, company profiles and commercials for various local and international clients
Today, he has made his first Tamil feature film "Komaali Kings", and in Sri Lanka, this is after a 40-year gap. When I was invited to the special screening, I was not so keen. It was only when I sat down to watch it that I cracked up laughing. It was produced and shot so well.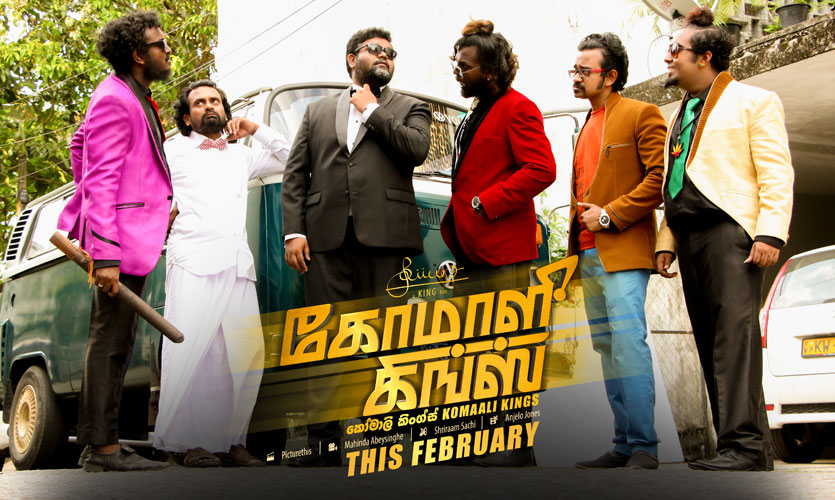 It will be soon on screens near you – go watch it and support him.
How does it feel to sit back and watch the movie today?
I had only heard the phrase 'dreams do come true' - I think I'm experiencing that now.
How would describe your passion for entertainment?
I have always had a passion to entertain people from a very young age. That's been a part of me. I've been singing, dancing and acting on stage from the time I can remember. I've always enjoyed it and craved to do more of just that. Over the years, it's that passion of mine which turned into my profession today. And I think I'm very fortunate and blessed to be able to say that. I entertain with all my heart.
Who has been your biggest support in making the movie Komaali Kings a reality?
My biggest support has been my team, including the producers of this movie. We have had to face many challenges along the way, but have surpassed them all, together as a team.
What would you say, is the biggest challenge creative people face in this country in your opinion?
I would say, finding their own space to express themselves freely.
What are some of your most defining moments in life?
There are too many in the list. So I opt not to mention any.
What's the new project you are working on?
Another script is cooking in my head.
Tell me about the script/story and how it was to shoot the movie?
Komaali Kings is a comedy with elements of a thriller embedded in it. I started writing this script about 3 years ago and ended up going through thirteen drafts before we started shooting.
The story revolves around 'Pat', an expatriate from London, who returns with his family to Sri Lanka for a relative's wedding. Pat and his family are all out to save money during this trip and decide to crash at the residence of one of their relatives, Siva. Riddled with financial problems, an aging, unmarried daughter and a nagging wife, Siva, unbeknown to him about the true financial position of Pat's family, welcomes them with open arms and in the process stumbles upon a secret that could change his family's fortunes for good.
Bringing any script to life is more than just challenging; and that challenge becomes even more difficult when it's a comedy. Shooting was challenging in every aspect. We were in pre-production for over 100 days. I had to train my actors as most of them were newcomers. Ensuring my technical team understood the story and its intricacies was a challenge. A large portion of my crew were Sinhalese and had trouble understanding the language. Due to months of preparation and a tireless round-the-clock effort by my team, we were able to wrap up the shoot in 26 days versus the 30 days we initially scheduled for.
Tell me about the cast? Was it challenging to pick the talent?
The cast includes experienced and inexperienced actors. Award-winning actors such as Raja Ganeshan, Dharshan Dharmaraj, Niranjani Shanmugaraja are in the cast. Along with them, we have Gajan Kanesshan, Priyantha Sirikumara, and myself. Apart from us the others are new. I personally hand-picked every actor featured in this film. Most of them are known to me personally. A few were selected after a series of screen tests.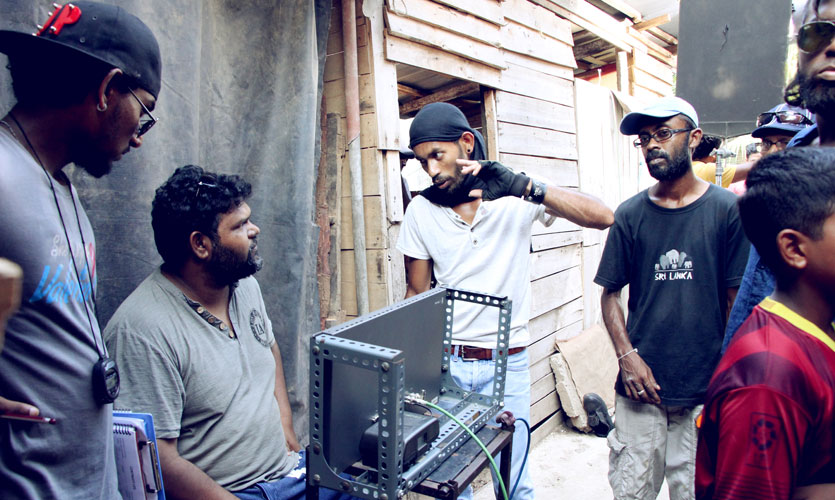 What were the challenges you faced directing the first
feature-length
Tamil film in 40 years?
My first hurdle was the discouragement from others. People told me that this was not possible. Right from the get-go, everything was a challenge. I had to work with minimum resources in terms of manpower and money. That alone makes things a lot harder. I faced my biggest challenge during post-production. It was a huge learning curve. And I had to be patient throughout the process until I eventually liked what I saw on screen, and that wasn't so easy at all. Following a lengthy and tedious post-production, I expected the releasing aspect of the film to bring its own set of unique challenges since a Sri Lankan Tamil language film hadn't been released in decades.
Do you hope to take this film to Indian audiences?
Yes, we are looking at releasing this film in India and in a few other countries.
Is this a movie that someone who is not a native Tamil language speaker
enjoys
This is a movie made by Sri Lankans for Sri Lankans. While they may not understand the language, they will resonate with the storyline and the characters and their comedic circumstances.
Why did you choose to do a comedy?
Charlie Chaplin said, "Life is a tragedy when seen in close-up, but a comedy in long-shot." This statement inspired me to choose comedy over other genres; perhaps to create a mirror for myself and my community to laugh at ourselves.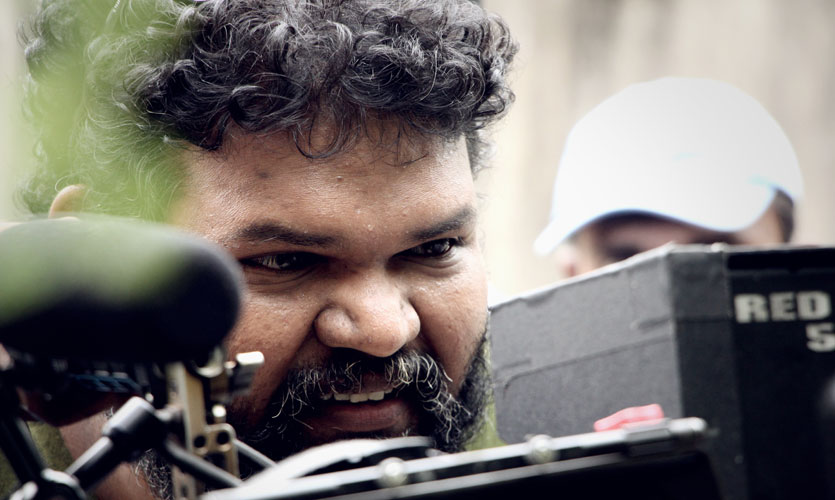 What are your most special memories of the shoot?
I think the day I cherish the most was the day we wrapped shooting. The feeling was euphoric. It was as if we had conquered the world. It was amazing.
Which theatres will carry the movie?
Komaali Kings will hit the screens on the 23rd of February in over 50 theaters nationwide in the CEL circuit and other cinemas.