Located right opposite the Colombo City Hotel where the old Exchange Pub used to be, the New and Revamped "Level 4" Pub has taken its place. For those that prefer a very chilled out and relaxed ambience, they have a beautiful rooftop dining area with an amazing view of Colombo. They also offer indoor seating downstairs complete with the bar and a DJ, so whatever mood you are in, this is the place for you.

Drinks
They have a wide variety of both alcoholic and non-alcoholic beverages which you can choose from and enjoy. From Cocktails and Mocktails to Fruit Juice and coffee this is a one-stop-shop for both party-goers who want to go all out and non-party goers who prefer to enjoy a nice cup of coffee with some good food and a breathtaking view.
Their Signature "Level 4" beverage was a delightful tamarind refreshment which had a tamarind popsicle as the stirrer. It had a very strong Tamarind flavour with just the right amount of spirits that wasn't overpowering at all. We also got the Red Rocket, a Strawberry and mint mocktail which had a unique tangy taste and the lovely flavour of freshly crushed strawberries. The "Refresher" which certainly lived up to its name is guaranteed to freshen up your mood after a long day of work. All in all the drinks were top-notch and are worth spending your money on.
The Food
The real attraction here is the food. Regardless of what time of day you decide to visit, they have something great to offer. First up we got a mouthwatering Black Pork Curry with Roast Paan and Kochchi Sambol. The pork curry was to die for! It was mildly spicy, wasn't too oily and the juicy pieces of pork were a delight with every mouthful. Partnered up with the roast Paan and the spicy Kochchi Sambol this dish is an absolute must if you decide to visit "Level 4". Next up we had the Chicken Nasi Goreng which came with two Chicken Satays, peanut sauce, a fried egg and the Nasi style Rice. The rice itself had a lot going on in terms of flavour and especially the Satay and Peanut sauce made a great compliment. The chicken was well done and the sauce added a nuttiness to it which blended in so well together. Overall it was a great dish.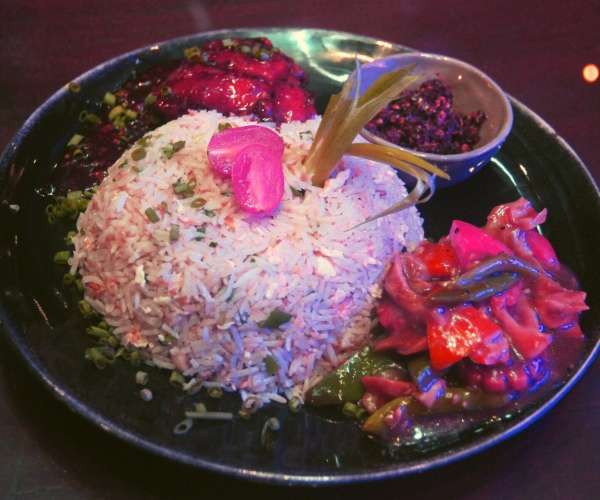 The fried rice with devilled Chicken and wok-fried veggies was also a dish worth mentioning. The chicken itself was quite spicy and brimming with flavour. The rice by itself had a quite prominent flavour with the veggies and eggs all mixed into it. It was a great dish too but if I had to choose I would go for the Mongolian as it was a lot spicier and more suited for the Sri Lankan palate. My favourite dish of the night though was the Fish and Chips. Fried Battered Prawns with crispy fries with a Sour cream to complement, you couldn't have wished for a better dish. Overall the food here was amazing and definitely worth trying out!
So the next time you think about going out with your friends to enjoy a great night out, don't forget to check out "Level 4". A drink for every mood, Trendy food, great music with the DJ and a live band every Friday, it's definitely the place to visit to create some unforgettable memories.
Photos Pradeep Dilrukshana