Sushi Ru, a homegrown venture by sushi enthusiast Ruzaila Zivar Mukthar is a much welcome addition to the sushi scene; providing sushi that will appeal to any Sri Lankan palate (including that sushi hating family member or friend) without leaving a significant dent in your wallet! Ruzaila, a "happily married mother of two teenage twin boys" trained in the AMI Montessori Method, loves drawing and calligraphy and is passionate about experimenting with different food types, which ultimately led her to start Sushi Ru.

"I am an ardent fan of sushi" shared Ruzaila. "Whenever I am in the mood to indulge, I opt to order the different varieties available. While I enjoyed it, I found that my taste buds craved for an extra flavour which was not present in the original Japanese sushi. Something was missing. I started experimenting with different ingredients and flavours, different combinations and additives, and as a result of this, I was able to come up with some sushi combos, keeping its basic structure and concept, yet with a distinctly different taste & flavour, which was so appealing to our Sri Lankan palate. My family were the initial critiques of my creations. With the feedback I received from family & friends, I managed to structure the sushi with the most popular combinations and refine the taste with my own signature sauces, to complement the sushi. As I was so fond of sushi, I thought why not share my sushi experience with others, and thereby came up with the concept of starting a home-based business. My family supported me wholeheartedly and their enthusiasm and encouragement drove me to initiate this".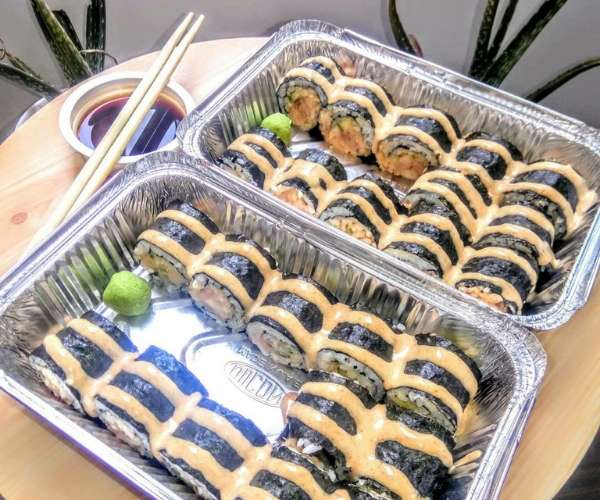 Considering that a majority of Sri Lankans have developed a taste for the more authentic sushi, It wasn't easy for Ruzaila to convince the sushi purists. "The most challenging part about this business I would say was Initially, to convince the sushi loving community that here was a product that was different, whilst maintaining the traditional sushi concept. A twist within your favourite combo, which was sure to identify with your Sri Lankan taste buds and make your sushi experience far more scintillating than what you were used to". Thanks to her delicious sushi, she managed to win them over in a short span of time.
"My sushi combo creations were accepted by everyone with much delight, as I believe in using quality ingredients, a hygienic production process and maintaining consistency throughout, and most importantly, offering a quantity product which is not made en-masse, but rather, in a personalised, passionate, wholesome way, like it's made for family". As of now, Sushi Ru has Smoked Salmon & Cucumber, Spicy Chicken, Chillie Prawn, Shitake Mushroom & Cucumber, as well as Honeycomb Chox (sweet). They are available in the Basic range, Crispy range as well as in Platter for events. "We will be looking at expanding the selection in the coming months, as we have received many suggestive combos from delighted customers who are waiting for the next twist within the norm. We encourage customers that to fully understand and appreciate our flavours and sushi combinations, to opt to order at least the six-piece pack, which is the smallest pack available. Whilst offering Sushi Cakes as well as the other items on our menu, we are also delighted and excited to be the pioneers in the concept of Sushi Towers, a novel concept, which like Sushi Cakes, is an alternative celebratory item, something different, that you might like to feature on your occasion menu".
I tried three items off their menu, the Spicy Chicken Roll, the Smoked Salmon & Cucumber Roll and the Crispy Chillie Prawn Roll. As an ardent sushi fan myself, I found myself loving the Sushi Ru rolls that were bursting with flavour. True to Ruzaila's statements, any Sri Lankan, especially those who aren't fans of the typical sushi with raw filling would find themselves going back for more! I thought the combination of Smoked Salmon and Cucumber was great as the two ingredients balanced each other out in terms of texture and flavour. The Spicy Chicken Roll was spicy and full of chicken. The sauce generously drizzled on both the rolls was delicious and complimented them fantastically! The Crispy Chillie Prawn was another tasty sushi roll that was also flavoursome that tasted great. Ruzaila is very generous with her fillings and her sushi. For instance, 12 pieces of her Spicy Chicken roll costs 1200. If you are a sushi fan, you know this is a steal! Kudos to Sushi Ru for making sushi affordable and utterly delicious!
PHOTOS Sushi Ru