There's a buzz in Zagreb - Croatia of a place that not only serves great food but also is a great place to hang out.
Sri Lankan Curry Bowl is a place that serves authentic Sri Lankan food and is founded by two Sri Lankan brothers, Brian Senaratne & Clement Senaratne along with his wife Tamara Makalanda. The trio is on an unstoppable ride to bring forth the Sri Lankan flag across Europe.
As stated by one of the brothers "It is what we can do for the country rather than what the country can do for us". Both brothers were also passionate racers in Sri Lanka while Tamara was elected as Ms. Sri Lanka back in 2014. I was eager to find out the story behind the faces of this establishment, so I got in touch with Brian Seneratne and we got talking.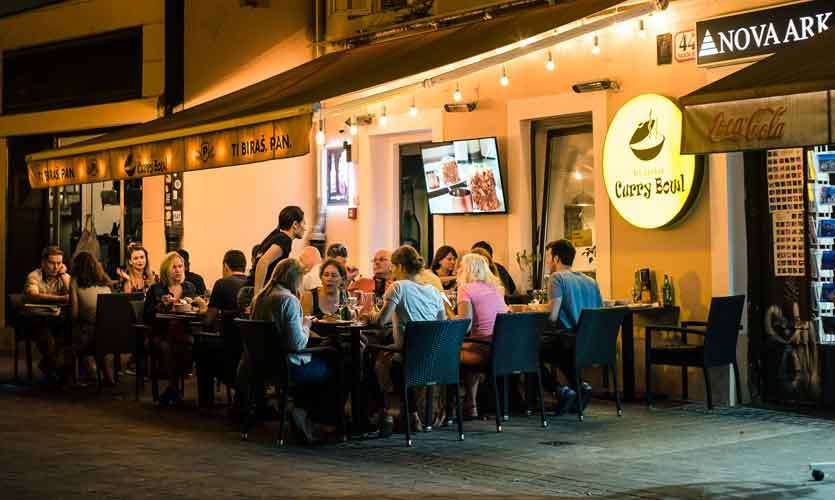 Tell me about the founders of Curry Bowl
My brother Clement and I are old boys of S. Thomas College and subsequently started working in the corporate world. Neither of us had any experience in the hospitality trade until the year 2013, when my brother Clement bid adieu to the corporate life and ventured into the restaurant business in Arugam Bay with a few of his friends. "In 2014, after completing 13 years working with Microsoft and its partners, I moved to Zagreb, Croatia on a new assignment in the IT industry and I continued to reside there till date, which is where the spark to open up the restaurant took place."

What inspired you to start Curry Bowl in Croatia?
After my move to Zagreb, my brother Clement decided to visit me in Zagreb for a European tour prior to his wedding in October 2015. It may sound clichéd, but after a long night out we came across this Chinese restaurant that had an open kitchen and we just asked each other, "How will it be if we open a Sri Lankan kottu joint here?" At the time, we both were employed in full time jobs but we decided to put thought into action and I found the perfect location, I sent him a picture and I said "This is it, we are going ahead with what we planned" We invested all our savings into it and two weeks later after Clement's wedding, he got on a flight to Zagreb with his wife Tamara along with a consultant chef to get things started.

What's the role you play in the restaurant setting; do you just manage or get behind the kitchen too?
Even though I take on the strategic role and my brother handles the operational part of the restaurant, but even today we still go behind the kitchen and wash dishes. During the summer we have customers lined up for hours just to get a seating in our tables so we need all hands on deck. However during the first two years went by from washing toilets, chopping onions, washing dishes and waitering to now more operational and strategic level functions which we mostly do till now. When we present ourselves on festivals for instance, it is much more eye-catching when we chop kottu than a Croatian national doing it.

How do you resource staff at your restaurant? Is everyone working there Sri Lankans?
For the first two years, the restaurant was employed with Croatian staff but we also have two Sri Lankans working for us.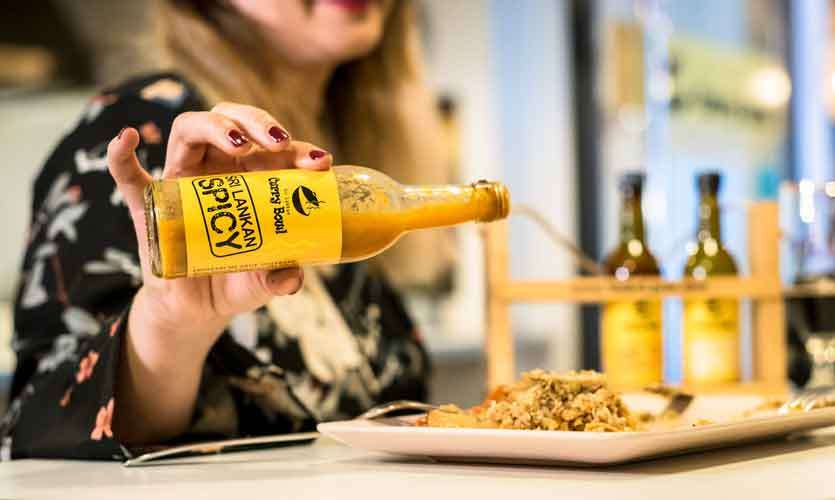 Did you face any challenges setting this up? If so, what are they and how did you overcome them?
We didn't necessarily face any challenges per se, we found the bureaucracy in Croatia very easy and straightforward.

What do you do to keep your restaurant menu new and exciting?
The menu has been the same since Day One with the usual fried rice, chicken curry and so on, but we have added a few along the way such as the Vade, cutlets, the black pork curry and the hot butter calamari. We try not to go overboard with the menu and stick to the Sri Lankan roots.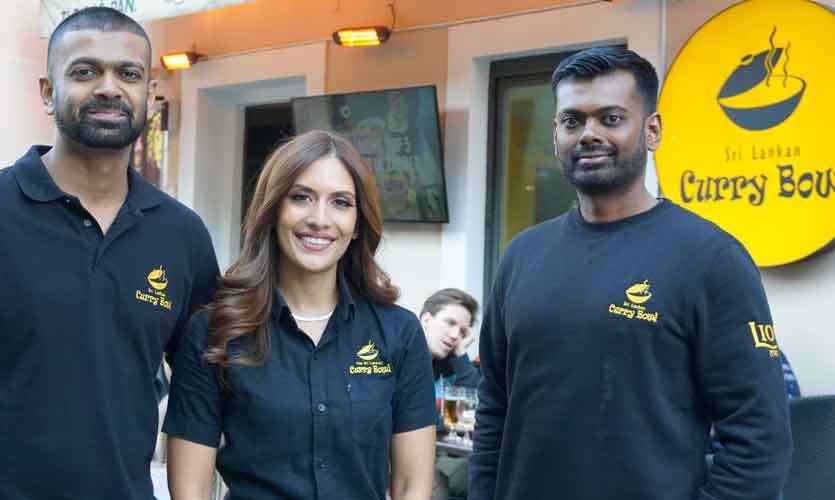 What is the hottest selling item from your restaurant menu?
It's the kottu. The kottu is our Big Mac here, it's our number one best seller, and also the chicken devilled which is also another big seller.

Starting a restaurant is expensive, let alone starting it in another country. It also takes a ton of resources. What advice can you give with someone who has the restaurant "dream"?
It is a coincidental incident for my brother to come up with this restaurant idea in the first place, so we are immensely hard working and both privileged, to have got this opportunity. So my advice for anyone is that, you need to first evaluate your opportunity. You need to have a great location and have a good service team. My brother and I don't come from a culinary background and we did make a few blunders at the start, but the service we provided was so good that the people were willing to give us another chance.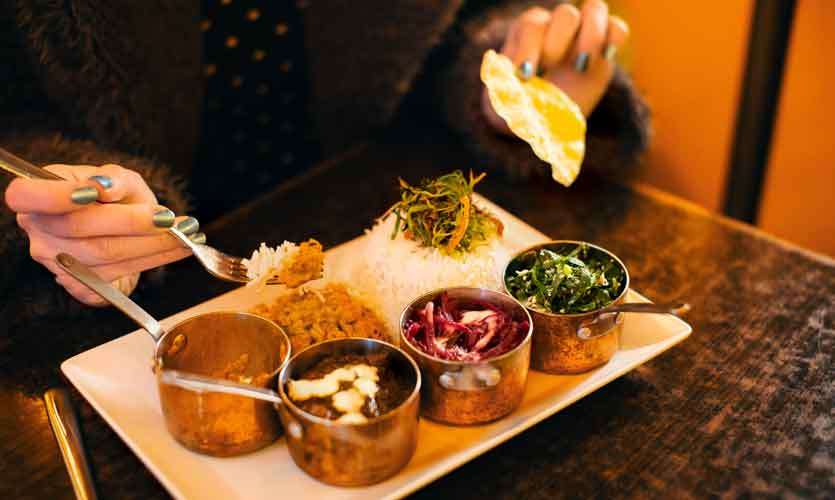 What kind of marketing and advertising initiatives have worked for you? What haven't?
We really thrive hard on reviews. There are several restaurants popping up and we really need to stand tall in positive reviews. We also do plenty of freebies. We have our yearly "kottu challenge" which is to consume 750grams of kottu and 1pint of beer and we have this campaign running for 6 weeks where the winner gets an all expenses paid trip to Sri Lanka.
We've presented curry bowls at various music festivals with the Sri Lankan flag held high and we've witnessed several curious onlookers eager to find out what we are and what we serve. We've also been featured in numerous instances.

What are some of your biggest failures and what did you learn from them?
Well, apart from day to day operations when we put our heads together and find solutions rather than blame the system, we have also faced instances where various businesses who wanted to partner with us unfortunately they weren't sharing the same dynamics as us. What we learned from this is, it is important to find people with the same temp to gain success.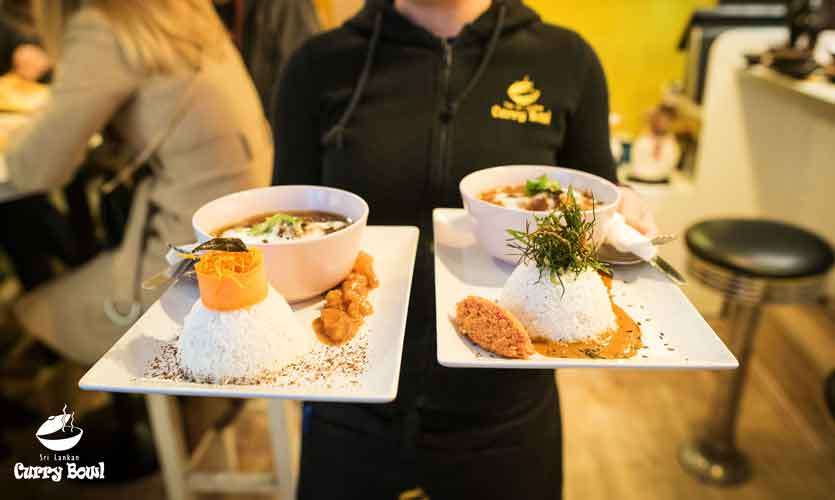 What are your next moves?
We are looking at our next move towards the city of Vienna but our overall goal is to make a franchise of the curry bowl across Europe and put Sri Lanka on the map