With a history of over 200 years and an iconic movie worthy love story intertwined in its underground secret passages, the Mount Lavinia hotel is the quintessential colonial landmark of Mount Lavinia that is perched on a bluff that gives you a panoramic view of the India ocean and beautiful sandy shores fringed with coconut trees of the west coastline of Sri-Lanka. Mount Lavinia hotel has been a hotspot for couples celebrating their big day and tourist and locals alike looking for that colonial charm to escape the hustle and bustle of the busy city.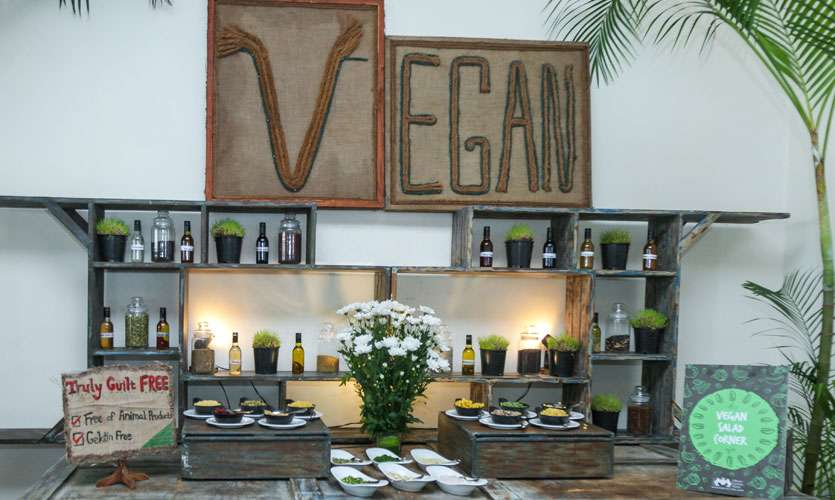 We must first take our hats off to the Mount Lavinia hotel team for initiating the Poya Day Vegan buffet (happens every Poya day). This is an ideal experience for anyone on the fence about making the transition to a vegan/vegetarian lifestyle, it's just the push you need to completely change your mind and it entirely dispel the idea that Vegans/vegetarians are basically munching on rabbit food and have very limited dietary options and of course if you are a vegan yourself the gates of heaven have opened to you my friend you can now die in peace. Even if you are a person who lives with the motto, 'steak is bae', you won't leave this buffet disappointed. The restaurant was teaming with people (most of whom are probably not vegan) and they looked quite ecstatic with their plates piled high.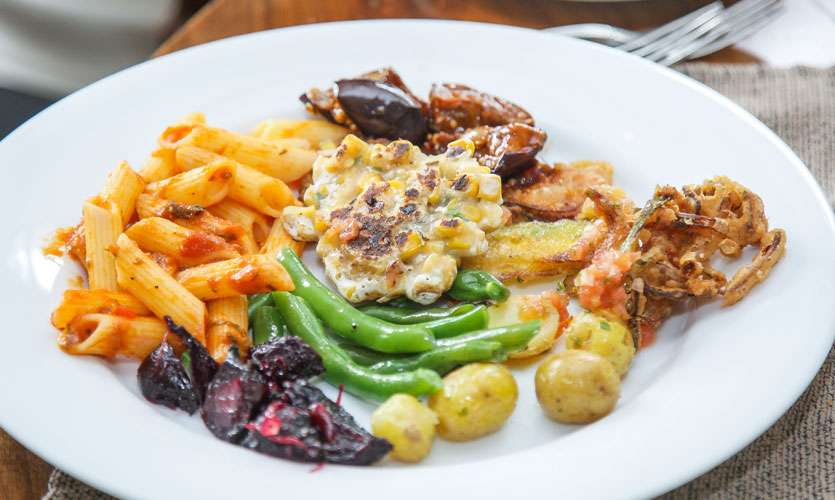 Being a vegetarian myself for over 10 years, I've had some pretty heavy-duty food comas at non-veg buffets in Sri-Lanka and abroad but if I had a coma before I pretty much flatlined from not only been filled to the brim but also the blissful joy of having had such a mouthwatering and diverse spread. Mount Lavinia hotel has always been on my top 10 buffets but this but the vegan buffet takes the trophy, crown and the iron throne and this is just not because I could eat everything here but for the sheer mastery and presentation of carefully crafted dishes of fresh locally sources vegetables and fruits they have certainly gone the extra mile to make sure that everything looks put together with their rustic backdrops and eye-catching displays.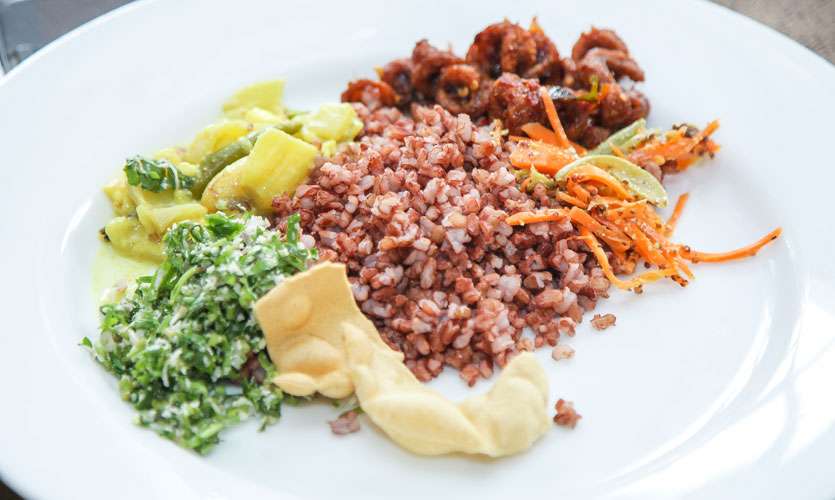 The buffet will only cost LKR 2000 (net) with pool and beach access! It's an amazing deal and it can't get any better than this.
The Buffet
Soup
We didn't try this out as we wanted to keep as much space as possible for the main meal (if only your other organs turn into temporary stomach when you want them to) but if eating soup is your thing they have freshly baked gluten-free bread to go with the vegetable soup we did get a hearty smell wafting from that direction.
Shooters
We started off with a few shooters to cleanse our palette and to cool our system, you can choose between king coconut, cucumber, watermelon and so forth, they were all refreshing and cooling we had it throughout the experience in-between each plate or we would grab on the way to get a plate or even while taking a plate back to our able so in short, we were basically responsible for finishing 75% of the shooters, sorry not sorry!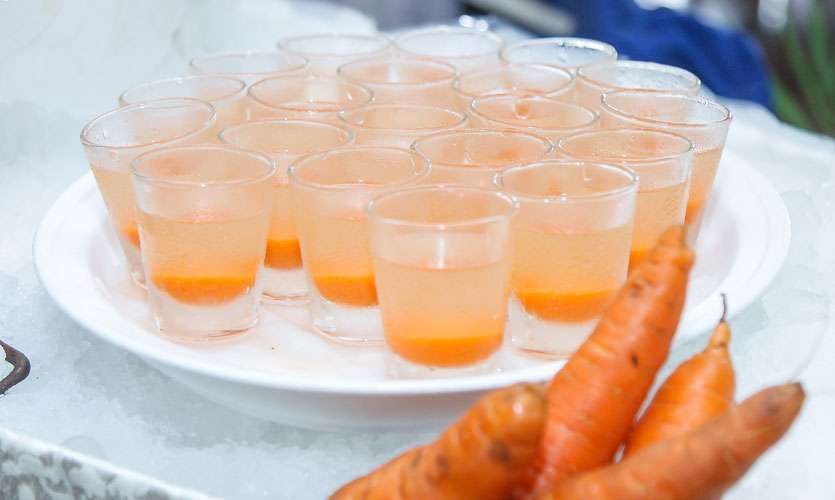 Nacho station
We cried tears of joy when we laid eyes on this section as authentic tortilla chips are hard to come by in our lovely motherland. They were salty and crispy and went well with the numerous dips they had such as olive tapenade, guacamole (no nacho is complete without some guac, yes, we are so basic) and tomato salsa.
Salad bar
It was indeed a culinary masterpiece where cooking meets Michael Angelo, hands down the most well thought out and creatively paired salad bar we ever had. They have meticulously curated each dish; the fresh local veggies and fruits were all brilliantly paired to complement one another in a fusion twist. What really stood out were the rows of dainty salad shooters like the dragon fruit and watermelon garnished with micro salad which was honestly too pretty to eat, few of our other favorites were the baby carrot salad, marinated olives, three bean towers, bok choy (pok choi) with Dijon mustard, balsamic flavored roasted cherry tomatoes. We were very enthusiastic about the fact that they incorporated our local veggies to make snake gourd, fried Okra salad (Ladies' fingers) fennel salad and roasted pumpkin salad. The play on taste, texture and colour was pure genius!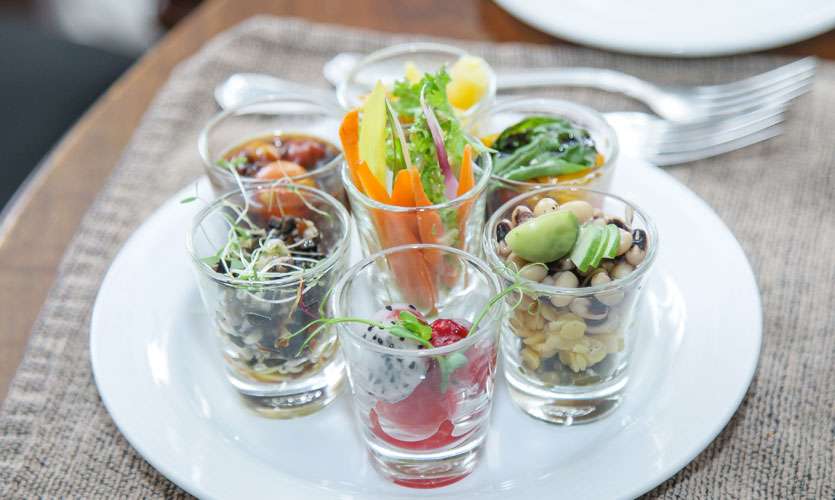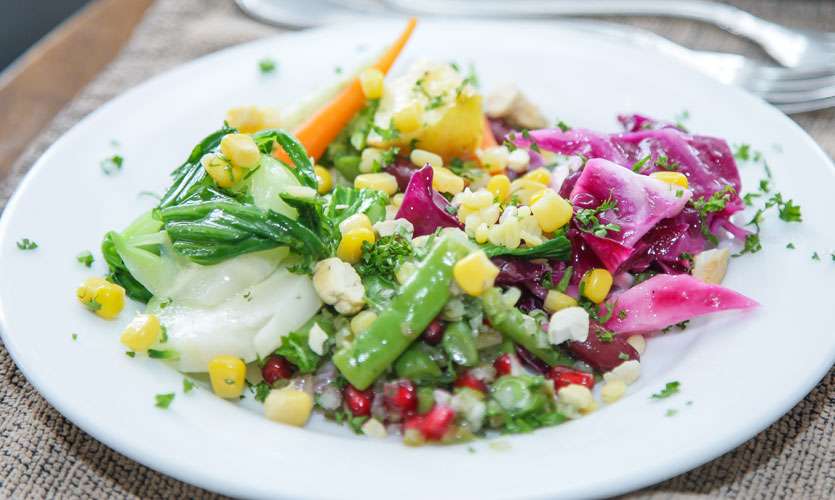 No salad bar would be completed without a make your own salad station with assorted veggies such as raw beetroot, carrots, cucumber, lettuce that can be drizzled with an array of vinaigrettes, dressings and different toppings such as cashews, green gram, sweetcorn, kidney beans, green chilli, chopped onions and jerkins to add a bit of zing to your creation.
Mains
Sri-Lankan
Mount Lavinia hotel does some of the best Sri-Lankan food (Chef Publis for the win) within the five-star hotel circle. Its authentic, fresh, with the perfect balance of spices coming through and they come up with some creative combinations. We had the pachchaperumal rice ( which translates to Lord Buddha's colour, it's a deep red colour rice which is excellent for diabetic patients as it has one of the lowest glycemic index (GI) and good source of protein and is gluten free) devilled soya meat was a crowd favorite which was nice and chewy with just the right amount of spicy kick to it, an interesting rendition of kohila with cashew nuts ( the sweet milky taste cashews really elevated the dish), there was a different take on our everyday parippu (Dhal) which was made into a mallum, a creamy kiri kos ( jackfruit), bitter gourd curry ( which certainly wasn't very bitter), and a gotukola sambol.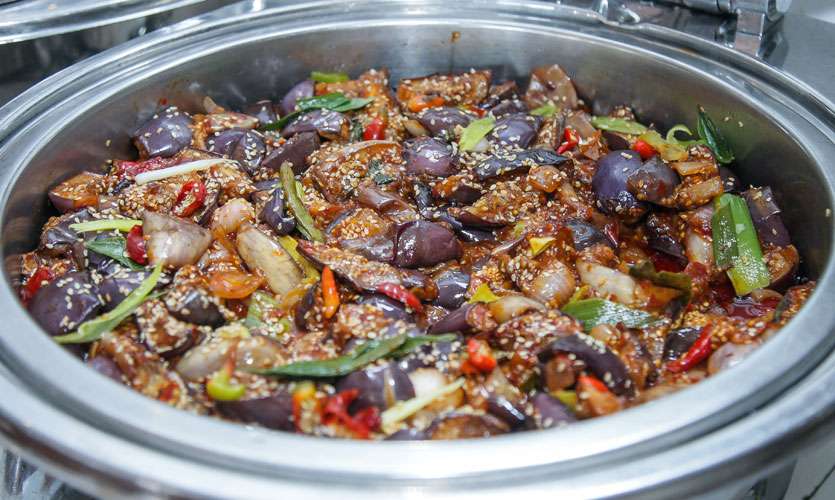 It was quite interesting to see that they have left the raw vegetables next to the curry so people (especially tourists) get an idea of what it is. You can accompany this with their Achcharu/pickle section which had a mouthwatering veralu achcharu, chutneys, pappadum and Sri-Lankan achcharu.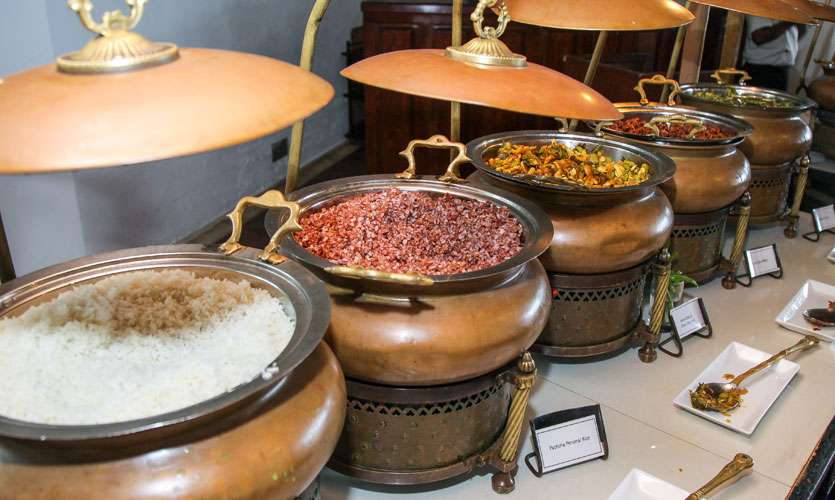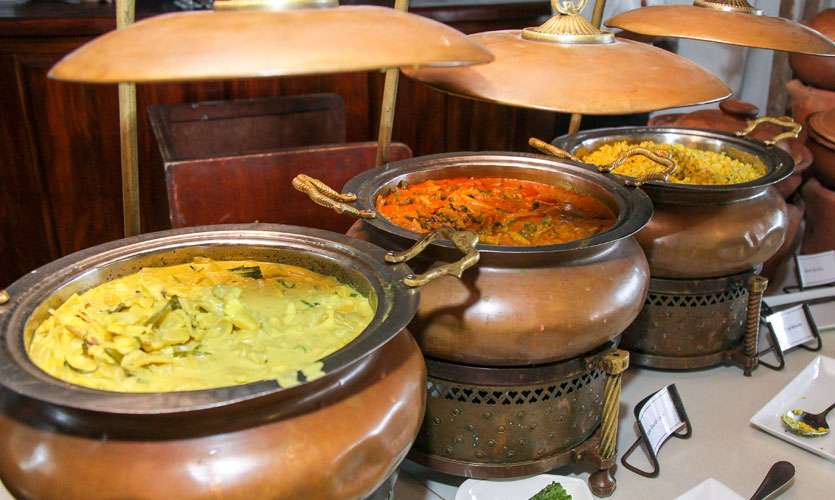 Right alongside the Sri-Lankan food there was the Vegetable biriyani with its mild aroma enticing us and it unquestionably out of this world with its rich flavor and soft, spiced vegetables it can certainly hold its own next to a chicken biriyani. When food is made at this level of perfection, you don't miss the meat. we paired this with a cauliflower and pea gobi and wiped the plate clean with a piece of naan bread, yum!
Action Stations
There is a pasta action station and not only is it home-made but also gluten free, you can pair the pasta with either a basil pesto or tomato sauce. it's a buffet after all so you must eat everything so we ventured onto the corn fritter and vegetable tempura section and got these crispy and piping hot and took a heaping spoonful of the zesty tomato salsa and added some sautéed baby potatoes, beans and beetroot.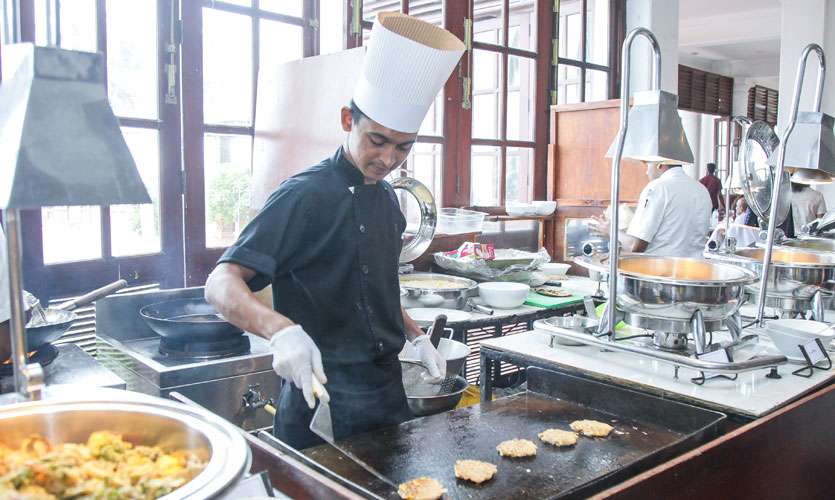 We then moved on to try some Chinese food there was bok-choy in soy sauce, stir fried egg plant, vegetable mee hoon noodles and a vegetable rice with chilli paste, green chilli in vinegar, and soya sauce you can also dip the corn fritters and tempura to give it an extra kick or maybe even an excuse for another round of corn fritters.
Dessert
Now there is no need to groan, it wasn't a fruit market you would be quite surprised by the assortment of desserts they have which are all dairy free, all the desserts we phenomenal and lip-smacking good and the best thing was that it had little to no sugar so it wouldn't give you an unwelcome sugar rush. We did go for a few more rounds than socially acceptable but we don't live by any code, some of our favorites were the chocolate mousse which was rich and decadent and whipped to perfection and to be completely honest you can't even tell its vegan, such a win! Few other honorable mentions were the jaggery cake, the lemon and red velvet drizzles, fruit gateaux, coffee gateaux and chocolate mousse, oh wait we did mention that earlier it definitely deserves a double mention as it was pure chocolate goodness, you can also have slices of fruits like watermelon, papaya, apples and pineapples but we skipped these as you can have that any day as there was a variety of fruit parfaits, crumbles, Agar Agar ( a vegan jelly derived from a red algae) in beautiful dessert shooters and a selection of puddings and cake to try out, you can lure Hansel and Gretel any day with these delightful sweet treats.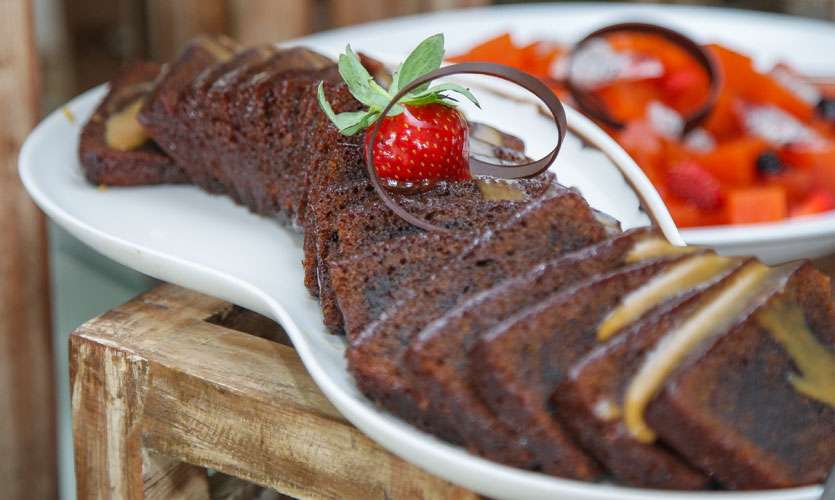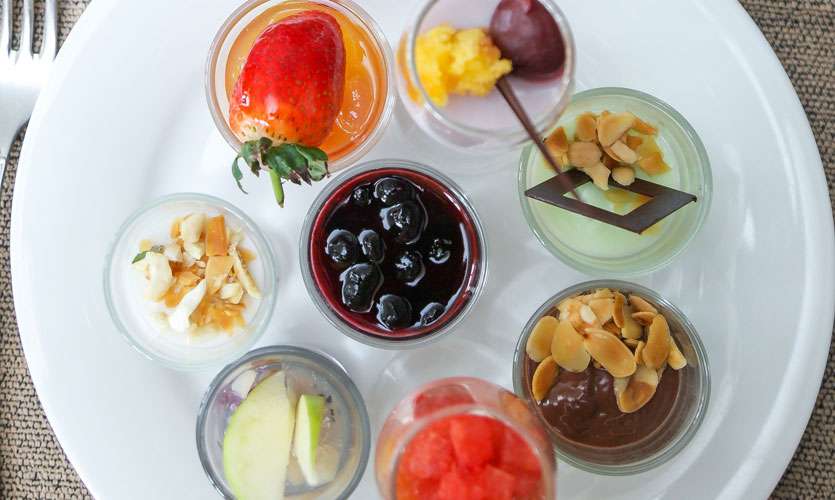 Even though we pretty much were a bunch of rolling pandas from the sheer amount of all the food we consumed ( That last helping of chocolate mousse threw us over the edge but no regrets here) but we didn't feel sluggish or inactive or the general feeling of impending doom of all the calories and unhealthy fats you put in your body, Everything was made with your health in mind and the taste was by no means compromised, we couldn't get over how fresh and well thought out it was, coming up with a game plan for this could not have been easy and they executed with precision and style so our compliments to the chefs who did a fabulous job in including as many fresh vegetables and fruits they can think of but giving its own individual taste. It is an excellent way to indulge in the finer things in life without the guilt. A round of applause to Mount Lavinia hotel for being the first five-star hotel to start the Vegan buffet and we wish more hotels would promote this kind of buffets as Veganism is picking up its paces as people are slowly becoming aware of all the benefits.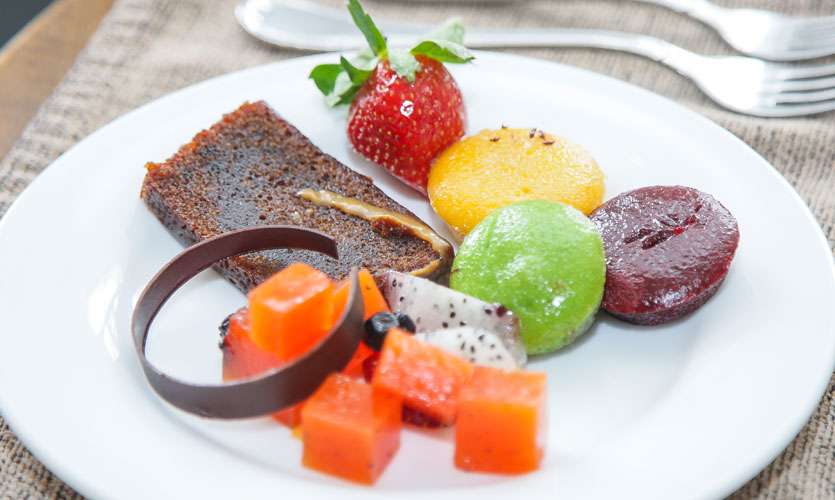 Service: 5/5
Parking facilities: 4/5
The hotel has a large car park and valet service but there is a bit of a walk if you do decide to park it yourself as they don't allow parking inside the hotel premises.
Toilets: 5/5
Would we go again? Without any doubt we will come back.
Recommendations – Nachos and salad shooters for the starters, try the vegetable biriyani, pasta, corn fritters for the mains and the chocolate mousse and tiny red velvet drizzles for dessert and the jaggery cake. Honestly, it's hard to pick one Try everything! You won't regret it.
Tips/notes by the author – The place gets jammed packed so make sure you make a reservation preferably the corner tables inside overlooking the ocean or the terrace overlooking the ocean. watch out for the crafty crows out for some tid bit if you sit outside as some manage to get through the diligent staff shooing them away, the squirrels like to waltz in like they own the place too but their antics are quite cute if you're into that sort of thing. Since you get pool and beach access, bring your swimsuits.
Photographer: Damith Wickramasinghe