As someone who loves meat, I have never actively sought vegan food. But glancing through the PowerCrunch Granola website tempted me into giving it a try. A venture that resulted from a bet with her husband, Sabira Deen started off with granola before gradually expanding her products as more and more requests came in. From her humble beginnings in 2019, Sabira has seen her business continue to grow, successfully weathering the precarious pitfalls faced by new businesses caught in the midst of the pandemic; a true testament to the quality of her offerings.
Sabira invited us to her home to show us her wide array of vegan products. She generally recommends her customers drop by too, despite her thriving online sales. This way, you get a better idea of her products and the affable Sabira happily answered all questions, explaining the processes behind her products, which she makes from scratch. Considering that it was a swelteringly hot day, Sabira suggested we start off picking something off her "SPIICE" menu, a fusion of the words Spicy and Ice. The Ice Pops on the list were all infused with spice, and I picked the Grape Punch Ice popsicle. Made even more appealing thanks to the weather, I loved the combination of the grapes infused with ground peppercorns. It was utterly delicious and will have you craving for more.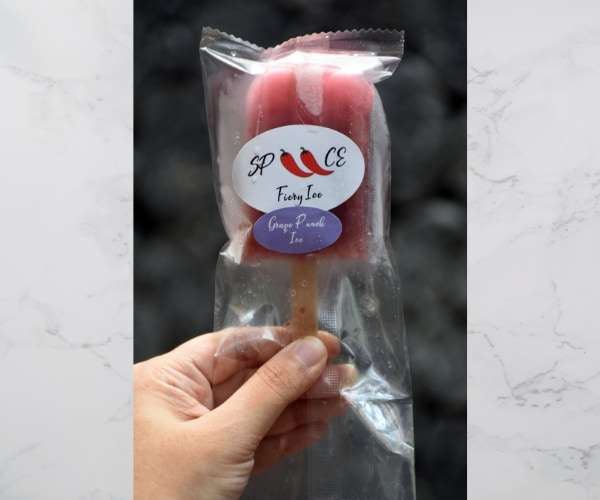 Proving that one can enjoy a delicious vegan lunch and not miss - or even notice the absence of meat - Sabira surprised us with a Chinese lunch comprising fried rice, chilli garlic mushroom with smoked bacon bits, smoked sausage kebabs with spicy nut butter, and baby mushrooms, broccoli and cauliflower with "Chikn" a name Sabira uses for her vegan chicken substitute. True to her word, we barely felt the absence of the meat. The rice was flavourful and the tofu worked perfectly in place of eggs. The mushrooms, broccoli, cauliflower and chickn dish (at first glance, the chickn looked deceivingly like beef) was another delicious dish. The chickn has the consistency of a pate, and although it's not your stereotypical chicken, it was somehow acceptable, texture-wise, tricking our brains into thinking we were eating meat. My favourites though were the smoked sausage kebabs and the chillie garlic mushrooms. The skewers contained various peppers as well as smoked sausage kebabs. They were all so full of flavour and incredibly tasty. The mushrooms were coated in a batter and fried, generously topped with Sabira's homemade chillie sauce which was an absolute star! It was so good that we found it difficult to stop going back for more! Without a doubt, Sabira nailed her flavours with every dish, wowing us. For dessert, we tried her Turkish Delight Chocolate and vegan rich cake. The chocolate was yummy! And it was hard to imagine that it was actually vegan! It was the same with the cake.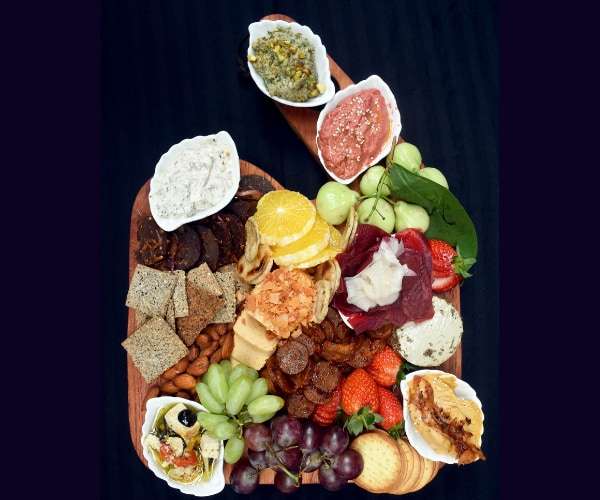 She had also prepared a cheese platter that comprised an assortment of her homemade range of cheeses, hummus, sausages, flax crackers, chutneys, and pickles, including an offering of crackers, dried fruits and more. Once again, we found it difficult to pick our favourites, considering Sabira's flavours are on point! Her regular hummus, pink hummus and herby hummus all comprised diverse flavour profiles, but special mention must be made of the herby hummus which had chunks of pistachios folded through the hummus flavoured with parsley, garlic and olive oil. It was rich in flavour and had a more vibrant texture and I loved it. Her cheeses too were tough contenders! We also tried her
From granola to yoghurts, vedgemeets, nut butters, pickles dips, superseed puddings, nut milks, and even artisan chocolates, vegans will find themselves spoilt for choice! However, Sabira makes her products in small batches to ensure their quality, taste and freshness, and only uses natural and locally sourced ingredients. Her sustainability ethos extends to her packaging - she avoids plastics whenever she can, opting for glass or paper packaging.
So if you're on the lookout for vegan goodies, then look no further than PowerCrunch Granola. Without a doubt, her line up will appeal to everyone - including those who swear they would never enjoy anything that's vegan!
For more information on her products and to purchase, visit https://powercrunch.lk/ Orders can also be placed via 0777402020. Sabira recommends placing orders early to avoid disappointment.
Pics Kushan Pathiraja