If you ever get a craving for Malaysian cuisine with a touch of Sri Lankan (and a slight bit of Indian) look no further! PappaRich is a well known global franchise that offers authentic Malaysian cuisine that's now making its mark in Sri Lanka. With a branch in Nawala and its main outlet located at Park street, it's a great place for you to enjoy a dining experience with your family and friends.
Ambience
We decided to go to the restaurant in Nawala and rightly so! The ambience was warm and welcoming and the staff was friendly and helpful which made our experience even more pleasant.
The Food
We had 5 dishes in total and I had to waddle rather than walk by the time I was done! The first dish we had was their newly introduced Roti Canai and Curry Chicken ( Rs. 950) This dish consisted of 2 Roti, dhal, sambal and a quarter chicken. Personally I thought it was a tad pricey but I can't deny it tasted pretty good. The roti was basic but mixed with the spicy dhal, sweet sambal and a juicy, succulent chicken it was a well-rounded variety of flavours.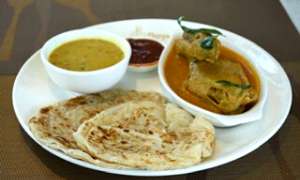 Next up was the Clay Pot Chicken Porridge with Steamed Chicken. Priced at just Rs. 800/- I thought this was well worth it. The porridge was served hot with a sunny side up and was brimming with spices. The steamed chicken which accompanied this was delicious! It was tender and was complemented by a sweet honey sauce which elevated the overall flavour of the chicken. I loved it! Just to spice things up, break the chicken into little pieces and add it into the porridge with a touch of sauce as well. Voila! Now you have chicken porridge!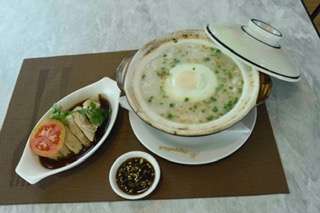 The Nasi Lemak with curry chicken and sambal prawns was my favourite dish! This dish had a lot going on in terms of flavour, but it all blended in together so well! The chicken curry, the juicy prawns, anchovies, cucumber, sambal, peanuts and the boiled egg made for a very filling dish that was well worth the Rs. 1500/- that you pay for it.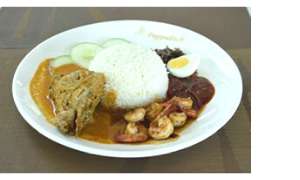 The Kway Teow Beef with Spring Onions and Ginger (Rs. 1000/-) was a close second in terms of flavour. Rice noodles, mouthwatering beef, spiced up with ginger was the perfect combination that created this dish. The portion size was massive and could easily feed two people. But it tasted so good that I ended up finishing it by myself!

Drinks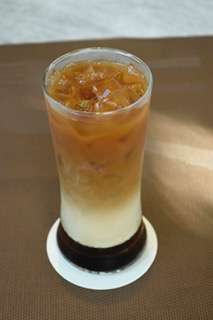 PappaRich offers a variety of beverages from fruit drinks, the Milo Dinosaur to a number of iced teas. Their signature Three Layer Iced Tea (Rs. 450) is a cold and refreshing treat! A combination of milk, chilled tea and palm sugar syrup, this drink is perfect to sip along while enjoying your food. It's not too sweet which is great and has a mild consistency. As mentioned in their menu card, The palm sugar does indeed make this milk tea as good as it looks. The Syrup Bandung Jelly (Rs. 500) to me tasted like an extra sweet Faluda.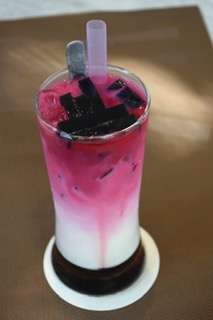 It was tasty, but nothing too special. It consisted of milk, flavoured with rose syrup which was topped off with Grass Jelly. This too had a nice consistency and would be an ideal beverage on a hot day!
Overall
I had a great experience at PappaRich and would highly recommend it to anyone that wants to try out delectable food and refreshing drinks at any given time of the day!

Pics Nimalsiri Edirisinghe