There has been a steady increase in home-based businesses in Sri Lanka, with many of them venturing beyond the typical rice & curry, short eats and desserts. The draw of the home-based food industry is the ability to provide hearty food that is prepared with an extra serving of love and care, coupled with good value for money. Bringing the unassuming, yet delicious momo to your home is Momo Station, the newest entrant to the burgeoning dumpling scene in the country.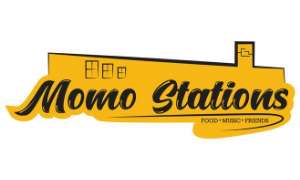 The Momos
At Momo Stations, they have momos that are prepared five ways; Steamed, Pan-fried, Tandoor, Exotic and Dessert. For the first four momo preparation styles, you can choose between Chicken, Cheesy Chicken, Paneer and Vegetarian fillings. Momo Station sent a variety of their products for the tasting. The momos were packed in boxes (we're glad they didn't use plastic there), labelled and were still quite hot when we got them, which was great. Each of the packages included a spicy dipping sauce. Here's what we thought about each of them.
The Steamed Classic Veg (Rs. 400), like all the other momos that would follow comprised 10 momos that were a good size each. There was ample filling. While the filling was flavourful - a good amount of spice, to boot - it didn't wow us. The taste veered more towards south Indian, which didn't bode well for it. We tried the Pan-fried Cheesy Chicken Delight (Rs. 650) next, which we loved! A good balance of chicken and cheese, the flavouring was subtle, yet perfect!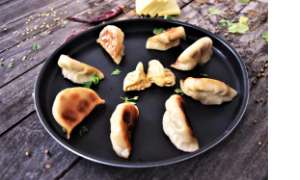 What we were really excited to try was the Tandoori Sizzling Chicken (Rs. 550) which we had not yet encountered in the country. We were also a little sceptical about it since the word 'tandoor' is thrown around so loosely by local restwwaurants when the dish is anything but! We were pleasantly surprised that the momos were given the legit tandoor treatment. Bursting with flavour and spicy, this was another of their momos that I would gladly have again.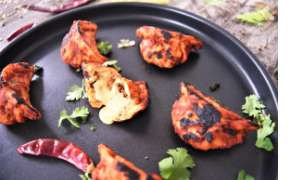 Their Magic Manchurian Chicken (Rs. 550) was another interesting entrant off their Exotic menu. A Manchurian is often extremely flavourful - with tangy and sweet undertones. The Magic Manchurian Chicken momos fell short of that flavour profile and weren't as rich and exciting as we'd hoped.
As of now, Momo Station has two dessert momo options, the Chocolate Lava and the Hawaiian Chocolate. They sent over the Chocolate Lava (Rs. 750) for us to taste. This was warm, gooey goodness, and since it was still warm when we got it, was utterly enjoyable. And with 10 momos, you're bound to slip into a food coma!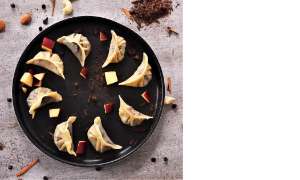 Overall
Momo Stations provides good value for money, considering their food is affordable with a good portion size. They're also ideal for vegetarians, as they have both the vegetable and paneer options too, and it's quite rare to find a place that caters equally to the needs of non-vegetarians and vegetarians.
To place your orders direct message them via their Instagram account @momo_stations
Pic Credit: Momo Stations