"The artist is always a good and positive dreamer and it takes a long time for those dreams to come true," says Kingsley Gunatillake, an award-winning Sri Lankan visual artist. Gunatillake specialises in the installation, abstract and book art and is currently showcasing the second phase of his 'In Between' exhibition series at the Paradise Road Gallery Café.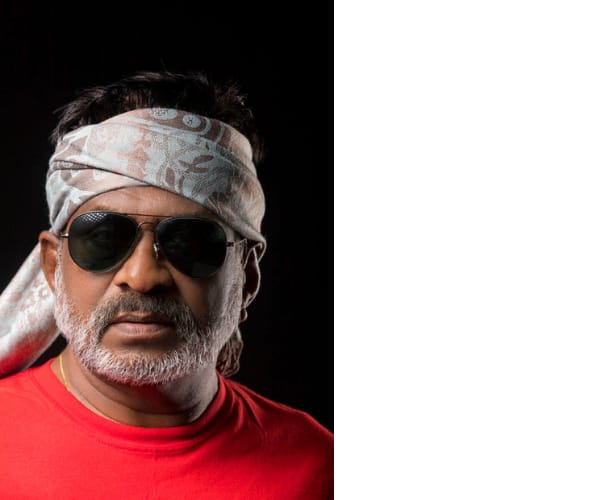 Having obtained a Bachelor of Fine Arts from the University of Visual and Performing Arts, Colombo, and a Diploma in Environmental Education from the University of Strathclyde, Glasgow, Gunatillake has a wealth of experience gathered from tours to Munich, Bratislava, Manila, France and many other countries. His work has been featured in various solo and group exhibitions in Sri Lanka and abroad. Gunatillake is also the brainchild of Child Art Studio, a space dedicated to promoting children's artistic creativity.
When asked about his inspiration to experiment with abstract art, Gunatillake said that it is an inevitable part of contemporary art and for him, it is a path to freedom rather than an expression of deep conceptual ideas. "Different forms of abstract art appear everywhere and it's impossible to follow contemporary art without respecting the important place abstract ideas have in today's world of the arts. What is very important to mention when trying to define abstract art is the fact that abstract artists do not deal with the representational interpretation of a subject. That is why I don't get bored when doing an abstract work of art. The composition of real abstract art is attractive to me," he said.
The first 'In Between' Exhibition was held at the Saskia Fernando Gallery in 2019. When asked how this exhibition is different he said that although this exhibition may seem like an extension of the 2019 exhibition, it includes a few re-experiments with grammatical variations. "The analogy I showed in the first exhibition is broken here as a line of research. I do not feel tempted to do the same. As Wasily Kandinsky said, "there is no must in art because art is free".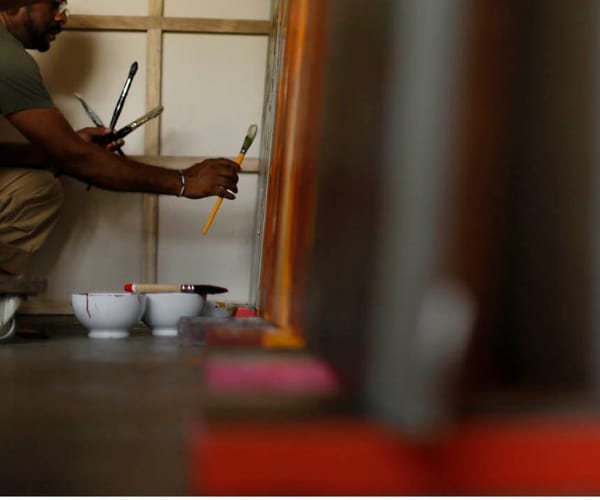 The COVID-19 pandemic has posed many challenges to self-employed people, especially those involved in arts and crafts. But more than the pandemic Gunatillake believes that the space for art production in Sri Lanka is a challenge in itself. "The cost of materials and products is expensive and there is very little room for display. There's no equitable market for artists' work. If not for spaces such as the Saskia Fernando Gallery, Gallery Café Paradise Road and Barefoot Gallery what would have been the plight of art and artists?"
He further said that the National Art Gallery built in 1931 is still an artefact. "Can we expect a platform for art in a country that hasn't created a proper market or system for the country's most essential agriculture sector for the past 72 years?" he questioned.
"The works of living artists such as Yayoi Kusama (1929...) and Takeshi Murakami (1962...) from Japan, Anselm Kieferare (1945...) from Germany, Jeff Koons (1955...) from the USA are proof of the global demand for modern art. Hence, governments should play an active role in empowering art and artists," he added.
'In Between II' will be open to the public until August 5, 2021 from 10.00am to midnight at Paradise Road Galleries, The Gallery Café, No. 2, Alfred House Road, Colombo 2.