The emerging designers held the audience in thrall on Day 1 of HSBC Colombo Fashion Week held at the Shangri-La hotel in Colombo. Eight young designers took to the runway to showcase their collections. Brimming with new ideas on sustainability, preserving artisanal crafts, using zero-waste patterns and natural dyes the clutch of emerging designers presented collections that were both sleek and stunning. Ones to watch included Hashintha Halwala's monochrome collection coupled with his use of pleats was slick on the runway while Mikhail Hameed, clearly a chip off the old block presented a collection of menswear which personified street style with a dash of panache. Hirushi Jayatilake's selection of fabrics added a touch of blingtastic glamour to the runway. Using a bold colour palette of red and purple coupled with black and white Harinda Gunawardhana's collection which incorporated batik added a dramatic vibe to the evening.
Akash Paranavithana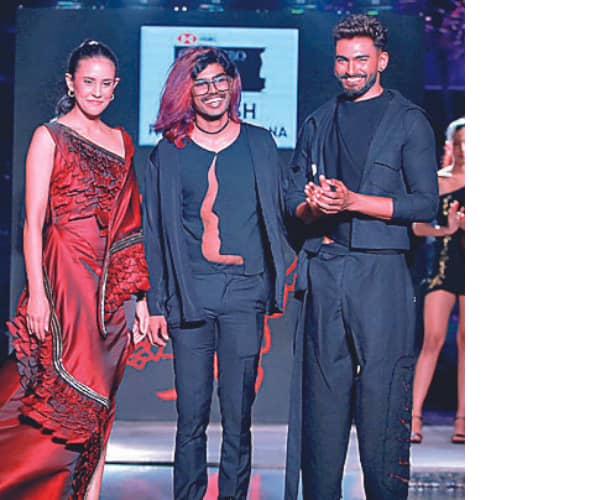 Fond of creating abstract concepts, he takes something that is not visible to the naked eye and creates it to something tangible. His brand MAEL CEYLON focuses on high streetwear and accessories. In this collection, Akash has used zero-waste patterns, used patchwork and safety pins to reduce waste.
Chamanka Hewage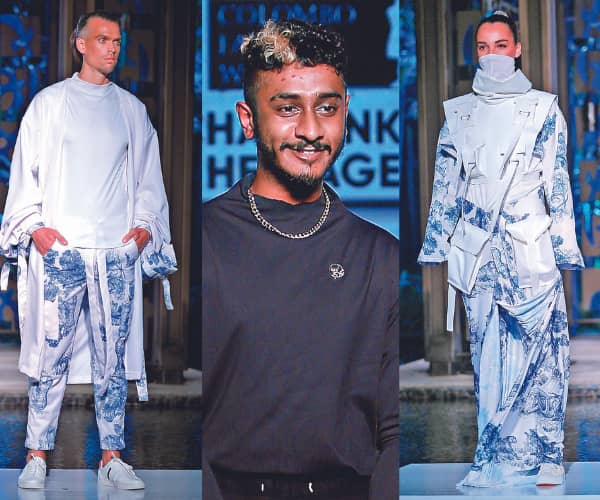 His brand PANTHER espouses the idea of art in fashion and celebrates fashion by connecting many different backgrounds like music and choreography. This season the collection was designed based on the street x techwear fashion trends and the entire collection is inspired by the famous Spanish poem Le Jardin by Jaques Prèvert.
Githmi Samarasekara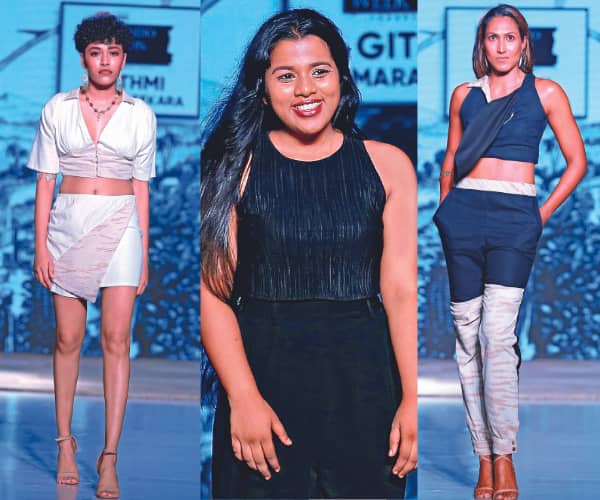 Striving to capture the uniqueness of Sri Lankan culture as inspiration for this collection Githmi has spun formal design essence into modern fashion concepts. Her brand Gi focuses on a mix of formal and casual looks and is an eco-conscious brand. He has used natural dyeing techniques mainly tea dye, complicated pattern cutting, draping, and tailoring to elevate her collection.
Harinda Gunawardana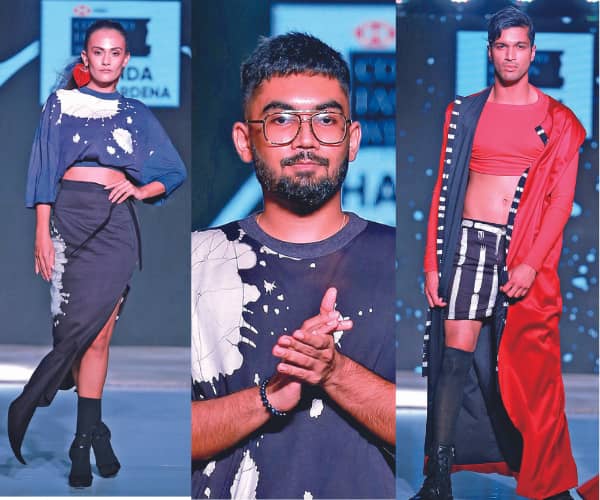 Using batik in a contemporary abstract manner Harinda has created a collection that pays homage to power dressing which was popular in the 1980s. He has used eco-friendly fabrics and home-based artisans with a view of helping to elevate the batik craft sector. His brand HARID fosters self-love and confidence while promoting the value of being comfortable with oneself.
Hashintha Halwala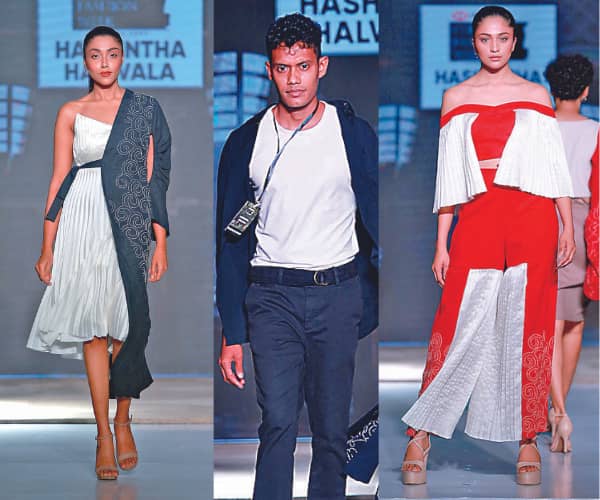 An illustrator by profession Hashintha was inspired to dip his toes into fashion design after interning backstage at Colombo Fashion Week. His brand DEV HALWALA consists of activewear. He has used natural and synthetic fabrics and the garments have varied aesthetic details such as embroidery.
Hirushi Jayatilake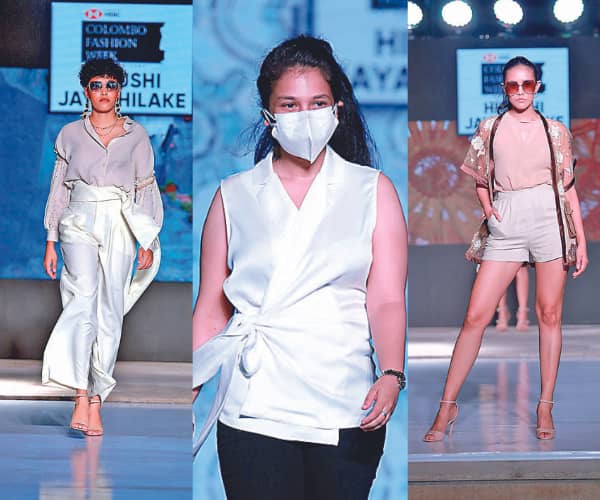 Inspired by the ironworks at the V&A museum in London this women's wear brand HIRUSHI is a Sri Lankan label based in London and Sri Lanka. The collection is a mix and match of elegant boho-chic and sophisticated style which brings out the essence of the carefree seventies to the present 21st century with fresh, effortless looks designed for the young at heart.
Mikail Hameed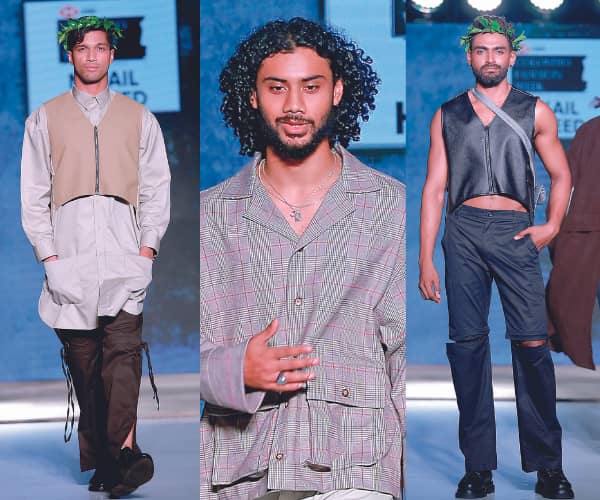 Introducing his brand ALTY this collection was inspired by the synergy of nature. With wide and A-line silhouettes and with the play of proportion, using sleek lines and muted tones coupled with the use of sustainable fabrics of organic cotton and repurposed waste has added an interesting element to this collection.
Prasadi Weerakkodi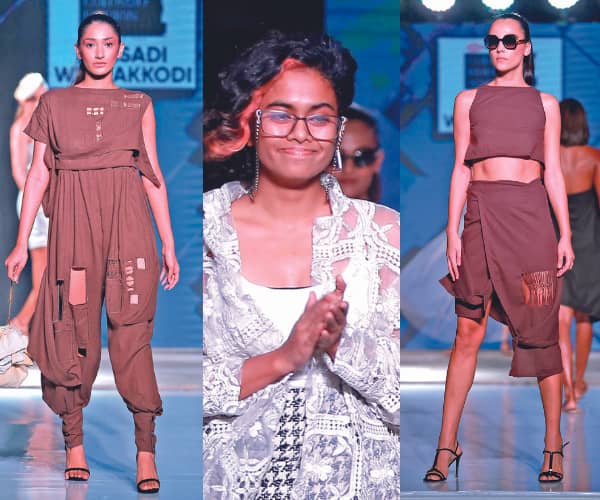 Celebrating the diversity of the human figure, Prasadhi has created a collection using the notion of "toned gap dressing". Prasadi seeks fashion as a language that allows individuals to communicate with one another.