Colombo witnessed a smorgasbord of fashion during the HSBC CFW which concluded on Day 3. Indi Yapa Abeywaydene who celebrates her tenth anniversary showcasing at Colombo Fashion Week provided a fitting finale with a collection that sparkled under the bright lights. Charini Suriyage and Sonali Dharmawardhane were the other standout designers of the night. Adding a vibe of international glamour were Suket Dhir the celebrated designer from India and Zaheer Abbas a noteworthy designer from Pakistan. Despite the usual barbed comments and brickbats from Colombo's fashion observers, Ajai, Fazeena and the CFW team should be congratulated for providing a platform for designers and various industry stakeholders to showcase their work. It should be noted that when Sri Lanka's fashion landscape was limited to fashion shows in lobbies, it was the advent of CFW that elevated the fashion scene. Learning through their errors CFW is continually evolving to provide a better fashion experience for both designers and consumers.
Agra by Nilusha
Championing minimal waste patterns, Maddumage Nilusha embraces sustainable design with unbridled passion. Her clothing can be worn in multiple ways, a buckle here and a button there change the entire outlook of each outfit making it a multifaceted garment.
Indi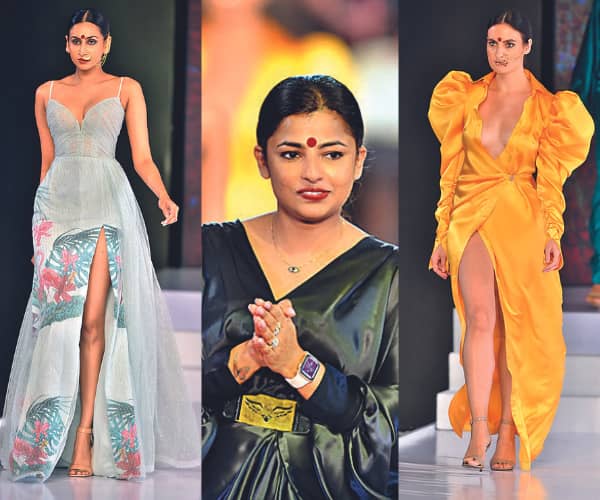 Deriving inspiration from a recent trip to Jaffna, the collection strives to embrace the innocence, purity, true spirit of Jaffna and the positivity and the sensitivity Indi felt during her exploration of the city. Portraying a fierce mood using a soft to bold colour palette, the silhouettes were structured to depict the vision of the collection.
Charini Suriyage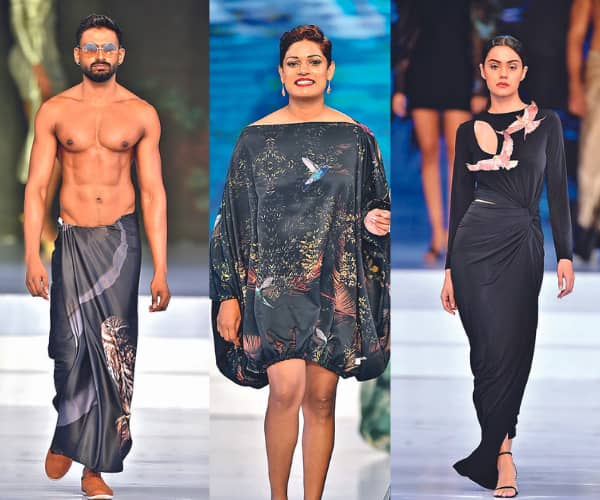 Inspired by her love for experimenting with combinations of the traditional and modern, Charini has made a mark for herself in the ethical fashion arena. She presented silhouettes embodying fluidity - a key aesthetic in the brand, CHARINI. Inspired by nature this collection uses images from wildlife photographer, Sarinda Unamboowe, whose respect and passion for the subject of wildlife and its photography made this a like-minded collaboration.
Himashi Wijeweera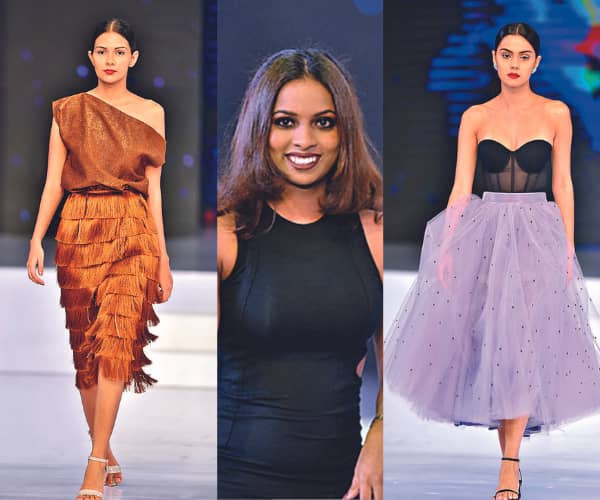 Known for her use of beeralu lace this collection was inspired by the colour combinations found in the cosmic horizon. This collection marks a highlight in Himashi's fashion journey as this contained some of her best ever work. The Silhouettes are kept simple in order to mainly focus on the embellishments and they vary from bodycon silhouettes to flowy and fluid silhouettes showcasing different potentials of the textural combinations.
Hameedia - Fouzul Hameed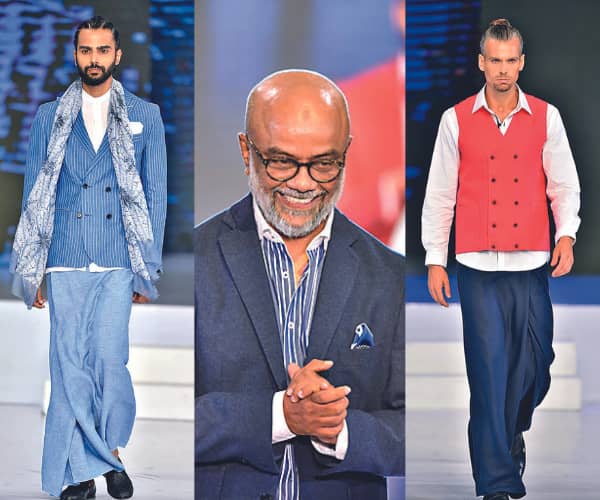 The grandmaster of men's fashion in Sri Lanka, unassuming and humble, Fouzul Hameed continues to do what he does best - creating impeccable men's clothing. With the use of bright and expressive colours using light cotton and breathable linens with an emphasis on sustainability, the collection captures and conveys the ambience of a beautiful day in Milan.
Sonali Dharmawardena
One of the finest contemporary batik designers whose abstract designs have often been compared to wearable art Sonali's collection was inspired by memories of Sri Lanka's unique wildlife and terrain which are ingrained in her memory from her childhood.
Suket Dhir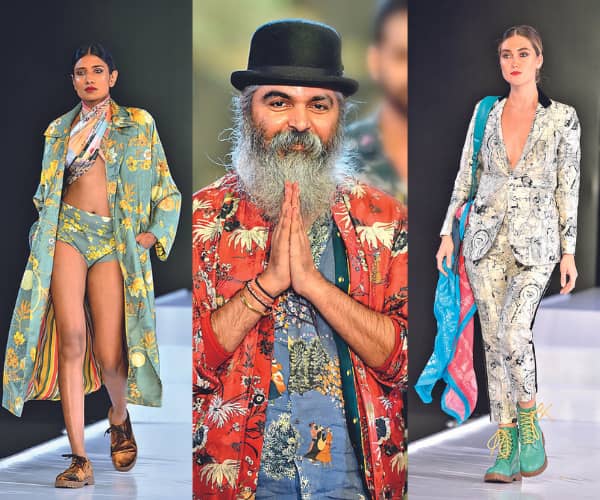 Celebrated Indian designer Suket Dhir, no stranger to CFW showcased his Forever Young collection which celebrates the resplendent youth which we all come into, but few devote our every breathing moment in pursuit of excellence. The aesthetic of the miniatures and the story is inspired by Olympus, the city of Greek Gods - the sculpture-like athletic bodies, the sporting culture, adorned with jewellery inspired by temple sculptures. The comic treatment lends playfulness to the storytelling. Overall romanticism ties up the whole narrative.
Zaheer Abbas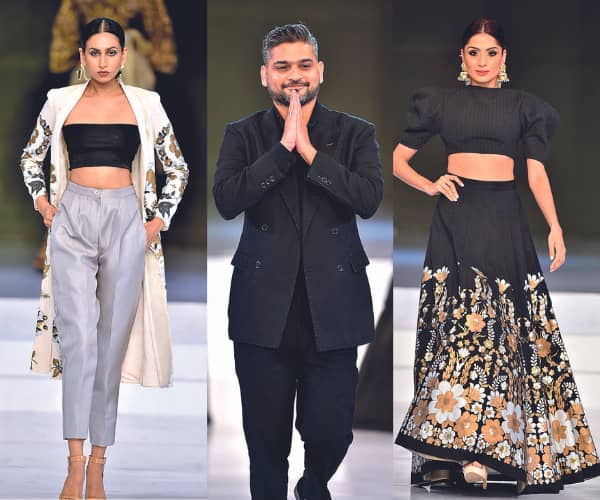 Pakistani based designer Zaheer Abbas was inspired by coming back to a semblance of normality after two tumultuous years of the pandemic. The clothes themselves show that the language of beauty is a multi-faceted drama of creation and renewal, remembering and forgetting. All of the pieces are made of the humble cotton fabric, comfortably and uncritically adorned solely by hand screen prints of floral vines and fauna motifs.