Once an aspiring tennis player, Sri Lanka's first hijabi athlete Fathoum Zaleeha Issadeen went on to make her mark in Squash both locally and internationally, eventually deciding to pursue squash. Fathoum has won a plethora of awards and recognition for her talent, but a few among the many accolades and milestones that attest to her illustrious career are winning the under 9 National Squash Champion in 2012, winning a Silver medal at the Asian Junior Doubles, being crowned Champion at numerous Sri Lanka Squash Championships, winning the National Squash Championships 2020(2021) Women's Open, and winning Bronze at 13th South Asian Games in Nepal. She was ranked 208 in the world in 2016. The Daily Mirror Life caught up with the talented Fathoum to talk about her life and her achievements. Below are excerpts of the interview.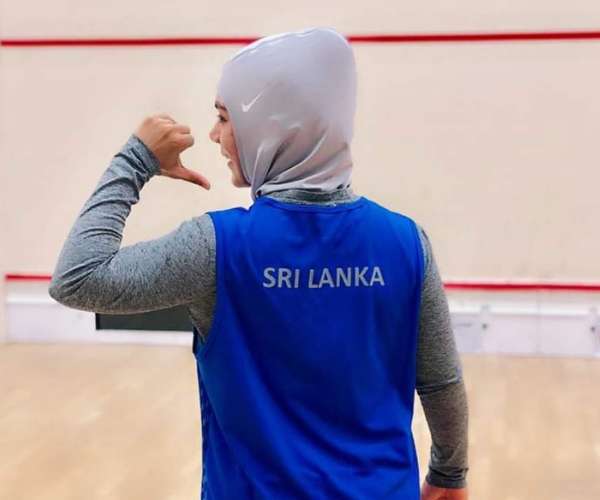 TELL ME A LITTLE BIT ABOUT YOURSELF
I'm the youngest in a family of 6, five older brothers and me. I studied at Holy Family Convent, Colombo 4 from my nursery days till my advanced level examination.
Growing up, I had a very supportive family and school which helped me achieve my dream. My parents gave me their utmost support and love throughout my journey. My brothers were all sportsmen as well, so they helped me a lot with their experiences. I have very understanding sisters in law who have made my tough times easy with their never-ending love and advice.
Back when I was schooling, my principal Rev Sr Chandani Jayasuriya believed in me and supported me with my sports and education. My teachers were very understanding of my sports, especially my sports teacher Miss Rohini Condegama. I had a lovely batch of classmates who made my schooling life so much fun, especially my two late best friends. I was very privileged to have Uncles and my aunt who have been there for me throughout my journey, even when times were not great. My grandmother was always proud of me no matter what, which made me always push even harder. I'm thankful for having cousins who never failed to put a huge smile on my face.
My squash coach Mohammed Rizwan who has been my coach since childhood to date has always pushed me to my maximum and guided me in every match that I played. I played tennis as well and represented Sri Lanka at the Asian Juniors and World Juniors. My coach Niranjan Cassiechitty has been a huge influence in my sporting life.
HOW DID YOU FIND LOVE FOR SQUASH? WAS THERE ANYONE IN YOUR FAMILY WHO INSPIRED YOU?
I always enjoy running, and what better sport than squash to make me run all over the place. My brothers have inspired me a lot in the game of squash. My father has such a vast knowledge in the game that hearing him advise me made me love the sport even more.
IF YOU HADN'T CHOSEN SQUASH, WHAT OTHER SPORT WOULD YOU BE DOING RIGHT NOW?
If not for squash I would have continued my tennis as it was a sport that I've already played and still love.
WHO IS YOUR BIGGEST INFLUENCE AS A SQUASH PLAYER?
My biggest influence in squash now would be the former World Number one Laura Massaro of England and Raneem Al Weleily of Egypt.
WHAT'S THE BEST THING AND WHAT'S THE MOST CHALLENGING PART OF WHAT YOU DO?
The best thing is waking up to a purpose in life and that's to win for Sri Lanka. Having a set schedule every day with minimum time to waste is something I love about what I do. The challenging part is that every day isn't an easy day, sometimes there are physical (fatigue etc) or mental/emotional battles that I might have to go through, but that doesn't mean I take the day off. I still continue doing what's on my schedule making the most of that day.
YOU HAVE WON THE SRI LANKA SQUASH NATIONAL CHAMPIONSHIPS CONSECUTIVELY, TELL US ABOUT IT?
I'm happy to see that my training is helping me achieve these as it is a huge sense of satisfaction knowing that the training I'm doing is somewhat right.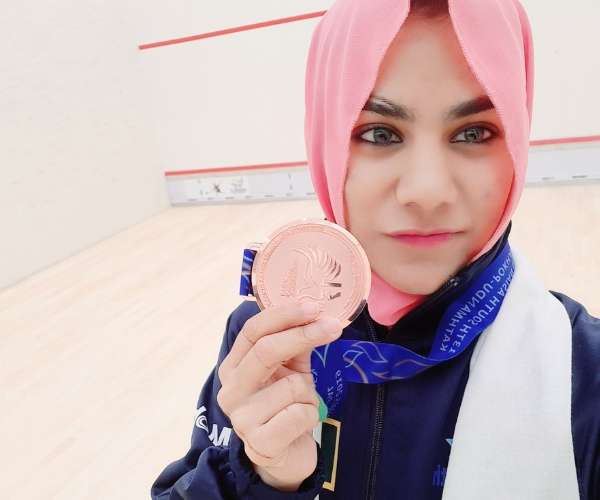 YOU WINNING THE BRONZE MEDAL FOR THE TEAMS AT THE SOUTH ASIAN GAMES WAS A HUGE FEAT. HOW DID YOU PREPARE?
Initially, I did prepare a lot, waking up for training early in the morning and then followed by 2 or more sessions for that day. I also cut down on sugars and fatty foods which was a hard thing to do. I didn't go out for gatherings if it clashed with my training. I didn't take any holidays for over a year. If I had to go out of Colombo for any reason, I'd take my racquet and shoes so that I can train over there. But that all had to come to a pause after I had to attend national training during which I got injured. So I had to mentally boost myself as I was very disappointed with what National training had done to me. Further, there were a lot of challenges, hurdles and discriminations which I had to face and undergo on many occasions. But at the South Asian Games. I gave it all I could regardless of these hurdles.
DO YOU THINK SQUASH GETS THE RECOGNITION IT DESERVES IN THE COUNTRY? WHAT HOPES DO YOU HAVE FOR IT?
I feel squash doesn't get the recognition it deserves. This sport is brutal, and I believe that this sport should be acknowledged by the sports councils, as a lot of effort, both mentally and physically is put in for this game.
I'm glad that our present Minister of Sports, Hon. Namal Rajapakse, who has played rugby at the highest level and who understands from the competitor's point of view is heading Sri Lanka sports. I hope that he will recognize squash in Sri Lanka and give us his 100% support to bring home the first Asian Games and Commonwealth Games medal.
WAS THERE EVER A MOMENT THAT YOU FELT DISCOURAGED?
Definitely, I've had many days I've felt very discouraged. But I believe that everyone who has a goal will have these days, and pushing harder on days like that is what makes the difference.
WHAT DOES A TYPICAL DAY LOOK LIKE FOR YOU?
A typical day for me starts at 4 am where I do my daily prayers, then if I have an early morning session, I'd get ready for that, but if my session is late in the morning, I complete me study session before I start training. On the days that I have 2 sessions, I prepare my self for the day. Most times my day ends by 6.30 pm. I make it a point to stay connected with my family and friends at the end of each day.
WHAT'S THE MOST IMPORTANT LESSON YOU'VE LEARNED SO FAR?
The important lesson would be that nothing you love would ever come easy, the battles that you would have to go through would knock you off your feet sometimes. But with patience and effort, you will finally achieve what you wished for, and there is nothing sweeter and rewarding than that.
WHAT IS YOUR DREAM? WHAT DO YOU HOPE TO ACHIEVE?
I dream of winning the gold medal for Sri Lanka at the Professional Squash tournament, Asian games, Commonwealth games, and putting Sri Lanka squash in the world map.