Launching her eponymous brand in 2015 designer Nayani Fernando has been on an exciting journey in fashion. She focuses on sustainability and designs clothes that appeal to modern fashionable women. A keen observer, Nayani is inspired by those around her and how they dress and style themselves.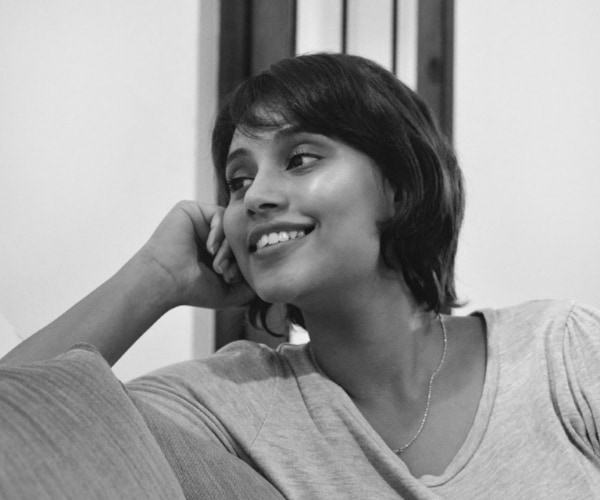 What sparked your interest in fashion design?
When I was younger my mother used to sew clothes for me and my sisters from scratch. I remember being very interested in the process and would watch her sew, igniting my interest in fashion design from an early age. I've always enjoyed dressing my friends and sisters and helping them pair outfits and colours together. Over the years I've enjoyed observing how other people coordinate their own unique sense of style and have tried to take inspiration from this.
What made you take fashion more seriously and make a career out of it?
I am beyond grateful to have very supportive parents that believe in me and helped me identify my own talents. I always knew I wanted to work in the garment industry and couldn't picture myself thriving in any other field.
Are you self-taught or did you study fashion design?
A mix of both. I studied design at the University of Salford, Manchester but have experimented with my own techniques and methods over the years.
How has your work evolved since you began your own label?
I always believe in changing my brand motifs with the times whilst trying not to deviate too much from my core identity and aesthetic. My focus has always been to make beautiful clothes but with different tones and accents depending on the season. Ensuring my garments continue to be functional, wearable and durable is very important to me.
Are there any types of clothing that you avoid designing?
No. I don't want to limit myself. I still have so many aspects of design I would like to explore. The possibilities are limitless.
Where do you look for creative inspiration?
I find myself being inspired by art or occasionally photography, it doesn't have to be a specific medium. I usually start with colours or patterns and then take it from there.
Describe your latest collection?
I want to create a collection that virtually transports you to a tropical destination. The silhouettes are airy and comfortable and exude grace and functionality.
Who is your muse?
Every season it changes. That being said a constant style icon and muse for me personally has been Carolyn Bessette-Kennedy, she's the epitome of a NAYANI woman.
What are your sustainability credentials?
I currently practice sustainability in many ways, for instance socially and environmentally. I have always believed in fair trade pay for the women and men that help create and make our garments. We are currently in the process of putting together a zero-waste programme that benefits our planet and protects our environment. Additionally, we recently launched a collection with organic linen and hope to use more eco-friendly fabrics in the future.
What are you fascinated by at the moment and how does it feed into your work?
I am currently following a lot of Alabama Chanin's work. It's fascinating to read about the years she's devoted and dedicated to creating a sustainable fashion community. It's my aim and goal to make NAYANI a 100% sustainable brand in the future. I understand the process is a tedious one but I am determined to get there.
What is the biggest lesson that you have learned since you started your company?
Never forget your brand identity and what it stands for.
What's your motto
Stay true to yourself and do it with love and gusto.
Which international or local designers are you inspired by?
There are so many amazing fashion labels and designers nowadays but The Row, Maison Margiela and Celine are a few.
What role do you think social media plays in fashion today?
Social media has given creatives the opportunity to have a personal relationship with customers. Instagram for instance is a visual storytelling application that helps you convey the entire concept of your brand/collection through images and captions. I feel as social media users we are so aware of the impacts of fashion and the importance of being a sustainable brand as well. It not only helps us connect locally but also internationally.