In 2020, despite a global pandemic ravaging businesses, designer Dulasha Jayawardene took the brave step of launching her eponymous label. Drawn to a career in fashion designer Dulasha graduated from the AOD and started her career working for Victoria's Secret before taking the plunge and launching her own business.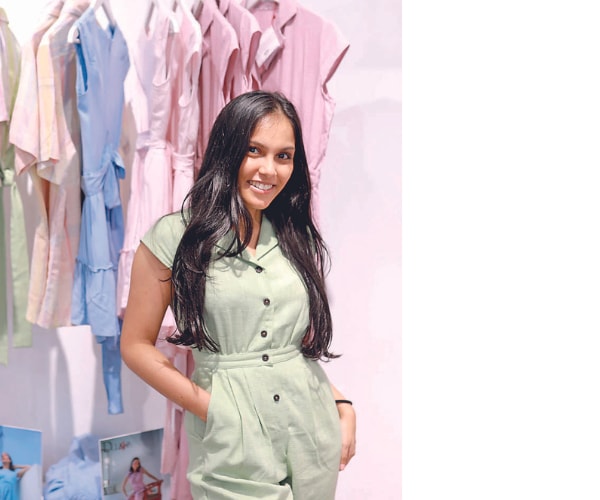 What sparked your interest in fashion design?
I have been an artist all my life. I have won quite a few inter-school, island-wide & worldwide prizes as an artist. My love for fashion grew further in my late teens when I was doing my AS Levels at Ladies' College Colombo. What really made me discover my latent affinity towards fashion was an art project which involved drawing the human form in its entire range. I found myself drawn to drawing garments that I would intuitively create based on the silhouettes I had sketched.
What made you take fashion more seriously and make a career out of it?
Realising my innate ability was a truly special moment in my life. This newfound way to project my creativity seemed to align so perfectly with my quasi obsession with clothes and styling myself.
Delving further into the craft as an amateur further consolidated my resonance with this art form. I simply loved it! At that point, I knew this is exactly what I wanted to passionately pursue. Bringing my imagination to life and sharing it with those around me became an almost tangible non-fungible dream.
Are you self-taught or did you study fashion design?
After discovering my latent fashion art prowess, I was advised by my parents to consider achieving an academic qualification and transforming from a fashion artist/ illustrator to a designer who is fully equipped with technical knowledge.
I decided to take their counsel to heart and joined the Academy of Design, Colombo. There I managed to acquire skills and absorb technical knowledge which has proven to be pivotal. I completed my bachelor's degree in Fashion Design &Textile in 2016, at which point I began my professional career at Brandix, designing for Victoria's Secret (Victoria Sport).
How has your work evolved since you began your own label?
Transitioning from a day job mentality to a business owner mind space was a real struggle. I thought by doing a test collection I might get a feel for it. To my dismay, it didn't come easily to me even after that. It was, however, a real eye-opening experience that gave me an indication of what is to come.
Conceptualising, Designing, Sourcing, Manufacturing, Quality Control were enough to overwhelm me, and it was just the Production Workflow. Sorting out the brand and business development along with the marketing and sales plans and the bookkeeping all together was a real nightmare at the inception. I was lucky to have a great support system all around me, starting with my family. This whole journey has been a real team effort. With time I adjusted and learned to compartmentalise and be more efficient with my time. Through this struggle, I have found more facets of myself which have influenced my design process and creative output. This gradual growth has manifested in subtle ways in each piece of clothing that I've created. It's all in the details… This evolution continues to this day as I am still a work in progress.
Are there any types of clothing that you avoid designing?
At the core of it all, I love fashion design as an art form. As is the case with all forms, Fashion Design prowess is a constant work in progress. Hence, there is no particular type of clothing that I am prejudiced towards. Some are quite a task to sculpt the way I want, and others are simpler. Instead of using that as a filter, I take it more as a challenge. When I do eventually manipulate the shape to my desire, it is a palpable joy!
Where do you look for creative inspiration?
I draw inspiration from art, emotions, history, music, people, food, and my own life. Observing closely, time tested designer brands such as Christian Dior, Prada, Gucci, Fendi, Versace, and many others, has also helped me track the trends and derive inspiration from their creative direction. Modern designer brands which have been causing a stir, such as Jacquemus and Proenza Schouler, gives me an insight into current trends which are not influenced by a long lineage.
I also make it a point to pay attention to contemporary style icons and stylists on Social Media Platforms, such as, DuaLipa, Kylie Jenner, Lorenzo Posocco, Xenia Adonts, Danielle Bernstein, Alexandra Pereira and Style Heroine. Vintage style icons, I believe deserve just as must attention as the contemporary ones. I have taken notes from celebrities such as Audrey Hepburn, Bianca Jagger, James Dean and Cher, to name a few.
Describe your latest collection?
Our current collection which we called, "Dark Twilight", is an extrapolation of our previous collection, "Pastel Nature", which was a bubbly, innocent and flamboyant collection of garments, whereas Dark Twilight is an elegant evening wear collection designed to invoke deeper and more mature sentiments.
Dark Twilight is a collection of pure Linen clothes which will effortlessly gravitate you to resonate with the nightlife vibes, in style and comfort. The colour palette was inspired by the deeply saturated hues of an impulsive painting of the late evening skies as seen from Galle Fort. This is a very personal collection, as always, with a lot of sentimentalities attached. This collection is a manifestation of deep emotions such as love, joy and passion, which were cherished at that moment. During the design process I coalesced my imaginations with the inspirations I drew from 1970's versions of Bianca Jagger and Cher. In the case of Bianca Jagger, she also resonates immensely with one of our brand values which are to create high utility clothing.
Who is your muse?
In my formative years, as most teenagers do, I took my cues from the celebrities of that time. In my early 20s, I started to divert a fair bit from the unimaginative and almost lazy route of popular culture references. I took great joy in looking inwards and allowing my creativity to flow through. Every time I get inspired by something or someone, I use that element to evolve my very own ideas. Every design I create, I'd ask myself, "how does it resonate with me?", "does it go well with my personality and my body type?", "what would this piece express about me, to the outside world?", among many other questions. I believe that doing this has helped me form unique designs which tesselate harmoniously with each other and myself.
What are your sustainability credentials?
At Dulasha, we make it a point to create true capsule collections by designing and manufacturing clothes with high quality, longevity, utility, and versatility. Sustainability, as a concept, emerged as an element of corporate ethics as a retort to the clear long-term damage caused by a focus on short-term financial gains.
We endeavour to satiate the insatiable need to perpetually buy more clothes. Our collections are designed and coalesced to have myriad unique stylish and elegant combinations. Even individual pieces are designed to be able to be styled in more than one way. This utility and versatility combined with our keen focus on quality and longevity contribute to satisfying our purchasers and fulfilling their wardrobes needs. Furthermore, we only use fabrics made from natural fibres. This is done primarily to ensure superior comfort and to guarantee minimal impact on the environment. Being environmentally conscious is a value that we are proud of. This all comes together to make, "Dulasha", an economically and environmentally sustainable clothing brand.
What are you fascinated by at the moment and how does it feed into your work?
The current Autumn-Winter collection of Christian Dior has really caught my attention. Design details, may it be covert or overt are part and parcel of designer wear clothing. The detail congruence seen in this collection resonated with me immensely. This is a creative perspective that I am truly keen on integrating into my conceptualization in future collections.
What is the biggest lesson that you have learned since you started your company?
While having a job, there were times when I was disorganized and was able to get away with it. Having a label is completely different. Being successful requires being rigorously organized. It is of utmost importance. It was a real challenge at the start. Over time, I have learned to let my creativity run wild and keep my workflow straight and narrow.
Also, Fashion Design, as fun as it is, is not a walk in the park. It's a multi-faceted discipline, which is something most overlook. Understanding the vitality of being a perpetual student of the game and striving to excel in every element of fashion design is another aspect that I have learned since founding, "Dulasha".
What's your motto?
Passion manifests in the form of perseverance.
Which international or local designers are you inspired by?
As mentioned earlier, I make it a point to pay close attention to luxury designer brands such as Fendi, Versace, Balenciaga, Gucci, Prada, Louis Vuitton, Yves Saint Laurent (Saint Laurent) and Christian Dior among many others. First and foremost, I am a fan and these brands have done a grand job of making and keeping me a customer. This is a quality I aspire to emulate. Alongside the brand loyalty which they induce, I also find inspiration in their creative perspective. As I've said before I use my reality as a stimulant for my inner subjective creativity.
What role do you think social media plays in fashion today?
"If a large tree falls far away in a forest and there's no one around, does it make a sound?" Some think this has a complex answer, yet the fact is it's quite simple: the impact will create vibrations that no one will hear, and the sound is in the hearing of it.
In the same vein, one could have an outstanding brand with all the bells and whistles, yet without substantial brand awareness, its impact will be negligible. In the current landscape, social media, if utilized strategically, could be, a monumentally powerful tool in your arsenal, on your path to success, however, you may perceive it.
What is your favourite part about being a designer?
As an artist, I was able to manifest my imagination in the form of a sketch or a painting. It's such a joy to see what started as a figment of your imagination take form on a canvas before you. It was not a thought anymore, it was real.
What got me hooked on fashion design was the promise that I could take it a dimension further. As much as I love the design process, what I long the most for is to try on the finished piece of clothing and to allow my senses to grasp how far a thought has come.
How do you want women to feel when wearing your clothes?
As the tagline says, I want everyone who wears my clothes to fall in love with themselves all over again. I am dedicated to make this a reality. Striving to design clothes that induce confidence and self-love is a pivotal element of the creative process. It's my vision to manifest an enrichingly positive vibe through my brand which motivates my community and myself to become the most beautiful version of ourselves, inside and out.
PICS Courtesy: Dulasha