Dileepa Jeewantha's love for painting has paved a path to go in search of himself. Unlike many popular artists, specialising in abstract and various other forms of art, Dileepa is more interested in still life and figure drawings. In this exhibition 'My Faces', Dileepa showcases different expressions of his own face, in a quest to understand himself better through art.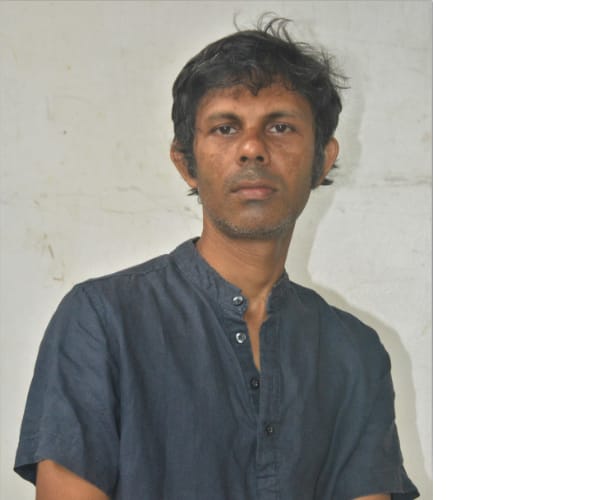 Born and bred in Hikkaduwa, Dileepa was initially trained in multidisciplinary design, graphic designing and so forth. Having completed a Higher National Diploma in Multidisciplinary Design, Diplomas in Graphic and Multimedia Design and a certificate course in paintings, Dileepa has technically fine-tuned his childhood dream of becoming an artist. But it was at the Vibhavi Academy of Fine Arts that Dileepa developed a liking towards human figures and still life drawings.
"An object doesn't have feelings, but we make it a subject and bring it to a 2D perspective on canvas," he said during an interview with Daily Mirror Life. "I started doing portraits during the past one and a half years and I realised that we never get an opportunity to see our own face. We have to look at it from a mirror or an object designed by humans. In this exhibition, my attempt was to bring my face onto a canvas. I wanted to study and explore my face and this is one step in the process to understand my own self."
Over the years, Dileepa has done four solo exhibitions including 'My Faces' and three group exhibitions. Apart from that, he has also won the Young Designer's Award back in 2002 organised by the Sri Lanka National Design Centre.
The social dialogue on art has expanded over the years and with several art galleries opening up in Colombo and suburbs, people are given an opportunity to visit exhibitions and interpret art with a free mind.
However, Dileepa feels that public perception of art is relative and that it doesn't affect his creations in any way. "A piece of art may be good or bad and it's relative. What society thinks doesn't affect me. I have my own face to portray on a canvas and I have the freedom to express it the way I want."
Even though this is his first showing at The Paradise Road Galleries, Dileepa is an artist that doesn't go in search of exhibitions. "If I start doing some paintings aiming at a deadline or an exhibition I can never complete my work. These are some of the works that I have completed while on an ongoing project and therefore I decided to showcase them."
If one closely observes his portraits, he has showcased various expressions. "I love my country and in the current situation, it is very important to safeguard my country. But I have come across various traumatising experiences and this is what I have tried to portray on a canvas. In fact, I'm trying to solve my own problems by expressing my face and facial expressions on a canvas."
'My Faces' will be on display at The Paradise Road Galleries, The Gallery Café, No. 2, Alfred House Road, Colombo 3 till September 2.