ME Colombo, a city hotel found in the heart of Colombo (just near Havelock Town) unveiled their new Mediterranean menu on Friday 2nd October 2020. I popped in to see what they had to offer and take a look inside this beautifully designed hotel. The effort put into designing the place is commendable. Intelligent use of space has ensured that they maximize the space that the restaurant takes up. The place also includes a choice of both indoor and outdoor seating but unfortunately, the current COVID-19 regulations mean the tables weren't set as usual.
Appetisers
For what seemed like a small table of appetizers, there were quite a number of dishes and a plethora of salads to choose from. For instance, the Nicoise Salad was laid bare on a platter in the form of "assemble your own salad" with each component divided neatly. This was a little confusing.
The buffet included Panzanella, a Tuscan dish which I enjoyed. The tang from the tomato really stands out and complements the chunks of toasted bread. The Coleslaw was also lovely, slightly sweet with a little crunch.
The chicken component of the Chicken Hawaiian Salad was a tad dry and flakey. The buffet also included a Spicy Beef Salad which is a little on the hotter side. The Appetizers also have one type of cold cut, a version of sushi for the vegetarian folk, Prawn and Avocado toast and a few shooters with varying flavours like mint and lime.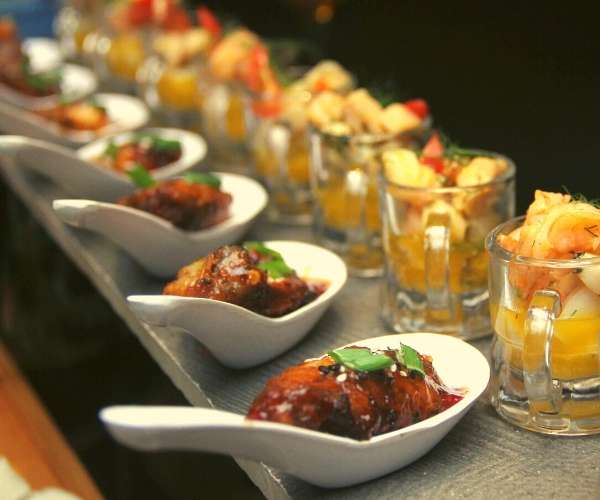 Mains
The Pasta ala Siciliana with Basil and Parmesan was very light, with a very subtle tomato flavour but also could have done with more basil and parmesan. The Burgundy Style Beef was cooked nicely, which I enjoyed alongside the Char-Grilled Pork Chop in Pineapple Sauce. The main course also included Greek-style Mutton in a vegetable stew, Seafood with Saffron Dil Cream and even two vegetarian options; Dal Makhani and Vegetable Korma. This being a Mediterranean Buffet, I did wonder why these dishes were included, but it is quite understandable that the task of setting up a line of dishes from countries around this region could be difficult because while they may be in close proximity to one another, they do have cultures which are completely different.

Desserts
The dessert table is rife with choice, with little bite-sized bits of mousse cake, rum cake and platters of fruit to name a few. The table also includes Gulab Jamun and other, more eastern desserts.
Restaurants around the city are coming up with new ways to attract customers with the ongoing situation, with new and improved menus, daily offers or events happening on a weekly basis. These new ideas can be hit and miss sometimes, with trial and error being a factor in finding the right balance. I did enjoy trying out these new dishes.
Service
The service could have been better.

The Mediterranean buffet is available every Friday at 7 p.m. For just 1955/- nett. They can be found at no. 16, park road, Colombo 5. You can also contact them on Instagram (@me.colombo) and Facebook (mecolombo) for further inquiries.
text Vihan Wickramasurendra
photos Pradeep Dilrukshana