According to American author and nutritionist Adelle Davis, the best way to live is to 'breakfast like a king, lunch like a prince and dine like a pauper".Checking out the new breakfast menu created by Asylum Restaurant and Lounge Bar, it appears that they have specifically taken on board Davis' advice and created a breakfast spread fit for a variety of royals!
Keen to maintain their innovativeness when it comes to offering cuisine to their customers, Asylum's Executive Chef Nishad Jayawardena has introduced a range of breakfast options which are available over the weekend from 8am – 4pm and for those who like to start their weekend later, this doubles up as a perfect brunch menu too.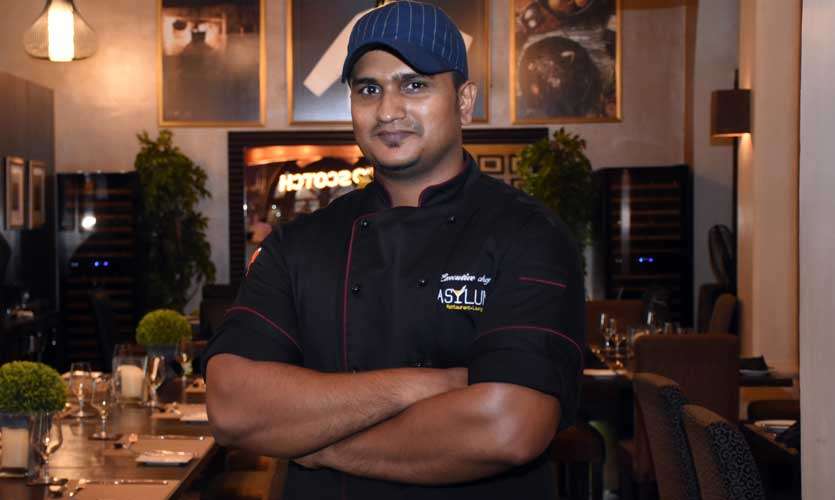 We started by sampling two cold brews which were the strawberry, mango and banana milkshake (Rs.650) and the chocolate and peanut butter milkshake (Rs.800). The former was served in a slim glass almost 12 inches in height and given the pink and red hues of the drink it was indeed an arresting sight. The trio of fruits were equally balanced in taste and it was not too sweet. The latter had generous helpings of peanut butter which were mixed with lashings of chocolate ice cream. The addition of peanut butter elevated this drink from a humble milkshake to something more worthy.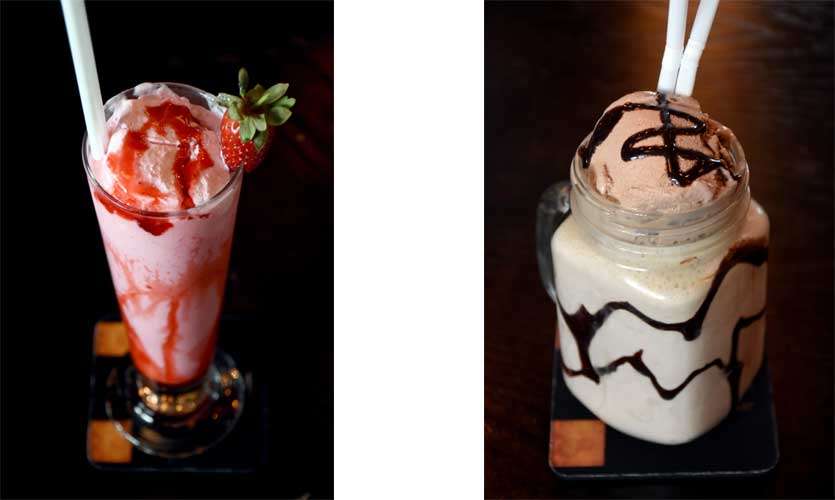 Asylum were keen that I try their hot brews and I was served the caffe latte (Rs.490) and cappuccino (Rs.450). I am not a great coffeholic but I found them both to be nice brews and I was particular pleased to note that both drinks were made from coffee beans grown and roasted in Sri Lanka by two local companies. It is always nice to know that restaurants support small businesses based in Sri Lanka.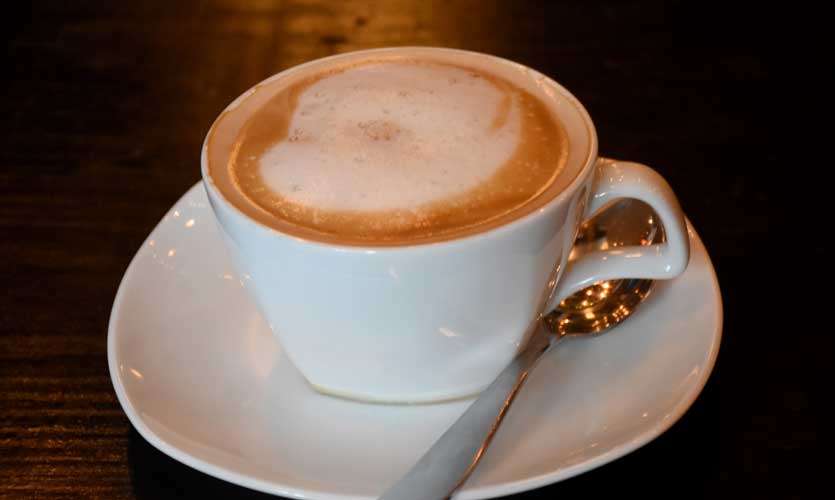 We started off our kingly breakfast with The Big Fusion (Rs.1,100). Neatly plated up, this contained a choice of poached, fried or scrambled egg atop an Asylum waffle served with coconut sambol, crispy bacon and a side of kochchi sausage sambar. The waffle was made from homemade buttermilk which gave it a nice crispiness and was just the right thing to mop up the gravy from the sambar which had quite a kick to it thanks to the flavoursome kochchi sausage. I also liked the generous helping of bacon which was not too fatty and not too thinly sliced either. The coconut sambol wrapped this one up very nicely indeed.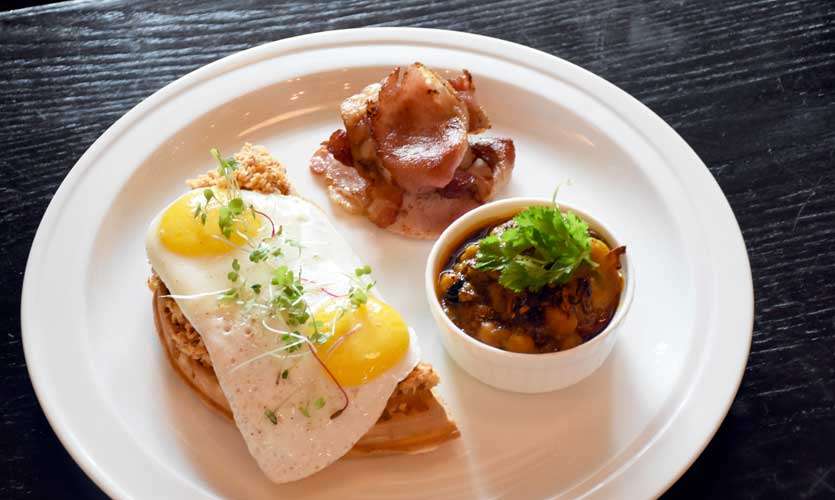 Next up the Black Pork Waffle (Rs.1200) made an appearance which made my heart lurch ever so slightly. The Asylum waffle was heaped with black pork curry, served with tempered coonie, green chilli and coconut sambol with pineapple. The presentation was neat and the taste was exquisite. There are black pork curries and black pork curries but this is special! Again the crispiness of the waffle came to the fore while the combination of flavours of the black pork curry and the sambol complemented each other. The addition of the pineapple pulled all the flavours together.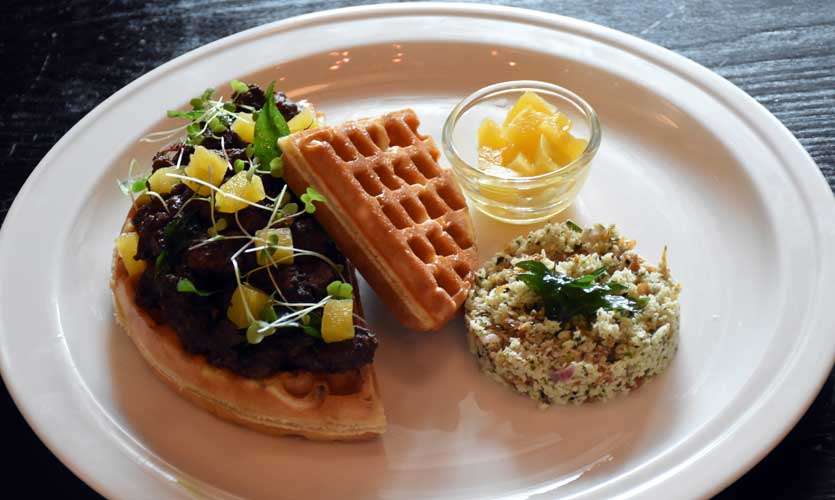 Delving in to the East for inspiration, Asylum presented the Okonomiyaki (Rs.1200) which is a Japanese breakfast staple consisting of a savoury egg pancake stuffed with bacon, cabbage and green onions served with tonkatsu sauce and kewpie mayo. It was a visually exciting dish which was very creamy and rich in taste. The stuffing of bacon, cabbage and green onions was quite generous and this was an extremely filling dish which is perfect to share.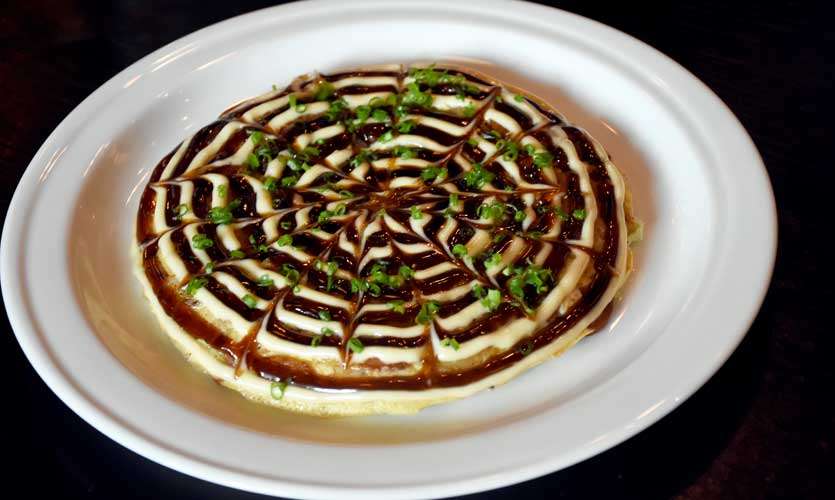 Going West, their breakfast option of smoked Salmon and scrambled eggs (Rs1600) was raised a notch by the addition of wilted spinach and a tomato stew served on sourdough bread with rosettes of cream cheese. Again the bread is made in house and was nice and crispy. The tomato stew with its hint of sweet notes united the flavours of this dish and scored high marks for me. The the scrambled eggs were of a creamy consistency and accompanied the Scottish smoked salmon quite well.
For those with a sweet tooth the Asylum Crumpets (Rs.1100) was a dramatic affair. Two crispy crumpets stuffed with a strawberry compote and vanilla mascarpone topped with mixed nuts, served with toasted marshmallows and a hot chocolate sauce was simply divine. The tartness of the strawberries and the chocolate was a lovely combination. The chocolate sauce is served in an injector which ensures the middle of the crumpets is oozing with hot chocolate sauce when you cut into it.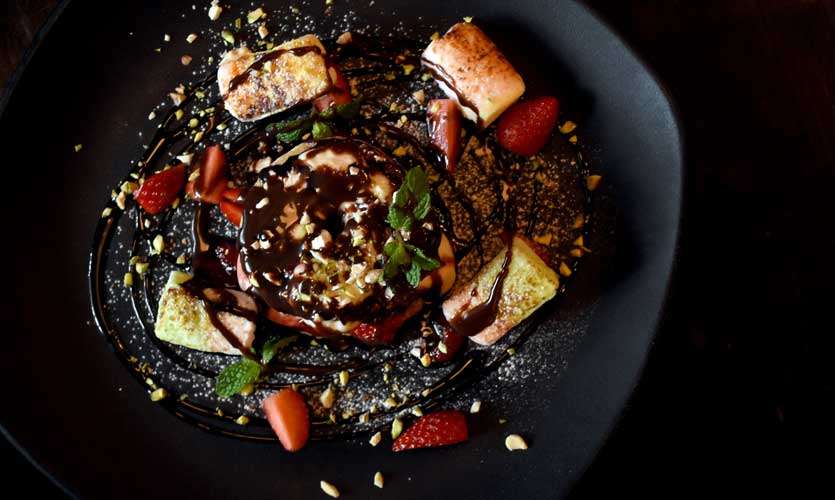 The breakfast menu at Asylum has 15 items on their menu which range from Avocado on toast and Eggs Benedict to Braised Ham Hocks and Pulled Lamb Sliders. The new introductions we tried, were generous sized portions which were tasty and filling and certainly fit for a King, Queen or any other royal offspring.
Pics By: Kushan Pathiraja