Cutting through the noise of the increasing gastronomy affair in Colombo, beyond the fusion cafes and the fine
dining restaurants – Puff by Joe offers a warm homecooked meal that's a much-needed addition to the food scene in the city. Puff by Joe is a partnership by long-time friends Oshi Jayatilake and Joe Amirthalingam.
The warmth and comfort of a homecooked meal comes from Oshi, a mother of two and a great cook with a passion for food. "I've always loved to cook and I love experimenting with different recipes and creating my own style to each dish" shares Oshi. "Joe, who's been a family friend for many years and who has dined with us many times, was the one who came up with the idea of us opening a café together with some of my signature dishes and somehow the timing just felt right."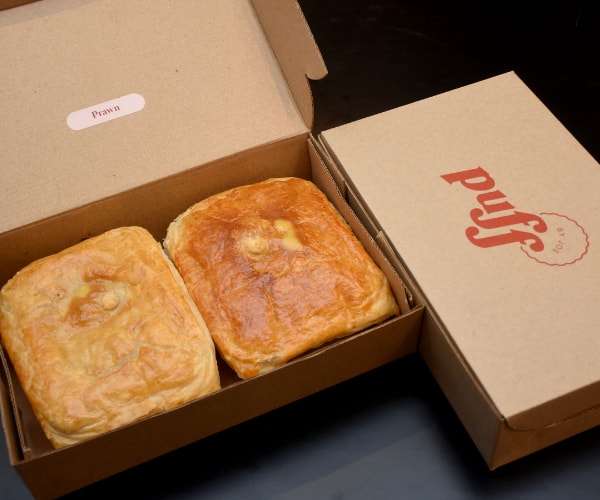 With a business idea in the works and a mandatory lockdown in place – Oshi took the chance to test and perfect the recipes for what she would offer at the café. With the idea to expand in the future, she opted to start out with a
small menu offering mouth-watering pot pies, hot soups and fresh salads. "I wanted to offer food that has a sense of home to it; like you are tasting your mom's food. When we open the café in April to the public, I wanted to create
that same homely feeling to it, as you walk in and mom's cooking for you."
Currently, Puff by Joe is on pre-order basis and is only available for pickup or delivery. A café is at present in the
works and they hope to open to the public sometime in late April.
POT PIES
The pot pie is Puff by Joe's signature dish and is the ultimate comfort food. The pot pies are freshly baked with a
creamy filling and capped by a crispy layer of puff pastry. They currently offer 4 varieties of fillings; vegetarian,
chicken, lamb and prawn. We tried their Creamy Chicken Pot Pie (Rs.960) with tender shredded chicken cooked in a creamy homemade button mushroom sauce with carrots, potatoes and green peas, finally topped off with a crisp
sheet of puff pastry. The creamy chicken filling by itself was delicious and invoked all the warm and homely feelings Oshi hoped to bring about. The speciality of her pot pies is the special homemade mushroom sauce she uses as a base – a recipe she has perfected over the years. The crackling puff pastry on top simply elevated the dish and provided the stark contrast of flavour and texture that was needed to make the dish perfect. Puff by Joe also ensures that the puff pastry remains crispy when being delivered through proper packing techniques so the textures of what makes the dish perfect aren't compromised.
SOUPS
Puff by Joe offers 4 kinds of soups; Cream of Mushroom, Sweet Pumpkin, Sweet Corn & Egg with either chicken or crab meat and Thai Coconut Milk with either chicken or prawn. We opted for the Cream of Mushroom (Rs.500) and Sweet Corn & Egg with Chicken (Rs. 600). The Sweet Corn & Egg with Chicken was packed with tender shredded chicken, egg drops and sweet corn and was the kind of soup that would be perfect for a sick day or a rainy day. Our favourite, however, was the Cream of Mushroom which was a dreamy creamy soup full of delicately flavoured button mushrooms, garlic and herbs.
SALADS
The salads are offered in 4 styles; a Green Salad, a Chef's salad with roast chicken, ham, eggs, cheddar cheese and greens, a Smoked Salmon and Egg Salad and a Prawn with Avocado and Mango Salad. We decided to try their Prawn with Avocado and Mango Salad (Rs. 850) having been told that it's a customer favourite and we could see why. Firstly, the portion size was very generous and the salad can be consumed as one full meal or even shared among two with plenty for both. Secondly, we loved the pop of colour with the light green tones of avocado and the greens contrasting with the bright hues of the spicy marinated prawns and mango. Thirdly and most importantly was how well each ingredient of the salad married off with each other; the ripe fruity tang of the mango balanced off the spice of the marinated prawns while the creamy texture of the avocado helped combine the crunchy textures of the greens. The salad was accompanied by a lemon olive oil dressing that tied the whole dish together perfectly.
All dishes at Puff by Joe are made fresh to order and all items on the menu are free from artificial flavouring. In the
near future, Puff by Joe also plans to add their own range of desserts to the menu with items like Key Lime Pie,
Butterscotch Soufflé, Chocolate Biscuit Pudding, Eclairs and many more.
Puff by Joe is currently based on pre-orders only. Visit their Instagram page (@puffbyjoe). Delivery is available on request as well as pick up from their soon-to-be-open café at No.94, Pamankada Road, Kirulapone.
PHOTOS Kushan Pathiraja