In 1987 Shanth Fernando opened his first retail store down Flower Road. It marked the beginning of redefining lifestyle in Sri Lanka. Through his versatility and love of art and timeless classics, his brand Paradise Road has made an indelible mark in the retail and hospitality industry of Sri Lanka. Today Shanth Fernando is an internationally recognised lifestyle connoisseur and is given credence for introducing inimitable flair and sophistication to the Sri Lankan lifestyle. Whether it be his art collection, his restaurants, his Alladin's Cave at Paradise Road, Shanth's inimitable style and panache have made him stand out and endure over the years, improving like fine wine. His story is one of single-minded vision and unrelenting perseverance, crowned by phenomenal success and recognition.
Q

TODAY YOU ARE AN INTERNATIONALLY RECOGNISED LIFESTYLE CONNOISSEUR AND ACKNOWLEDGED TO HAVE INTRODUCED YOUR OWN INIMITABLE FLAIR AND SOPHISTICATION TO SRI LANKA, WHICH IS NOW MUCH SOUGHT AFTER. YOU ARE KNOWN TO LIVE BY THE DICTUM "YOU CAN LEARN OR BUY STYLE, BUT NOT TASTE", COULD YOU ELABORATE ON THIS PLEASE ?
I believe that taste is something that you develop from within yourself. When I say that you can buy style and not taste what I mean is that your taste is a reflection of yourself that you have to develop. Every human has the ability to develop their taste but it takes focus.
Q

YOU ARE KNOWN TO ESPOUSE MONOCHROME THROUGHOUT YOUR VARIOUS ESTABLISHMENTS – ANY PARTICULAR REASON FOR THIS?
I prefer neutrals as a backdrop, or as a canvas, for any interior because the colour comes from the people, the art and the objets d'art that you introduce. These look far more beautiful against the backdrop of monochrome.
Q

YOU HAVE LENT YOUR OWN INDIVIDUAL STAMP TO SRI LANKAN ARTS AND CRAFTS, GIVING IT AN INTERNATIONAL FLAVOUR; HOW DID YOU ACHIEVE THIS?
When I came to Sri Lanka and I looked at what was being produced I grabbed the opportunity. From the very first ranges of homeware, I reduced the ornamentation and introduced contemporary design features such as geometrics and disciplined colour into traditional skill.
Q

FOOD IS SYNONYMOUS WITH YOU AS IS STYLE. DID YOU ALWAYS HAVE A PASSION FOR GOOD FOOD AND CHOICE WINES?
I grew up in a family where food, flavour and entertaining were quintessential, therefore eating was an important event. We were always looking out for good food, hence that made even its presentation second nature to us.
Q

INDIVIDUALISM BRINGS WITH IT BOTH LOVE AND HATE AND YOU HAVE SUCCESSFULLY COURTED BOTH OVER THE YEARS. WITH THE PASSAGE OF TIME HAVE YOU TEMPERED YOUR STYLE OR ARE YOU STILL FIERCELY SHANTH!!
I am fiercely Shanth because I have an identity, an attitude and a signature that I am loyal to, and that has helped me progress to where I am today.
Q

MAINTAINING OF STANDARDS IS SOMETHING SRI LANKA CANNOT BOAST ABOUT, HOWEVER, YOU HAVE ACHIEVED THIS IMPOSSIBLE FEAT. HOW DID YOU DO SO?
You get nothing in life for nothing and to date, I don't own a factory because I find that would have been very stressful, whilst controlling the versatility in Paradise Road's production. I'm virtually a dictator when it comes to seeking quality and service. I am tough as a leader and I have been able to instill this discipline into the production of all areas of the business, whether it is hospitality or retail.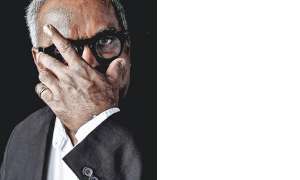 Q

YOUR ART COLLECTION IS ENVIABLE, HOW LONG DID YOU TAKE TO AMASS IT AND WILL YOU CONSIDER A PUBLIC SHOWING?
I have already started my public showing on Instagram! I am a very private person and my home is my cocoon. I started collecting at the age of 21 when I bought my first Laki Senanayake painting and today I can say, when opportunity knocked I always answered. I have been blessed to accumulate much of the best of Sri Lankan art.
Q

YOUR DAUGHTERS HAVE OBVIOUSLY INHERITED YOUR SENSE OF STYLE AND LOVE FOR ALL THINGS BEAUTIFUL. DID THIS COME NATURALLY TO THEM?
The foundation of my taste came from my mother, likewise, I think my children inherited their taste, style and image from both my wife and myself.
Q

WE LIVE IN A SOCIETY WHERE FLASH AND BLING SEEM TO BE THE ORDER OF THE DAY. HOW DO YOU COPE WITH THIS?
I believe in taste, style and timelessness. I wouldn't know what bling is but to each his own. Live and let live. I am me and I have to let other people have their own identity. 'The House is like its Master.'
Q

GLOBAL WARMING, RACIAL AND RELIGIOUS PREJUDICE, TRIGGER HAPPY INDIVIDUALS, THE WORLD SEEMS TO HAVE GONE MAD! DO YOU THINK WE HUMANS HAVE COME VERY CLOSE TO DESTROYING MOTHER EARTH AND WHAT IS THE REMEDY?
If the world becomes less egotistic and more humane, our sensitivity to all things will change.
Q

TV OR BOOKS – WHICH IS YOUR PREFERENCE?
Books
Q

NAME ONE PERSON WHO HAS INFLUENCED YOUR WAY OF LIFE AND WORK?
My mother, who gave me my foundation and my principles.
Q

PET HATES AND DISLIKES?
Insincerity, superficiality and ostentation.
Q

WHEN YOUR MUCH AWAITED AND ANTICIPATED STORE OPENS NEXT TO THE HYATT, HOW WILL IT DIFFER FROM THE REST OF YOUR STORES AS WELL AS FROM OTHERS IN SRI LANKA?
We are what we are and we have never competed with anybody - only with ourselves - and we will continue to live up to our reputation.
Q

WHAT WOULD YOU LIKE YOUR LEGACY TO BE?
Honesty in everything, compassion and to feel that another has lived better because I have lived.
By Anusha David