Dharshan Munidasa is Sri Lanka's most renowned chef-restaurateur, best known for having founded Nihonbashi, Ministry of Crab and Kaema Sutra, some of Sri Lanka's most successful restaurants. Being half-Japanese, Dharshan is known for his focus on high quality, fresh ingredients that he often pairs with Japanese cooking philosophies. Having gained a reputation for his out-of-the-box thinking and his knack for pushing boundaries, Dharshan revolutionized Sri Lanka's gastronomic landscape and his restaurants have put Sri Lanka on the global culinary map.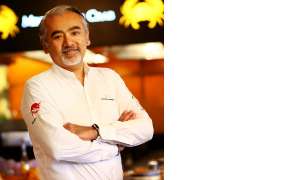 Q WHAT DRIVES YOU?
Discoveries. Ingredients, local cuisines, learning something new every day. The prospect of experiencing something wow. Also, Perfection- you keep on tinkering until you get it right.
Q HOW WOULD YOU DESCRIBE YOURSELF – CREATOR OR BUSINESSMAN?
Creator. The business side is secondary, but creation is always primary. To be able to create without a business angle is the true freedom to create.
Q WHAT IS THE MOST DIFFICULT AND CHALLENGING ASPECT OF YOUR JOB?
Having so many staff and trying to have a one-on-one relationship with all of them. These teams have created some world-famous restaurants with me and we have made over 100 original dishes.
Q WITH REGARDS TO COPING WITH COVID 19, HOW HAS IT AFFECTED YOUR BUSINESS?
Hotels and restaurants are terribly affected by Covid-19, as much as the airlines. We reopened to bring a sense of normalcy, but as a restaurant that is reliant on travellers arriving in Sri Lanka, with the airport being closed, our revenue has eroded by 95%. Restaurants that are more catered to the local market and the ex-pat market residing in Colombo, are at about 50% of what they were generating as revenue.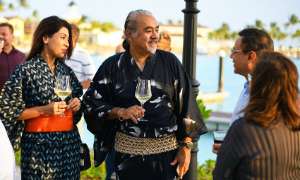 Q WHO HAS INFLUENCED YOU MOST IN YOUR LIFE?
My parents. My father although Sri Lankan was so Japanese and taught me Japanese culinary cultures and discipline. My mother being Japanese taught me how to cook and influenced my artistic side.
Q ARE YOU A ROMANTIC?
I keep a dossier of all the daily letters I have written to Chantal and this dossier keeps growing. I guess I am a romantic.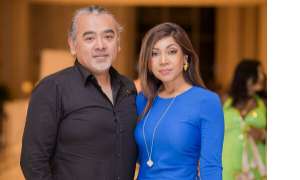 Q WHAT ROLE DO YOUR PETS PLAY IN YOUR LIFE?
The day starts and ends with playtime with QB, Grace and Earl. It's a never-ending love affair!
Q IN YOUR OPINION WHICH IS MORE IMPORTANT TO A CHILD – EDUCATION OR ENVIRONMENT?
Environment. Qualifications will never outdo experiences.
Q DOES RELIGION PLAY A ROLE IN YOUR LIFE?
To be honest- no it does not. But lately, I do believe in a higher power.
Q WHAT IS YOUR TAKE ON SAME-SEX MARRIAGES?
The same as any marriage really. I'm a firm believer in freedom and love.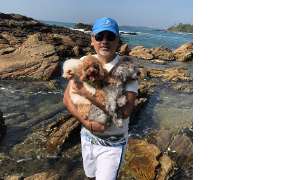 Q WHAT IS THE GREATEST STUMBLING BLOCK YOU HAVE ENCOUNTERED IN YOUR LIFE AND CAREER?
Negativity. It exists in so many forms. In Sri Lanka, a sentence in English starts with "No" and in Sinhala "Ne".
Q WHAT IS YOUR PASSION?
Food.
Q WHAT IS YOUR LATEST PROJECT?
Carne Diem, my steak restaurant in the Maldives.
Q WHAT WOULD YOU SAY HAS BEEN THE KEY INGREDIENT OF YOUR SUCCESS?
Like Toyota, I believe in continuous improvement.
Q WHAT IS UNIQUE ABOUT YOUR RESTAURANTS?
The restaurants are extremely focused on ingredients/genres and my teams believe in my mantras.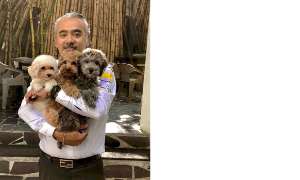 Q YOU HAVE BEEN REFERRED TO AS BEING OCD – IS THIS TRUE?
Which one, Obsessive-Compulsive Disorder or Obsessive Champagne Disorder? Yes to both.
Q YOU HAVE DESIGNED THE FURNITURE, CROCKERY, ETC FOR YOUR RESTAURANTS, WILL YOU EXTEND THIS INTO A SEPARATE BUSINESS CHANNEL?
I have made plates out of clay myself, to make the mould, I make scaled models of furniture, crockery, serving utensils. My desk is a mess because it looks like an arts and crafts table. These endless design experiments might end up in a store one day.
Q WHAT IS YOUR LATEST CULINARY CREATION?
The Crab Biryani at Ministry of Crab, inspired by the philosophies of biryani-making. It took me ten attempts to perfect it.
Q HOW DO YOU RELAX?
In Vino Veritas...
Q WHAT IS YOUR ADVICE TO ASPIRING ENTREPRENEURS?
Word of advice to young chefs and entrepreneurs - stop copying each other. Try to do something original. It can be something small. That is how cuisines evolve and culinary arts progress. If you keep doing the same old thing nothing changes. Like languages evolve cuisines evolve too and originality goes a long way.
By Anusha David