For Dr. Vajira Chitrasena, arts and culture wasn't an option. Born to a mother who was determined to see her children taking up different careers in life, Vajira had the privilege to take up dancing as a profession. By the time she turned 11, she was already a student of Guru Chitrasena, who was at the forefront of a revolutionary journey to introduce the 'Chitrasena Dance style' to Sri Lanka and the world. Chitrasena in fact was the silver lining to the local dance culture of yesteryear. Back then the drummers and female dancers had little to no recognition but that didn't last long once he entered the scene. The power duo became a sensation on local and international territories, receiving standing ovations, not to mention the criticisms and challenges they overcame, together. Guru Chitrasena gave space for Vajira to grow and this is how she drew inspiration to create her first ballet – Kumudini, in 1952. In turn, she expanded her talents from a dancer to a choreographer. Guru Chitrasena was, in fact, looking at the evolution of his work and from then onwards, for nearly 60 years his spouse had had no turning back. Today, as the principal of the Chitrasena School of Dance, she continues to be an inspiration to the younger generation and everybody who appreciates arts and culture. In recognition of her contributions to dance, Deshamanya Dr. Vajira Chitrasena was recently bestowed with the Padma Shri Award, the fourth highest civilian award offered by the Government of India. In a candid interview with the Daily Mirror Life she shared the journey trodden thus far as a dancer, her inspirations, and a short piece of advice to the younger generation.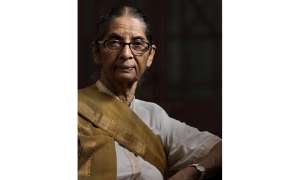 Excerpts :
Q IT WAS YOUR PARENTS WHO ENCOURAGED YOU TO BECOME A DANCER. THIS IS QUITE OPPOSITE TO WHAT IS SEEN TODAY. WHAT ARE YOUR THOUGHTS?
This is because my parents, especially my mother, had a liking towards arts and culture. She wanted her children to become different people. I have been participating in school concerts ever since and it must have been the influence of my teacher as well. Everyone must have some sort of education. If children play around they will only do that. But I feel parents nowadays like it when their children do arts.
Q HOW DID GURU CHITRASENA CONTRIBUTE TO YOUR CAREER?
Chitrasena somehow had a dramatic influence. His father was also a dramatist. I have watched him on stage, performing ballets and I became one of his students in the late 1930s. I may have been about 15 when I started learning under him. From then onwards I continued my career in dancing.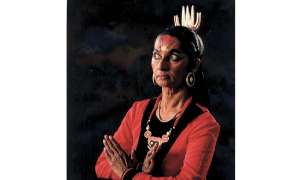 Q BACK THEN, HOW DID THE AUDIENCE AND SOCIETY REACT TO YOUR PERFORMANCES?
The society at the time was advanced enough to accept our kind of dance culture. Chitrasena introduced meaning to dance. He told a story through dance and it became interesting to the audience because there was meaning to Ramayana, Nala Damayanthi, and other historical epics. We became popular and started to perform all over the country.
Q YOU ALSO TRAVELLED OVERSEAS WITH HIM. HOW DID FOREIGN AUDIENCES RECEIVE LOCAL DANCE FORMS BACK THEN?
We had standing ovations.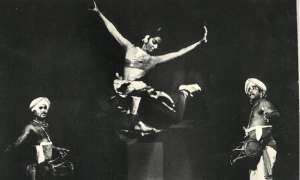 Q WHY WERE YOU PARTICULARLY INTERESTED IN CHILDREN'S BALLET AND HOW DID IT HELP TO BRING OUT EMOTIONS OF CHILDREN?
Whenever he took a break he entrusted me with the students. He gave me classes to teach children and children were also interested to do something more than the usual dancing classes. As a result, I ended up creating 17 children's ballets. It was a learning experience for me as well. Sybil Wettasinghe was a great inspiration because I could portray her stories in the ballets and children enjoyed it. In a class, you have students who like to learn dancing and those who don't. But if you give them a part to perform they showed some interest. This was one way of getting their attention.
Q YOU WERE ALSO INSTRUMENTAL IN BLENDING KANDYAN AND ODISSI FORMS OF DANCE. WAS THERE A REASON TO CHOOSE THE ODISSI DANCE FORM?
Kandyan dancing is a male-centric dance style. But Odissi is a female dancing style representing artistic figurines in temples, museums etc. This makes it so feminine. So both these dance styles blended well. In recent times my granddaughter and the Nrityagram Dance Ensemble are continuing it and they have been highly acclaimed.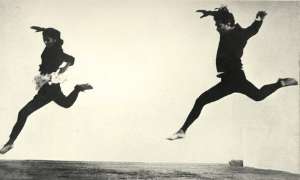 Q THE CHITRASENA DANCE SCHOOL HAS INSPIRED MANY GENERATIONS. WHAT ARE SOME OF THE FUNDAMENTAL LESSONS THAT ARE TAUGHT TO STUDENTS?
We correct their posture and everything from sitting upright to other lessons that would help in promoting their physical wellbeing. Therefore, more children are interested in it. I even have adults taking classes because they want to stay healthy. Discipline is a must.
Q HOW DO YOU FEEL ABOUT RECEIVING THE PADMA SHRI AWARD?
I'm honored to have been nominated for the Award.
Q WHAT'S THE MOST SATISFYING PART ABOUT YOUR CAREER AS A DANCER?
People have a lot of respect for my work and the way I stood by dance. I have been dancing for nearly 60 years. It's not just about a human being carrying on with life but everyone recognizes you for your work.
Q WHY SHOULD CHILDREN BE ENCOURAGED TO ENGAGE IN ARTS AND CULTURE IN THE PRESENT DAY?
It's better if children have some dance, drama, and music in their life so that they don't give attention to other distractions in life. We now have our own culture to follow.
Q YOUR MESSAGE TO THE YOUNGER GENERATION. Whatever they undertake, they should put their fullest effort and be truthful to their work. After all, dance is a good discipline to follow.

Pix by: Chitrasena-Vajira Dance Foundation and Lukshman Nadaraja