If you pass her on the road, you would not even give her a second glance. With a homely figure and a pretty face she is normalcy personified. However, under this veneer lies the intriguing character of Onara, a Dominatrix who was introduced to the world of BDSM (bondage and discipline, dominance and submission, sadism and masochism) by her ex-partner. In this candid interview Onara a Colombo based practising lawyer provides an intriguing insight into the fascinating, surprising, and misunderstood world of a dominatrix and explains the intricacies and why people are drawn to flagellation.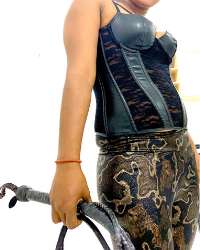 Q WHAT WOULD YOU SAY TO A PERSON WHO SAYS THERE IS NO DIFFERENCE BETWEEN A DOMINATRIX AND A SEX WORKER?
A sex worker is someone who has sex with customers, A dominatrix does not. A sex worker does not train or have tools but a dominatrix does. I have a collection of 48 kinds of whips and 218 tools in total. I also have a huge collection of branded leather and latex clothes, heels and boots, etc.
Q ARE THERE ANY ELEMENTS OF BEING A DOMINATRIX THAT YOU FIND RISKY?
I don't find any kind of risk as long as you function within the legal framework of the country. Also knowing your clients' limits and health condition matters. I never take up sessions with those who have health issues such as high/low pressure, heart-related issues, etc.
Q HOW DID YOU BECOME A DOMINATRIX?
I have always been the tomboy of the family since my birth. I have been bossy by nature since day one. I never liked rules neither did I like to be told what to do. So I guess I evolved to become a dominatrix by nature. However, I did a lot of online research as this is something that requires a lot of skill and knowledge. You cannot become a dominatrix just because you like to dominate. It's a role play. So one needs to know how to play.
Q HOW LONG HAVE YOU BEEN A DOMINATRIX FOR?
I started off in 2008 with my ex-partner who introduced me to the entire life of BDSM. I became a professional dominatrix in 2015. However I have limited customers and this is not my full-time job. I am a lawyer by profession and this is more of a hobby.
Q DID YOU HAVE TO LEARN HOW TO BE A DOMINATRIX?
Yes! I watched several online videos featuring three very famous dominatrix called Domina, Syren, and Jennifer and some others. For example it takes around 3-4 months to be an expert in whip cracking. So it takes months of training to become a proper dominatrix. It's not something one can achieve overnight.
Q WHAT POSITIVE EFFECTS DOES ROLE PLAY HAVE IN ONE'S LIFE?
The sense of power you feel while dominating is unbelievable. Someone who is into vanilla (conventional) sex might not be successful. I would never recommend BDSM to those who are into regular vanilla sex. It just doesn't work. Don't even try it!
Q WHAT ASPECTS OF BEING A DOMINATRIX DO YOU LIKE?
The feeling of power over the opposite sex.
Q AND WHAT DO YOU DISLIKE ABOUT BEING A DOMINATRIX?
Being approached by random strangers who don't know the difference from a dominatrix to a sex worker.
Q DOES BEING A DOMINATRIX IMPEDE ON YOUR PERSONAL RELATIONSHIPS?
No, it does not. As this is my secret life and of course I do have my normal life. But if I am to date someone it would be someone who is willing to be my slave. I do not date ordinary guys.
Q HOW DO CLIENTS FIND YOU?
Mostly by word of mouth and known contacts. I do not advertise or promote. I prefer to keep it low key.
Q WHAT ARE THE REQUESTS THAT YOU USUALLY RECEIVE?
The requests I receive range from basic foot worship to extreme bullwhipping, sounding, and needle play.
Q WHAT IS THE STRANGEST REQUEST YOU HAVE RECEIVED?
Slaves from the UK and the US love Asian Mistresses. I have had requests for worn panties, bras, even water off my toilet bowl. One of my worn panties sold for 3000USD back in 2017. And the list goes on.
Q WHAT SORT OF SCENARIOS DO PEOPLE EXPECT OR WANT FROM YOU?
I have one customer who comes along with his wife. I also have a customer who travels all the way from the UK who likes to humiliate himself.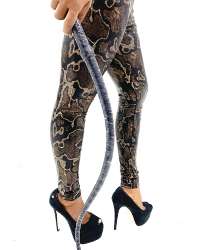 Q IS THERE ANYTHING THAT YOU WILL NOT DO? WHAT IS IT AND WHY?
I do not have any kind of sexual activity or nudity involved in my sessions. I also do not do bloody play.
Q DO YOU LEVY A FEE FOR THE EXPERIENCE YOU PROVIDE?
Yes. I do charge 600USD per session of 2 hours. Bookings are highly limited and upon request.
Q MANY DOMINATRIXES HAVE A SPECIALTY. WOULD YOU SAY YOU HAVE ONE?
I am known for extreme whipping.
Q DO YOU HAVE FAVOURITE CLIENTS?
Yes. It's like a relationship. After you get connected to the client the relationship grows and it can go on for many years. Most of my regular clients have been visiting me since 2015.
Q HOW CAN WE EDUCATE PEOPLE ON THE ROLE OF A DOMINATRIX?
Well BDSM needs to remain discreet and within the community. This is not something everyone could try or do. And it's not easy as it appears. But if one finds this in them naturally, of course I am willing to help and they could contact me over social media.
Q WHY DO YOU THINK MEN LIKE A DOMINATRIX?
I guess some men like the exchange of power. Most of my clients are either lawyers, doctors, etc. For those who want to be dominated it is an innate feeling. A lot of people don't understand the humiliation and why people would want to experience it. Citing an example, people who were bullied might come to me and ask to engage in role-playing within a similar scenario of what they experienced. In essence what they are doing is recreating that situation but this time within their control and their own result. For them it is like therapy.
Q DO YOU THINK PEOPLE WHO LIKE BDSM ARE 'WIRED DIFFERENTLY'
I have read that there are a lot of neurological processes that happen in the body when one is aroused. Adrenaline and endorphins pump through your body which means your tolerance threshold increases. However some people are just predisposed to liking pain more. There is a neuropeptide called Substance P which influences how your body processes pain. Therefore for some people it is pleasurable and for others it is painful.
Q HOW LONG DO YOU INTEND TO DO THIS FOR?
I have been into this lifestyle for maybe 12 years. I started doing it as a profession approximately 4-5 years back. I don't intend to be a dominatrix forever. Beauty fades with time and there will come a time when I will have to hang up my whip permanently.