Today we feature Jeran Jegatheesan, UNP Candidate, for the Colombo District, a professional and an animal lover. After completing his primary and secondary education at St. Joseph's College, Colombo 10, he spent some time working in the United Kingdom. Jeran grew up with the understanding that it is our duty to love every living creature in the world, "and it melts my heart to
see animals unprotected by the law of the land. My intention is to save them and give them a life of freedom, a life free from cruelty and harm, allowing them to enjoy their rights as you and I do as living-beings of this world. As Animals are also citizens of our beautiful nation, my ambition is to change the 103-year law in Sri Lanka which stipulates that a fine of just hundred rupees is charged for the killing of an animal and thus I made it my mission to get the new Animal Welfare Bill enacted in parliament. This led me to the decision to step into politics, to be a representative for both the people and animals of this beautiful nation. I will stand for all citizens who need to be heard, all citizens who need a voice, represent those in need, represent those who suffer, represent those oppressed, I will be their voice, a voice that will be heard, I will be the voice for the voiceless".
Q WHAT MADE YOU RETURN TO SRI LANKA FROM ENGLAND?
The return was mainly due to my involvement in protecting animals in the UK and I wanted a similar programme to be implemented in Sri Lanka. Moreover, the standard of living of what I experienced in the UK is not what I saw in Sri Lanka. Equality amongst the communities is important and uplifting the living standards through access to education is of utmost importance especially with the evolution of technology, all Sri Lankans need to move forward with the times.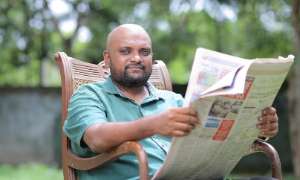 Q WHAT MADE YOU DECIDE TO GET INTO POLITICS?
I am not a politician. I am the voice of the voiceless. The animals and people who cannot be heard in parliament. I am in touch with those in need and with the animal welfare societies. However, my main intention is getting the new Animal Welfare Bill passed in parliament. The current bill is 113 years old. For example, if you kill an animal the fine is only 100 rupees, which is a mere pittance in today's terms but was a great amount of money 113 years ago. We must remember that animals are also Sri Lankans, they too contribute to the economy by attracting tourists. Hence, we need to protect them as well. I am a person who has a soft heart towards animals and people who are less fortunate.
Q WHICH PARTICULAR ISSUE WILL YOU FIGHT FOR IF YOU GET INTO PARLIAMENT
AND WHY IS IT IMPORTANT TO YOU?
My priority is to enact the new Animal Welfare Bill, that is the main reason for my contesting. My other motivations are being a voice for the poor and bringing about an end to Violence against Women. These are three key areas I will focus on. I don't want to promise a lot and not deliver. I know that I am capable of doing a lot if the opportunity is given, but my focus will be the above segments which are close to my heart.
Q DO YOU THINK IT'S WISE TO CONDUCT ELECTIONS IN THE PRESENT SCENARIO?
Personally, it is not! We are still not done with the pandemic and I hope and pray the pandemic will end soon. I urge the people to be wise. Everyone knows why this election is taking place which is to satisfy a few who are struggling for power. If you are willing to vote please take care of yourself. Take all precautions advised by the health authorities.
Q WHAT DOES YOUR WIFE HAVE TO SAY ABOUT YOU GETTING INTO POLITICS AND WHAT ARE HER POLITICAL AFFILIATIONS?
She doesn't like politics, but is happy that I am taking a stand for what I believe in, which is 'Animal Welfare'.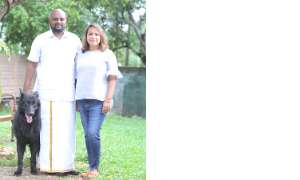 Q WHAT DO YOU HAVE TO SAY REGARDING THE PRIME MINISTER'S COMMENT ABOUT
THE MIDWIFE NOT VISITING JALANI AND SAJITH PREMADASA'S RESIDENCE?
I don't want to comment because it is a very sensitive topic. It could happen to anyone in life. But I do not agree with his statement.
Q IF YOU ARE VOTED IN AND YOU CONTINUE TO REMAIN IN POLITICS, WHAT WILL BE THE MOST IMPORTANT ISSUES YOU TACKLE?
My priorities will always be Animal Welfare, standing up for the voiceless and prevention of
violence against women and I strongly believe that these will keep me fully occupied, as there
is a lot to be done on all aspects to get to where I envision we should be.
Q DO YOU THINK THE GOVERNMENT HANDLED THE COVID 19 SITUATION WELL?
Yes, to a certain extent, then it became all too political. I salute the Health sector, Forces
and all who were involved in this who took the risk to protect our country.
Q DO YOU THINK THE STATISTICS RELEASED BY THE GOVT REGARDING COVID 19 DEATHS AND VICTIMS ARE ACCURATE?
I hope it is correct. If it is not then it is a major issue because we are misleading everyone. Honesty is more important in anything you do in life. If you are honest it may hurt people at the moment but we will be able to tackle things in a better way. So, I urge all politicians and the government departments to be honest in what they do. Let's change at least now. It's never too late.
Q WHAT IS YOUR STAND ON THE DEATH PENALTY?
I am against the death penalty; I don't believe that we should live in a country where we take an eye for an eye. Yes, people must pay for their crimes, but the death penalty will only make us as bad as those who we sentenced to death.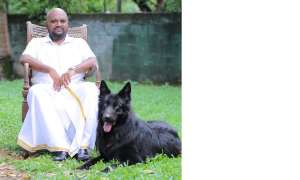 Q WHAT IS YOUR SOLUTION TO MINIMISING RAPE, CHILD ABUSE, RELIGIOUS AND RACIAL INTOLERANCE AND DOMESTIC VIOLENCE?
I can't stand any of the above. I feel we need stricter laws. What I've learned during my tenure in the UK is, the stricter the laws you have, activities of such magnitude are lessened. You need punitive measures that people will feel and be affected by. Like I mentioned earlier these are my priorities. If I'm able to pass proper laws and implement them in the country I'll be satisfied. I hope we can have this conversation again after my term ends in parliament with success.
Q WHAT IS YOUR STAND ON ABORTION?
I am in no position to comment on that and believe women should have the right to decide on that.
Q HOW IMPORTANT IS RELIGION TO YOU?
I believe in God, and it is important to guide you in life, but not to create dramas on the political stage.
Q BOOKS OR TV?
Books
Q WHAT IS YOUR ADVICE TO UP AND COMING YOUNG POLITICIANS LIKE YOURSELF?
As Mahatma Gandhi said — 'Be the change that you wish to see in the world.'
Q WHAT WOULD YOU LIKE YOUR LEGACY TO BE?
Someone who took on all challenges and made Sri Lanka a better place for future generations.