"Thai cuisine is something all Thais are proud of; something like a name card we Thai people often use to introduce ourselves to people from other cultures. The festival at Cinnamon Lakeside this year is even more special with showcase of a variety of Thai cultures, from dancing and music, to fruit carving, and hors d'ouevre making. Diners can also try their hands at creating garlands made from special clay, bamboo weaving and gold screening.
The participation of the Royal Thai Embassy in this festival reflects our commitment to stand by our Sri Lankan friends, and our confidence in this beautiful country." – H.E. Mrs. Chulamanee Chartsuwan, Ambassador of Thailand in Sri Lanka

Cinnamon Lakeside launched the Thai Food Festival on the 19th of September 2019. The festival showcases only the best of Thai Cuisine accompanied by cultural music, dance and more.
Fun fact: This festival builds on the success of the past three years, where the festival has been hosted at the Royal Thai Restaurant, which is the only 'Thai Select' Restaurant in a five-star hotel in Sri Lanka.
This year, the festival has been taken to new heights, with the Royal Thai Embassy partnering with Cinnamon Lakeside with the vision of making the festival much larger. Craftsmen from Thailand, dancers and entertainment acts all included to bring us an authentic experience.
The chief guest for the night, H.E. Mrs. Chulamanee Chartsuwan, Ambassador for Thailand in Sri Lanka, attended the launch along with Mikael Svensson, Executive Vice President John Keells Holdings and Sector Head of Cinnamon's City Hotels. Also gracing the opening ceremony with their presence, was Rohan Fernandopulle – Vice President of John Keells Holdings, Head of Food & Beverage for Cinnamon Hotels and Resorts and General Manager of Cinnamon Lakeside, Colombo.

The Food
This 10-day festival features authentic cuisine from Lakeside's very own Thai Master Chef Bongkot Sabpong at the Royal Thai Restaurant and terrace which overlooks the pool and Beira Lake. Over 90 Thai dishes; Salads, appetisers, soups, mains and desserts along with 20 live action stations. Walking into the festival, I – a "foodie", was more than ready to try out everything. A pipe dream, of course. Nevertheless, I did in-fact try more than just a few of the wonderful dishes they had prepared. I actually had to do a bit of a stroll around the entire line up just to figure out where to start out.
For "Starters", there was a selection of finger food paired perfectly with different sauces. Crispy Prawn toast paired with Sweet Chilli Lime Sauce was definitely a highlight. It was toasted perfectly and the sauce was not too overpowering. Going on a "seafood trip", I also tried out the prawn cakes with plum sauce which was equally delightful.
Along with the starters, I also tried out the Wok Fried Cuttlefish with Chilli Tamarind. It was slightly on the sweet, tangy side which was lovely.
Moving out of the first section, I tried out the noodles at the first action station. Not overly exciting, but there was Pad Thai, which was a plus. That was followed up with seafood flat noodles with hot basil, which had less heat in comparison to the Pad Thai, but the hot basil gave it a lovely green tone with regards to flavour.
Next, I took a look at the second action station – Pork. I was spoilt for choice. Five Spice Marinated Ribs, Wok Fried Pork with Black Pepper Sauce, Crispy Pork Belly with Thai Tamarind Sauce, Spiced Honey Pork Knuckle; clearly, I had my options. The crispy pork belly had a perfectly cooked crackling and is a must try with the Thai Tamarind Sauce.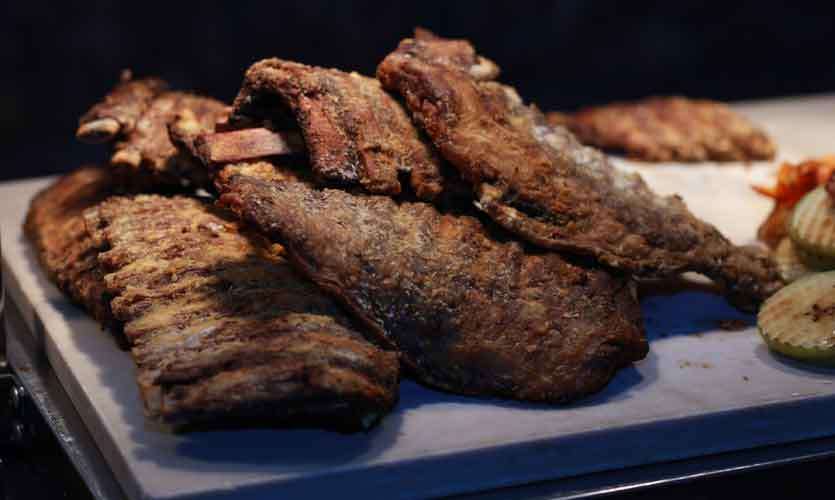 One of the biggest highlights for me, overall, was the meat section which had an assortment of Lamb, Chicken and Beef. These meats could be paired with a sauce of your own choosing such as Black pepper, Thai Chilli, Green Curry, Red Curry and a rather interesting choice – Peanut Butter! I highly recommend pairing the Lamb with Peanut Butter (Odd choice, I know. Trust me you won't be disappointed).
The main dishes were equally enticing. I tried out the Tom Yum Seafood Fried Rice which had a really balanced heat to it. It wasn't overpowering and the seafood was perfectly cooked, especially the prawns. The best main dish I had was the Stir-Fried Beef with Chilli Paste and Pepper Corn. It was so well cooked with a clear-cut sweetness. The light sauce in the dish added a lovely creamy texture to the meat.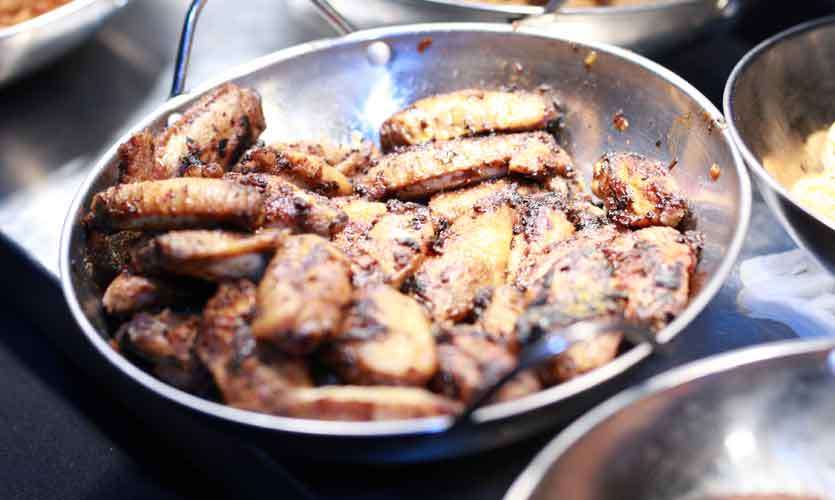 Reservations can be made by calling 011 249 1945. Guests can enjoy all this amazing food and more for just Rs. 2,950/- nett per person, daily from 7.00 p.m. to 11.00 p.m. until the 28th of September 2019.
You definitely don't want to miss out on this opportunity to savour the delightful flavours of Thai cuisine.
By: Vihan Wickramasurendra
Photography by: Damith Weerasinghe