Tea Avenue opened its 4th and undeniably most impressively designed outlet at One Galle Face Mall. They've managed to stay on the radar of cafe-goers by adding innovative items to their menu, and unsurprisingly introduced two new mains since they moved to the new location.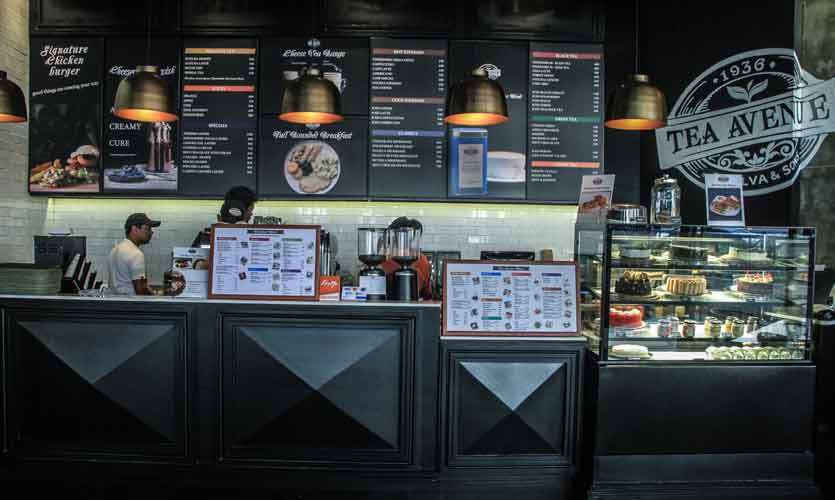 Ambience
Possibly the most discernible change at the new outlet is the design. Tea Avenue has upped the ante in terms of ambience to encapsulate a casual chic, yet ultimately premium vibe. Swanky and colourful, it features a motley assortment of seating options from communal seating to workstations and tables and couches for smaller groups, everything is spread out. Another striking feature of the space is their wall of premium teas. Floor to ceiling windows ensure there's plenty of natural lighting. While other locations have striven for a more cosy ambience, I prefer this more fun and functional space that is still comfortable, whether you're working or hanging out with a group.
The Drinks
As its name implies, Tea Avenue has plenty of teas and tea based beverages on offer, includings coffees and a range of Specials. The folks at Tea Avenue had picked out a few drinks for me to try. First among them was the Strawberry Iced Tea (Rs. 540) from the black tea range. I couldn't really taste the strawberry since the tea seemed to take centrestage. This really didn't have anything going for it and so, it fell a little flat.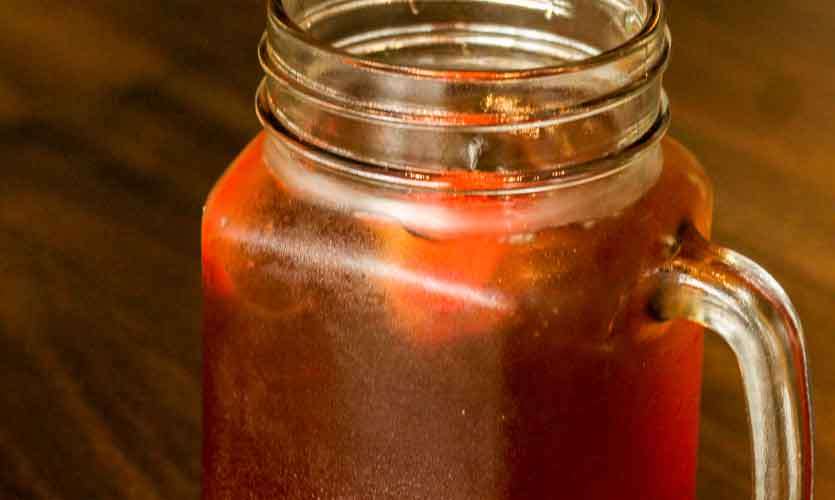 A stark contrast to the Iced Tea in every way was the Popcorn Lavish (Rs. 950). Where the iced the was understated, the Lavish was, quite over the top. I was happily surprised that I could even taste the popcorn flavour in my drink. Sweet and delicious, this rich drink was certainly enjoyable.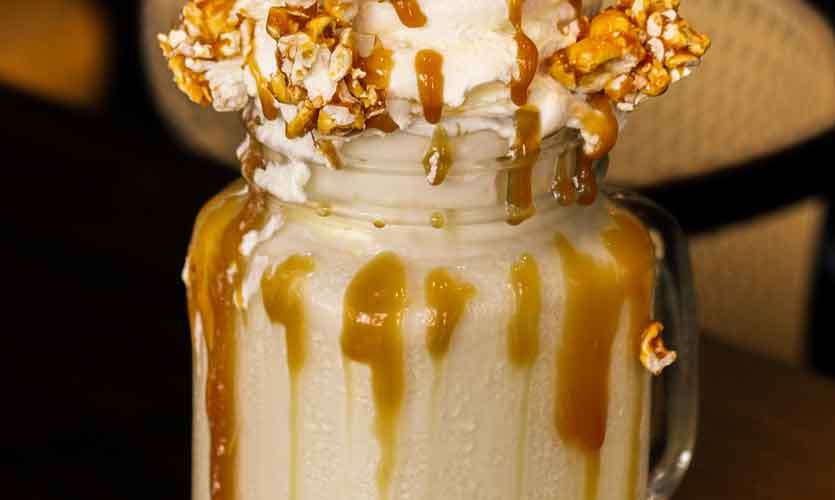 The final beverage they provided was the #musthave Standard 36 Milk Tea (Rs. 480) which I was told was one of their Signature teas and I could see why. While like any Sri Lankan I enjoy a good cuppa tea, I'm not one to seek it out when I'm out. The frothy goodness that is the Standard 36, however, might change that.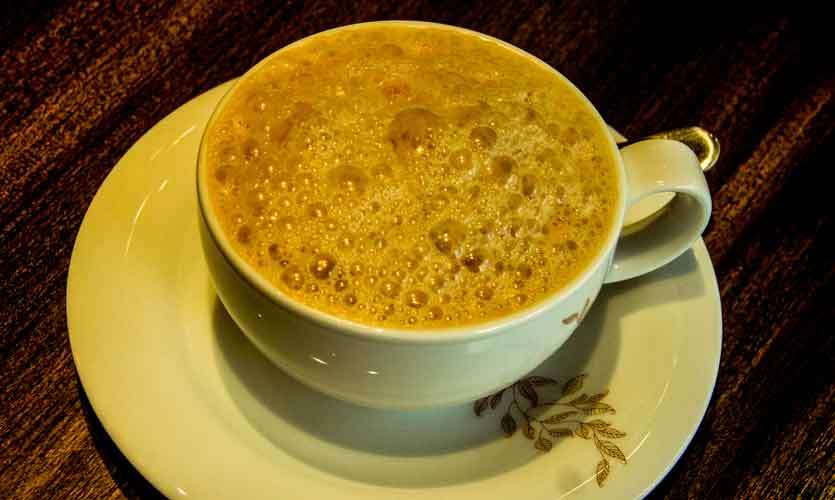 The Food
For the mains, they presented the Portuguese Grilled Chicken (Rs. 780) and the Sriracha Fish Burger (Rs. 890) which they had recently introduced.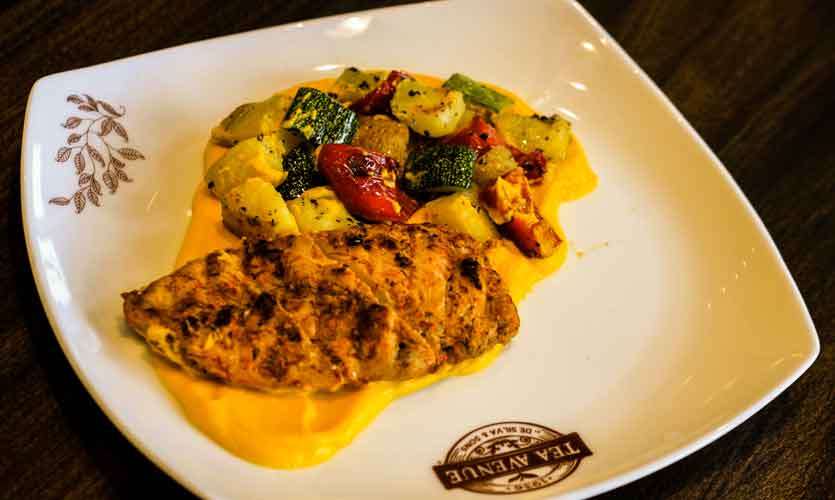 The Portuguese grilled chicken was served with a side of grilled vegetables. The chicken was well marinated and succulent. The grilled vegetables were yummy. Was it good? Yes. Was it great? No.
The Sriracha fish burger meanwhile was served with potato wedges and a sauce. The crispy fish patty was a good textural element in the burger. The potato wedges were yummy. The sauce had been a little diluted with other ingredients, which didn't bode well for the dish in its entirety. A stronger kick of the sriracha would have made a world of difference. While the mains were good, they didn't knock my socks off.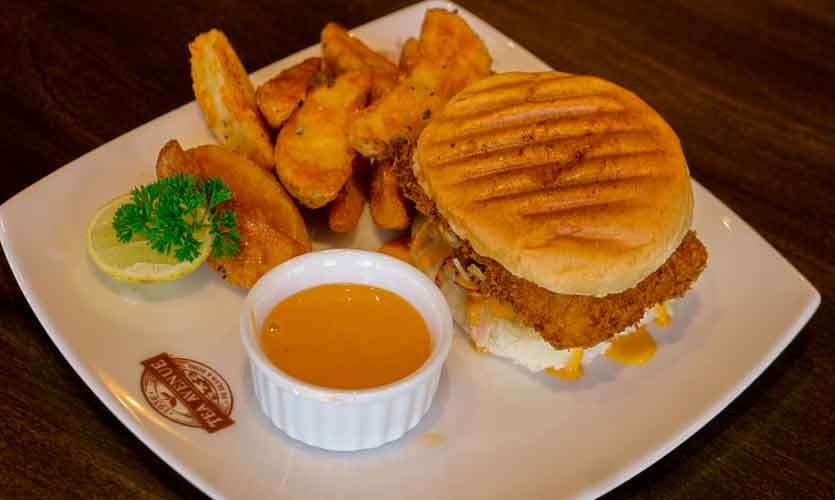 Dessert
The dessert picked was the Double Chocolate Cheesecake and I'm glad they did. It was a sublime dessert that was creamy and absolutely delicious. There's a biscuit base that could have been slightly thicker, but that's only a minor issue that is barely noticeable. Would be happy to have this again!
Promotions & Services
Tea promotion has a Christmas promo at this location where high spenders - those who spend above Rs. 2000 - will be entitled to one pouch of tea free of charge. They also have discount vouchers for those visiting the OGFM outlet. You can also purchase their premium range of teas and coffees only at this outlet. Tea Avenue also have cakes that are made in house at their Barnes Place location. So they do offer to do customized writings on cake orders. To place the orders contact 011 2669944.
Location
Tea Avenue may be a little hard to find. If you're walking in from the Galle face entrance, then don't go inside the mall, but walk right along the mall where you will find restaurants and stores (many of them remain closed). Walk further until you reach Tea Avenue. If you're exiting the mall from the Galle Face entrance, then walk towards your left as soon as you exit.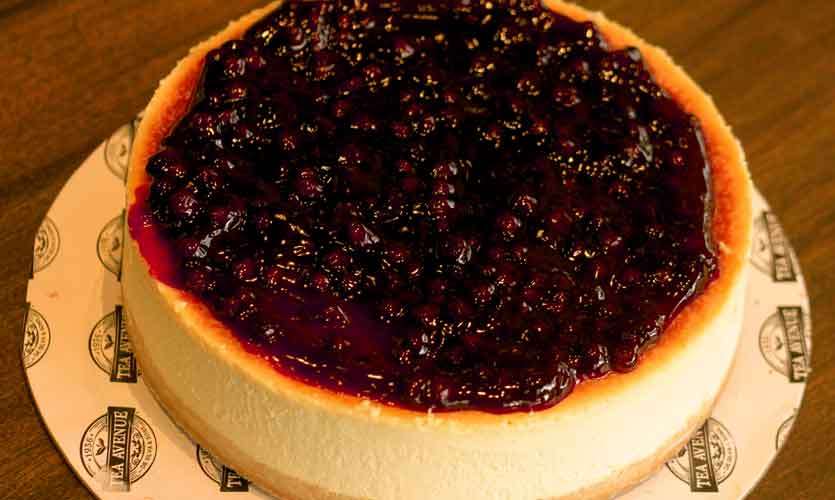 What I recommend: Standard 36, Double Chocolate Cheesecake
Would I go again? For the ambience and the Standard 36, yes
Address: One Galle Face Malle, L01 Shophouse 70.
Hours: Sun-Thur 10am - 10pm. Fri & Sat 10am - 12am

Pics: Pradeep Dilrukshana