Shangri La Hotels have always introduced culinary concepts for the discerning gourmand, and in keeping with this ethos, launched their Gourmet Sunday Brunch experience at The Capital Bar & Grill amidst a gathering of media personnel and foodies. True to its name, the brunch was an experience worthy of even the most perspicacious epicurean.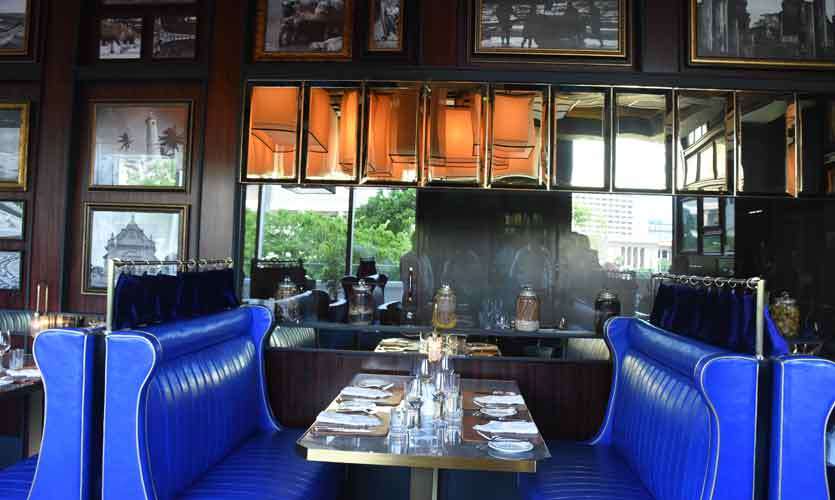 Chef Patrick and his Chef de cuisine, Chef Shenal Perera presented a delectable variety of food inspired by Chef Buttgereit's travels around the world. Speaking on the curated offerings, Chef Buttgererit shared "My team and I are excited to choose the best ingredients and recreate dishes to carry on the story of the hotel's ever-evolving offerings. We look forward to cooking something special for you every Sunday". The menu for the Gourmet Sunday Brunch comprises 3 courses as well as a Carving Trolley. Food in the Appetisers, Dessert, oyster on trolley and the Carving Trolley menu are all 'all you can eat', while you can select one dish off the Mains menu. An assorted bread basket was also placed at every table at the start of the meal.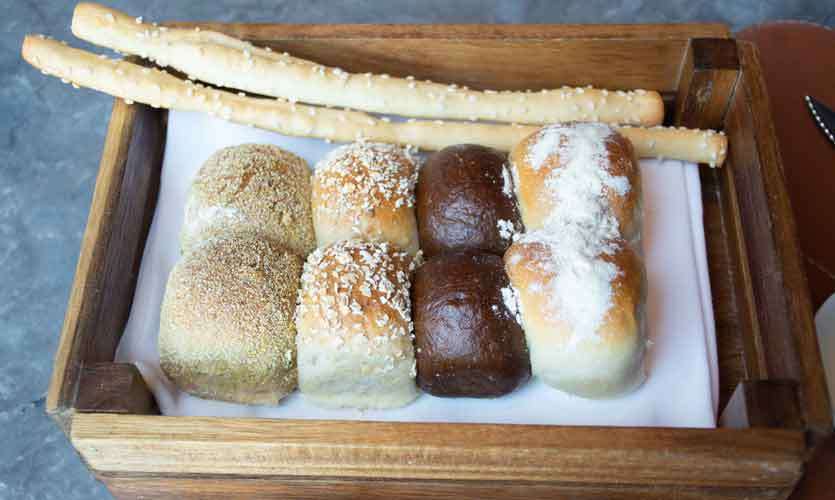 Appetisers
The menu included 7 Appetisers to choose from, but since this course is 'All You Can Eat', you are free to order any of the appetisers you'd like to try. It was heartening to see a good balance of both meat based and vegetarian appetisers (as well as mains) to pick from.
The Beef carpaccio with shaved parmesan, baby rocket and aged balsamic was fantastic start to our meal. Simple, yet incredibly flavourful and largely melt-in-your-mouth texture yielded a well executed appetiser.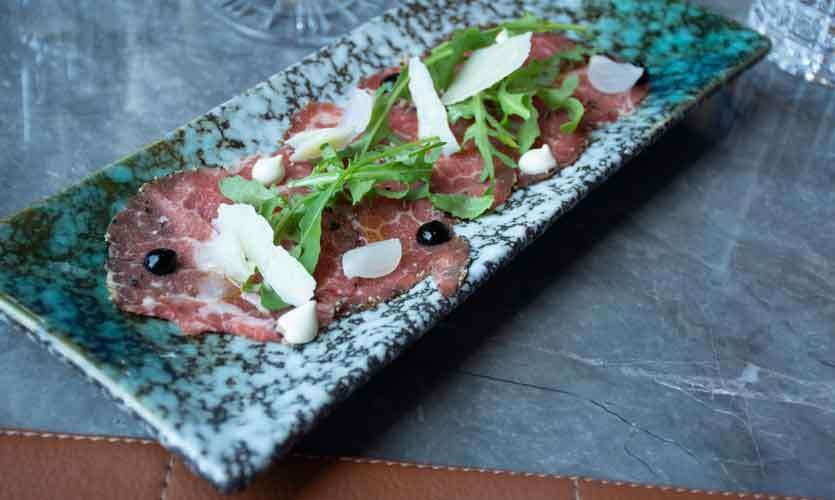 The Tuna tartare with lotus chips and young coconut was equally delightful, comprised a subtle zest was the crunchy textural element was certainly a welcome addition.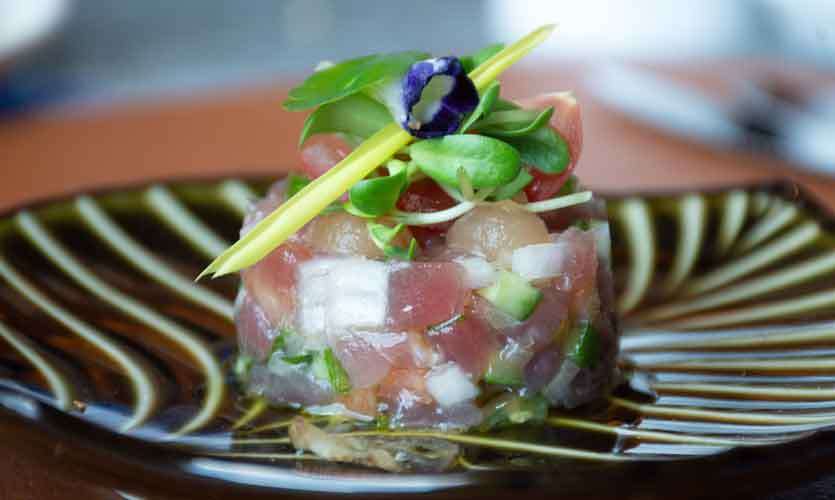 The Beetroot salad and orange and blue cheese crumble was yet another seemingly unassuming appetiser where the sweetness of the chunky beetroot, acidity of the orange and the piquant blue cheese flavour came together sublimely.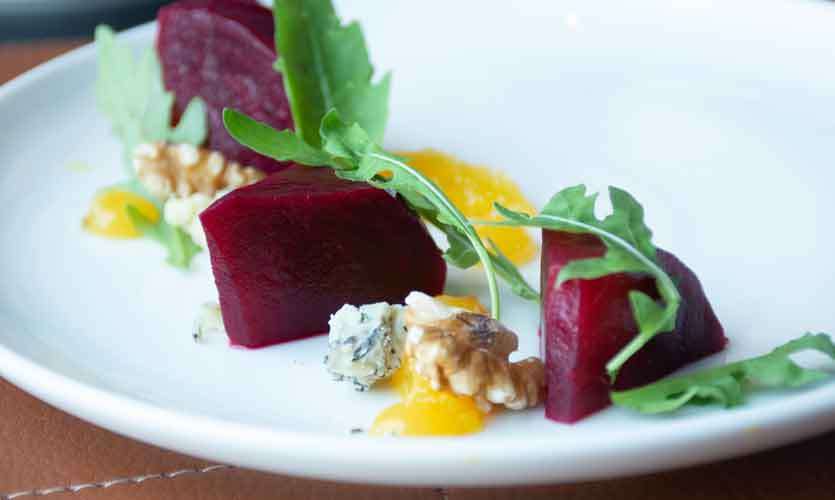 Kicking it up a notch however was the Superfood salad with avocado, strawberry, green asparagus, sunflower seeds and quinoa in raspberry vinaigrette, a very summer-y appetiser that was thoroughly enjoyable thanks to its comparatively subtle burst of flavour.
I also loved the Grilled vegetable antipasto with pine seeds and arugula salad, the slightly burnt flavour thanks to the grilling made the vegetables (mostly peppers) thoroughly enjoyable.
There were two soup choices, Green asparagus soup with scallions and focaccia garlic crouton and the Mushroom cappuccino with truffle crème and chives, and I only tried the latter which was a perfectly portioned soup that was hearty and very tasty!
Main
Like the Appetisers, the Main Course also had a good variety of vegetarian items in addition to it's meat based items. For this course, however, diners are allowed to pick just one item of their choice. I decided to pick a chicken based dish for my main here at Capital Grill and Bar for a change, so I picked the Honey glazed chicken skewer with garlic rice and scallions. Very Asian inspired in terms of flavour, I found the sauce to be a little too sweet for my liking. However, I was definitely impressed by the super succulent chicken and the flavour of the sauce. Don't be deceived - or disheartened - by the portion size. In fact, after you've had your fair share of the impressive appetisers, you are bound to be quite full when you get to your main course.
Food on Trolleys
The chefs carefully maneuvered the length of the restaurant wheeling separate trolleys loaded with Salmon Wellington with lemon butter sauce and green asparagus, Honey glazed roasted pork with pineapple compote and roasted marble potato and fresh oysters.
Freshly shucked oysters were served with an array of accoutrements such as lemon, shallot vinegar, tabasco sauce, mango chilli sauce and cucumber mint sauce. I picked a range of accoutrements this time - tabasco and cucumber mint sauce - which together was a mellow affair with the occasional heat from the tabasco.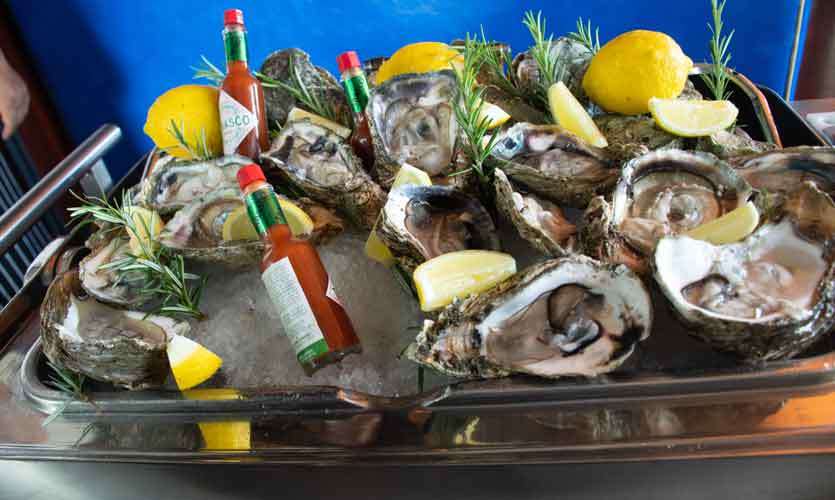 Despite being stuffed, I'm glad I tried the Salmon Wellington which was truly awe inspiring, a sentiment also echoed by my visibly elated colleagues. Thanks in large part to the excellent quality of the salmon, as well as some help from the lemon butter sauce, this was a match made in foodie heaven! I highly recommend you leave space to savour this!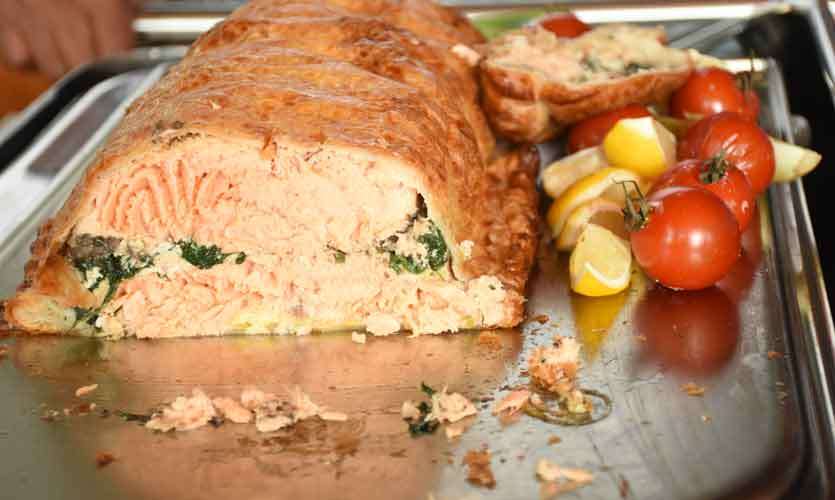 Dessert
Trust me when I say you will be positively stuffed at this point even if you exercised caution in portion control. I soldiered on through the dessert course despite not being a dessert fan because each dessert proved to be better than the next, leaving me impressed. Especially noteworthy considering I typically skip the dessert course since I'm rarely amused enough to find myself enjoying the sweet stuff. The chefs certainly knocked this course out of the park!
Overall
The folks at Shangri La certainly weren't playing around when they promised diners a "Gourmet" Sunday Brunch. I find that many places use the word inadvertently, with "Gourmet" being the ultimate misnomer. The Brunch at Shangri La's Capital Bar & Grill is truly an epicurean experience with the thoughtfully curated menu exhibiting meticulous and nuanced execution.

The Gourmet Sunday Brunch at Capital Bar & Grill is priced at LKR 6,500 +++ and includes a glass of complimentary bubbly. Brunch is served from 12 noon to 3 p.m. For reservations or more information, call (+94) 117 888 288 or email http://capitalbng.slcb@shangri-la.com
MENU
Appetisers - All You Can Eat!
Beef carpaccio with shaved parmesan, baby rocket and aged balsamic
Tuna tartare with lotus chips and young coconut
Beetroot salad and orange and blue cheese crumble
Superfood salad with avocado, strawberry, green asparagus, sunflower seeds and quinoa in raspberry vinaigrette
Grilled vegetable antipasto with pine seeds and arugula salad
Green asparagus soup with scallions and focaccia garlic crouton
Mushroom cappuccino with truffle crème and chives
Main Course - Select One
Mushroom tortellini with chunky tomato sauce
Pan seared barramundi with shaved fennel salad and white wine veloute
Honey glazed chicken skewer with garlic rice and scallions
U. S. beef striploin with caramelised onion and mushroom ragout
Baked potato espuma with hand cut lamb ragout and crispy potato skin
Shrimp and saffron risotto with baby spinach
Poached eggs in spicy tomato sauce with toasted brioche
Oysters on trolley - Order as much as you want
Carving Trolley - All You Can Eat
Salmon Wellington with lemon butter sauce and green asparagus
Honey glazed roasted pork with pineapple compote and roasted marble potato
Dessert - All You Can Eat
Raspberry Creme Brulee
Hazelnut gianduja
Tiramisu
Pina Colada cremeux
Kir royale choux
Soft centred chocolate cake
Seasonal fruits
Pics: Kushan Pathiraja