Gastronomes will be wowed by a premium dining experience courtesy of Sri Lanka's most celebrated chefs, Peter Kuruvita, Dharshan Munidasa and Rishi Naleendra this August. A fact that's bound to make the food more appealing is that the event is held in support of the victims of the Easter Attacks. Combining years of experience and their culinary expertise for the first time ever, the 3 chefs will be preparing two dishes each for the evening's exclusive 'six-hand dinner'. This charity event is organised by Sirens Productions.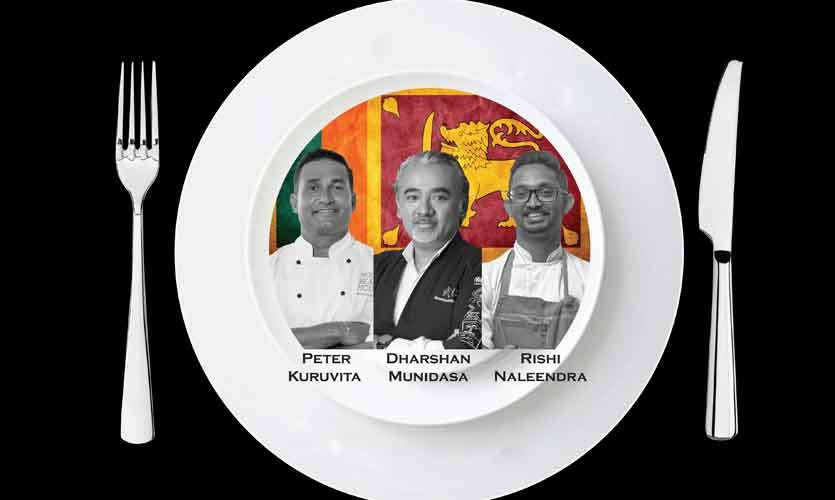 Sharing his thoughts on the event, Peter Kuruvita expressed "I was shocked to hear of the bombings, sitting at home watching the events unfold made me realise how vulnerable we all are. Innocent people going to prayer cut down on what should be a family day. Religion has nothing to do with it, pure hateful thoughts toward our fellow human beings is unfathomable. If this dinner can help the survivors and family of the people who were killed or injured rebuild then I will feel we are doing a good thing". Echoing these sentiments, Dharshan Munidasa added, "It's amazing to share a kitchen with two chef friends and culinary greats, Peter and Rishi, for a cause of this nature", while Rishi Naleendra also spoke of his excitement to work with his fellow chefs. "I'm really looking forward to teaming up with Peter and Dharshan in Colombo for such a worthy cause.''
Peter Kuruvita
Chef, restaurateur and media personality, Peter Kuruvita is known for his rich culturally inspired cooking, highly influenced by his Sri Lankan father and Austrian mother. Having vast culinary experience across the globe in kitchens across Australia, England, USA and Fiji, Peter is the owner of Noosa Beach House in partnership with Sofitel Noosa Pacific Resort and is the consultant chef of the famous Flying Fish Restaurants in Sydney and Fiji. After 3 decades as an award-winning chef and restaurateur, Peter has now diversified his career to encompass the roles of TV presenter, author and industry speaker. His TV Series include "My Sri Lanka with Peter Kuruvita", "Island Feast with Peter Kuruvita" and "Peter Kuruvita's Coastal Kitchen". He is also the author of two successful cookbooks, "Serendip – My Sri Lankan Kitchen" and "My Feast with Peter Kuruvita". Peter has worked with Dilmah Tea in an ambassadorial role for many years, developing the concept of tea gastronomy and hosts culinary tours of Sri Lanka for World Expeditions, showing participants the country's hidden delights and demonstrating local recipes along the way.
Dharshan Munidasa
Born in Tokyo to a Japanese mother and Sri Lankan father, Dharshan Munidasa, is the mastermind behind some of the best restaurants in Sri Lanka. His restaurants Nihonbashi and Ministry of Crab have been consecutively ranked on Asia's 50 Best Restaurants list for the past 7 years, and are the only restaurants from Sri Lanka to have made it on to this prestigious list. He also owns the popular Kaema Sutra, The Tuna & The Crab and Next Innings. For staying true to the roots of Washoku, Dharshan was the first non-Japanese chef to be featured on the Japanese TV Series Nippon Shokudo for TV Tokyo in 2011 and has also been featured on episodes of Rick Stein's Far East Odyssey on BBC, UK and Anthony Bourdain: Parts Unknown on CNN. Being of Japanese-Sri Lankan descent, Dharshan's contribution to Japanese Culture was recognised by the Japanese government when he was presented The Minister's Award for Overseas Promotion of Japanese Food for the year 2014. He was awarded the Business Today Passionate award 2017, which recognised 13 self-made passionate personalities in Sri Lanka who have single handedly created revolutionary concepts and successfully made them a reality.
Rishi Naleendra
Michelin Starred chef Rishi Naleendra received international acclaim for his restaurant Cheek By Jowl in Singapore, which is famed for its modern Australian Fare. Having moved to Australia to study architecture Rishi changed careers after falling in love with the amazing food culture of Melbourne. Having started his culinary career at the Taxi Dining Room, he went on to work under the tutelage of famous chefs Tetsuya Wakuda and Brent Savage, before moving to Singapore to open Cheek by Jowl. Rishi recently rebranded this restaurant into the more playful and modern Cheek Bistro, which marries the Modern Australia fare that made Cheek so popular with the comforting notes of bistro-style cooking. He also opened Cloudstreet in Singapore in July 2019, to serve up food that he considers the synthesis of his experiences and heritage: modern European in foundation, filtered through Sri Lanka.
Dinner, which will include a wine pairing, is priced at Rs.25,000 per person and seating will be limited to 200 guests. The Celebrity Chef Fundraiser will be held on the 30th August 2019 at the Shangri-La Ballroom, Shangri-La Hotel, Colombo. For reservations, contact 0777 576646.