In aid of Kids of Street (KOS) Charity Project Colombo, Taprobane Round Table 3 will bring together some of Asia's Best Stand-Up Comedians on one platform, live at the Hilton Colombo on the 6th of September.
The Colombo Comedy Show having had Sold Out shows in 2013, 2014, 2015, 2016 and 2018 they are now getting ready for the 6th Colombo Comedy Show, which will be bigger and better with some established new international comedians coming to Sri Lanka for the first time. The Colombo Comedy show is expected to have five comedians all together.
The purpose of the fundraiser is to set up a Cerebral Palsy Centre in Kurunegala.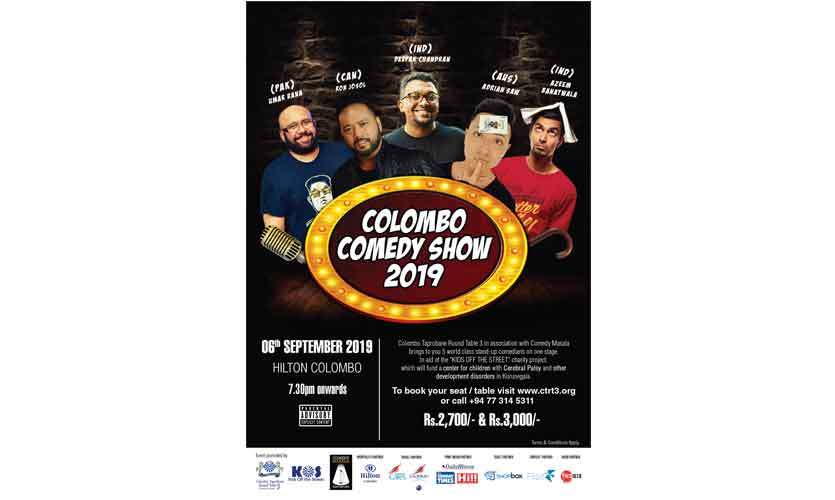 Ron Josol
Ron is a Canadian comedian who is well received from every corner of the world. Ron
stirs up and samples the multi-cultural melting pot that mirrors life in most urban centres
today. He presents hilarious scenarios and comments on our global society inherent
contradictions by combining a one-liner and a storytelling style. He regularly performs in Canada, the UK, Scandinavia, Caribbean, Asia, Middle East, Australia and the USA. He has
performed around the world for almost 20 years which makes him one of the most sought
after and vibrant comics today. He has taped a Showtime special in the USA, filmed "Gotham
Comedy Live" in New York on AXS TV, filmed a Comics Unleashed, a Carson Daly show for
NBC and a Comedy Central special in Asia, and the new Kevin Hart LOL show.

Azeem Banatwala
"Effortlessly likable" is the phrase that "The Hindu" in India used to describe this outstanding comedian. Azeem Banatwalla is one of India's top stand-up comics, and has been one of the most popular names in the Indian circuit for the last 5 years.
Known for observational, provocative and intelligent humour, Azeem is, alongside Vir Das, and Sorabh Pant, the only Indian comic with two stand-up specials to his name, both Amazon Prime Video exclusives.
Azeem has also performed all over the world - most recently at the Melbourne International Comedy Festival 2018 where he also scored international TV credits with ABCs Comedy Up Late.
Azeem is a part of the comedy collective East India Comedy, with his work as a stand-up and sketch writer garnering over 100 million views on YouTube.
Adrian Saw
Australian comedy-magician Adrian Saw brings the laughs and the wonder from Down
Under!
Blending comedy, sleight of hand, psychology and audience participation, Adrian
performs hilarious and downright impossible illusions in an intimate experience.
"The Music" magazine formerly known as "Drum Media" has gone on to say that Saw's entertainment is "New magic with a cheeky bent"
This amazing entertainer is bound to give you a break from reality so be prepared to be amazed and in stitches the whole time.
Deepak Chandran
Deepak is a rising star in the Asian comedy scene. A resident of Singapore, he has lived in
eight countries over the past 10 years, helping white people fix their computer problems.
Deepak has headlined all the major clubs in Asia, was a host of Singapore's biggest night
Comedy Masala, and has won many accolades in the comedy world.
He was the runner up of Bangkok comedy festival 2017 and was a finalist of Hong Kong Comedy competition 2017 within the first 2 years of doing comedy. He has performed in International comedy festivals like Magners Comedy Festival, Perth Fringe etc.
Deepak brings a style of comedy which is unique and definitely pushes the barriers of head bobbing and Indian accents.
Umar Rana
Umar is the founder of Comedy Masala Singapore. In July 2016, Umar made his TV debut on
"Comedy Central Asia presents Stand-up Asia!", and in 2013 was listed as Top 10 comedians
in Asia by Top 10 Magazine, Malaysia.
Umar has been doing comedy since 2001, in both improv and stand-up. He was one of the founding members of Black Fish, Pakistan's first and highly acclaimed English-Speaking Improv Comedy Troupe.
He has performed live in Singapore, New Zealand, HK, Malaysia, Sri Lanka, Indonesia and Pakistan. He was the official opening act for BILL BURR in Singapore, and has hosted and opened for Hollywood comedian Rob Schneider.
Umar is also the Resident Host at Singapore's biggest weekly comedy show, Comedy Masala.
The Colombo Comedy Show performed by these rib-tickling comedians is destined to be nothing but phenomenal! So grab your tickets now and prepare to spend this sensational evening at the edge of your seats - with laughter!