Preparations for the 2020 edition of the Mrs Sri Lanka World pageant kicked off last Sunday with the official signing of contracts and the first round of auditions. The event was graced by the presence of reigning Mrs World Caroline Jurie and Mrs Sri Lanka 2018 Sumudu Prasadini.
One of the main challenges is to host the event against the pandemic and Mrs Sri Lanka World National Director Chandimal Jayasinghe is determined to pull off a grand finale. "This pageant was scheduled for last year but it got delayed due to the pandemic. I would like to extend my wishes to Ms Rosy Senanayake and Vasana Dantanarayana. At a time when this industry is facing many challenges, it's encouraging to see all sponsors who agreed to join hands with us. I feel proud of Caroline for the honour she brought to the country amidst many challenges. We hope to have the pageant in July this year and I hope we all can work as a team to pull off this show in a grand style."
Speaking at the event, reigning Mrs World Caroline Jurie advised all contestants to believe in themselves. "Each one of you is here because you have a dream. Not too long ago I too had a dream like you. The first dream was to win the Mrs Sri Lanka title. Then I thought what if I won the world title? Maybe it was a question I asked myself because I didn't believe at first. Perhaps because we Sri Lankans look at the world and think that our chances are smaller. But after bringing the title to a beautiful island I realized we are as good as everyone else. Conquering dreams isn't as easy as it sounds. But without belief, we will fall short of becoming the best we can. So all I want to tell you is believe. Believe that we Sri Lankans can achieve anything. That you can achieve anything, set your goals high, believe the big dream and believe in yourself. Be confident. Give 100% and more and at least for today be better than yourself."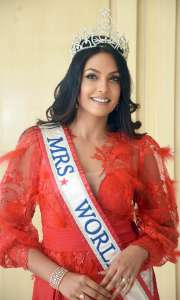 As the title sponsor, Vogue Jewellers is in the process of designing a crown to suit the most deserving lady who'll walk the ramp as Mrs Sri Lanka World 2020. "Two beautiful ladies the Mayoress of Colombo Rosy Senanayake and Caroline Jurie have brought so much pride and honour to Sri Lanka and in months to come this pageant will be a life-changing experience to all of you," Sanjana Seneviratne – Head of Marketing – Vogue Jewellers. "We as the title partner for this event are in the process of designing an exquisite masterpiece – a one-of-a-kind crown adorned with dazzling green and blue stones with our international award-winning design team and master craftsmen. Vogue has been making Sri Lanka proud in local and international industries since the 1960s. It has glamorized and empowered generations of brides and ladies from all walks of life. Our unwavering commitment to excellence has earned us the reputation as Sri Lanka's jewellery manufacturer with many accolades and awards. This will be a great event that will empower women and unlock many opportunities for them."
The event is produced by Kavinga Perera while the official choreography and dance choreography will be
done by Rukmal Senanayake and Asanga De Silva respectively.
Pics by Kushan Pathiraja