Internationally-renowned drumming sensation and one of Australia's leading percussionists Ray Pereira was recently bestowed with the Order of Australia Medal for his contribution towards Performing Arts. Growing up against the backdrop of a centuries-old drumming heritage in Sri Lanka helped Pereira have a natural affinity for rhythm. At 16, he migrated to Australia with no musical aspirations. But before long, he ended his career as a civil engineer to follow his passion - playing congas. This marked the beginning of an illustrious career in performing arts where Pereira not only succeeded in promoting African drumming to the wider community but also blended different cultures together with his performances. Following are excerpts of an interview with Daily Mirror Life :
Q

What inspired you to learn and teach African drumming?
It was a gradual process. I started off with Afro Cuban style rhythms on Congas. As I progressed in my career, I became more interested in the origins and history of Cuban rhythms and so decided to investigate their African origins. After many years of playing and requests for teaching from other musicians and people in general I shifted my focus from being a performer to both performance and teaching. So, in music I have always followed my heart in what I want to play and study.
Q

Tell us about the different types of drums and drumming styles you specialise in.
I specialise in Cuban style drums like Congas and Timbalis and also a variety of African drums like the well known Djembe drum. I also play several other African drums and drumming styles including from the GA, Ewe and Ashanti people in Ghana and then drums and styles from other West African countries like Mali, Ivory Coast, Burkina Faso, Guinea and Senegal.
Q How did your Sri Lankan roots and having your base in Australia help you in your journey as a percussionist?
Growing up in Sri Lanka until I was 16 years old helped me have a natural affinity for rhythm as we have a culture and society where rhythm and drums play an important role. When I was in school in Sri Lanka we always played and sang at cricket matches. I was also exposed at an early age to all the drumming at traditional festivals and other important occasions so although I had no intention of being a musician this early, exposure to drumming and music helped me when I decided to leave my job as an engineer in Australia and then become a musician.
Q

Tell us about the Afro-Lankan drumming concept.
After playing Afro Cuban and West African styles for many years I felt it was important to add Sri Lankan rhythms to my repertoire. My wide experience studying different types of rhythms from around the world opened my eyes to the fact that many rhythms from different cultures are similar. For example, our 6/8 rhythms (used in Baila for example) are similar to many African rhythms. It's just the sound and technique on the drums that are different. So, it was quite easy for me to hear common elements between Sri Lankan and African rhythms. I decided to formalise this concept with my friend and musician Kanchana Karunaratne who taught me the rhythms of Sri Lanka and we started working on putting together new rhythms based on our knowledge of both African and Sri Lankan drumming. I also studied Kandyan drum rhythms with Professor Karunaratne Bandara from the University of Colombo. I don't play the Sri Lankan drums but understand the techniques and rhythms enough to be able to compose material and collaborate with others like Kanchana.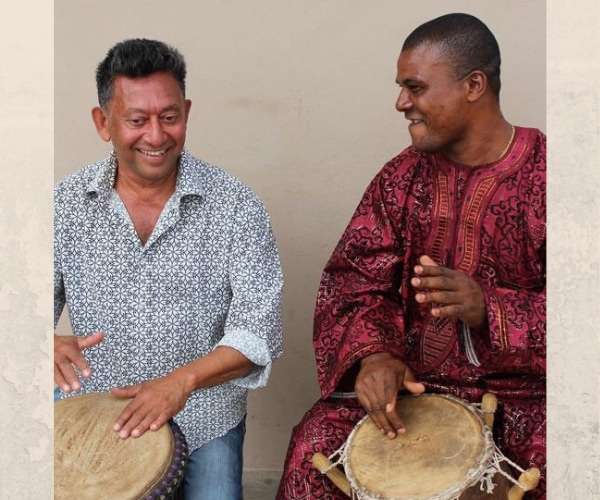 Q

African culture is quite vast. How did you manage to blend two starkly different cultures together with percussion instruments?
Since 1994 I have been travelling to West Africa to play and study. I go mainly to Ghana where I work with my friend and master musician Nii Tettey Tetteh. I learn new rhythms and play with his group. Tettey and I also play together as a duo touring festivals and performing concerts. On my many trips to Ghana I became familiar with a number of popular festivals and ceremonies in which music is played. The way music is used in Ghana is similar to the way we use music in Sri Lanka. Traditional music plays an important role in celebrations and festivals. They have something similar to the "Magul Bera" for example. They also have harvest festivals and street parades like Perahara where drummers play a prominent role. So even though there are specific differences in the culture, there is also a lot of similarity in how traditional music is part of many community activities, cultural events and religious festivals, so if you are knowledgeable enough in the different drumming styles it is quite easy to combine them and adapt some of the rhythms to fit in with each other. There is a lot of material from my trips to Ghana on my YouTube channel Ray Pereira African Drumming if your readers are interested.
Q

How do you feel about being awarded the Order of Australia award for your contribution to performing arts?
It is an honour to be recognised with a national award for your body of work, especially by your peers in the professional music community and also by members of the community who have benefited from my teaching and fundraising activities. I am very happy that I have been able to contribute to the cultural enrichment of the community.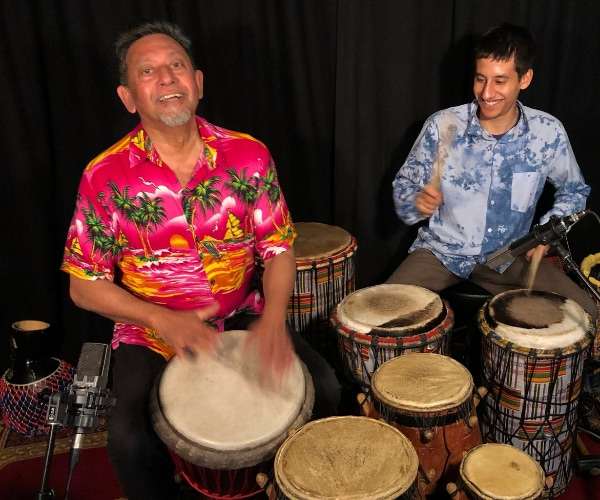 Q

It's quite a challenge to make a living as a full time performing artist especially in a country like Sri Lanka. What more could be done to promote appreciation towards arts?
I can't speak for the situation in Sri Lanka, but it is hard to make a living as a musician anywhere, I think. I am fortunate that I have been able to do this for over forty years now. I think you need to be passionate about what you do, you need to be persistent and also need to constantly strive to get better and keep improving. I am always studying more and investigating how I can improve both technically and musically. If you are able to play at a high standard and also try to play sympathetically to the music, then people seek you out to add to their music as a session player. You also need to educate the general public in appreciating music that may not be as commercial but has good artistic merit. So, I always try to not pander too much to what people want to hear but try to push new ideas as well and hopefully introduce people to music that they have not heard before. But it can be a struggle as we are against the publicity machine of mainstream commercial money-making enterprises.
Q

How do you engage the younger generation to get involved in the arts, especially playing percussion instruments and spending time on music?
A few years ago, I made a decision to teach more and to try and educate musicians and other non musicians alike on how to appreciate more complex rhythms and drumming styles. I started teaching adults in my group classes and also started teaching children in primary school. I feel that when children are introduced to music at a young age this then can have a flow-on effect in the community and I felt that a musician of my experience and skill needed to do this and to try and influence the younger generation to play and appreciate music. In fact, whenever I come to Sri Lanka my friend Aruna Siriwardene who is a great drummer always calls me up and sends up and coming young Sri Lankan musicians to me and asks me to show them some of my African and Cuban drumming styles. We have some very good musicians in Sri Lanka equal to the best in the world and I hope they get the opportunity to practise their craft more and develop more original music which I am sure will benefit the country both culturally and economically.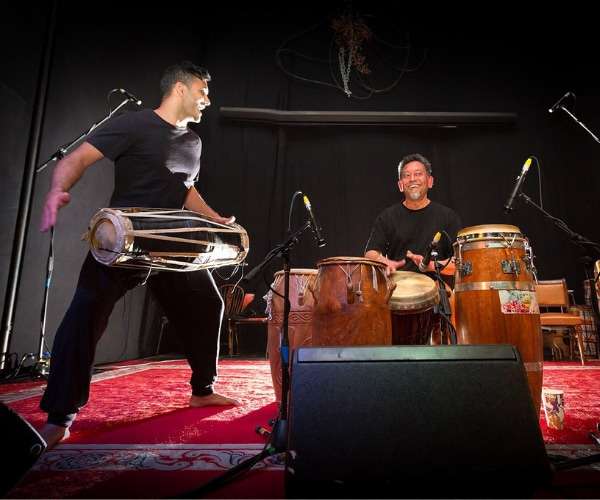 Q

Your thoughts about Sri Lanka's appreciation towards arts as of late.
Our traditional musicians and dancers in Sri Lanka are equal to the best traditional artists anywhere in the world and I would like to see them appreciated more widely than just seen as part of traditional cultural events. Our musical traditions and history go deep. Our traditional dances and rhythms are sophisticated and require great skill and practice. I believe that communities everywhere can embrace progress and change in music and the arts a lot better if we understand and appreciate our own traditional roots and create new original styles rather than just copying overseas trends. But this takes a lot of work and it means the community and our leaders need to value the arts and artists more because artists are as important to the health and wealth of a country as engineers and others. I say this having worked as both a Civil Engineer in my younger days before becoming a professional musician.