Graduating from AOD with a degree in Graphic Design, Natalie's underlying passion veered towards fashion design. After graduating, Natalie took to the skies as an air hostess using her international travel to learn more about fashion. Having launched her brand Taprobana by Cathryn in 2019 with recycled batik accessories and sarongs, Natalie is working on her new collection. A firm advocate in believing what she creates and saying no to free design, Natalie works to her motto to consume less and create more.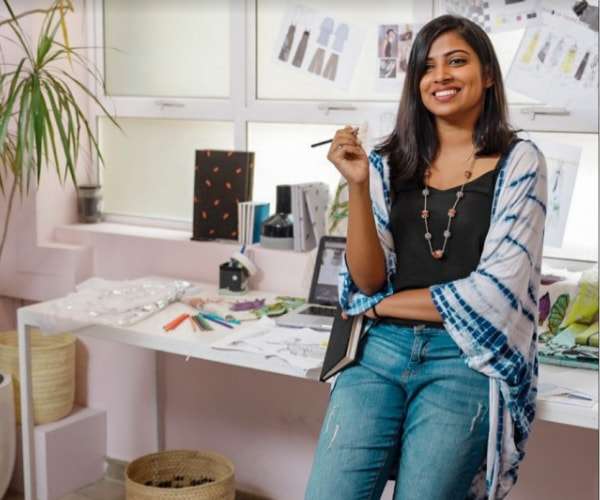 WHAT SPARKED YOUR INTEREST IN FASHION DESIGN?
I can't exactly remember what sparked my interest in Fashion Design. I believe it was a combination of a lot of things. As a child I was always interested in art, it was my way of expressing my self. When I was a teenager I embraced different subcultures like Punk and Emo. My mother and father are my favourite fashion icons. I wore their vintage clothes giving it my own twist. I always knew I loved design, but didn't know what exactly I wanted to do. At the time I was interested in Graphic Design so I completed my first degree in Graphics. Even though I loved Graphics I had an equal interest for Fashion Design as well. To do another degree at the age of 19 without a job was not possible. So I became an air hostess and through my travels around the world, I was inspired by different cultures and lifestyles that finally led me to be a fashion designer.
WHAT MADE YOU TAKE FASHION MORE SERIOUSLY AND MAKE A CAREER OUT OF IT?
I chose fashion more seriously as a career because it is something I like to do and I don't feel like I am working when I am doing it. Also, it's always evolving and every time there is something new to learn.
HOW HAS YOUR WORK EVOLVED SINCE YOU BEGAN YOUR OWN LABEL?
Since I began the brand I have evolved to become a responsible designer who thinks sustainably
when designing.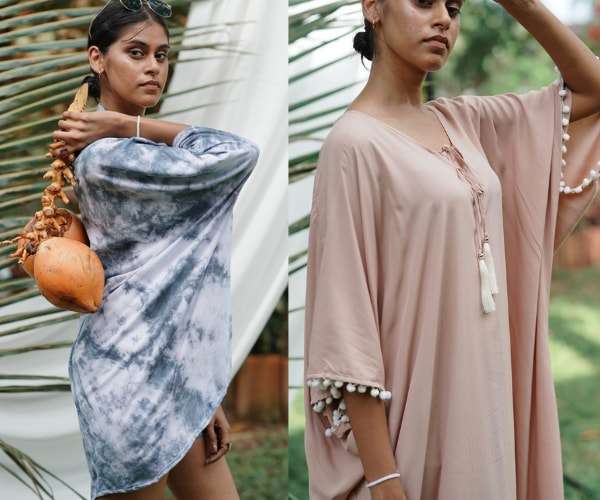 WHERE DO YOU LOOK FOR CREATIVE INSPIRATION?
I take inspiration from almost everywhere. Vogue Runway, WGSN, Hypebeast, Style Bubble and The Sartorialist are some sites to name a few. Also, Sri Lankan culture and history play a main role and is one of the sources that drive inspiration to my brand.
DESCRIBE YOUR LATEST COLLECTION?
The latest Collection "Andare" is a resort wear collection, inspired by a Sri Lankan card pack I created. The contemporary prints are inspired by Sri Lankan art and were hand drawn before making the final screen, which gives it a unique touch. Each piece is designed for comfort and is made for the island soul. "Andare" is a unique designer collection with an interesting story to tell. This collection is a sustainable collection made from waste fabrics and trims and I have worked closely with local batik artisans to bring out the essence of Sri Lanka.
WHO IS YOUR MUSE?
She is a carefree soul that is confident, ready to stand out and who is not afraid to try out new things. She embraces her culture and heritage. She is an adventurous person who shows her personality in what she wears.
WHAT ARE YOUR SUSTAINABILITY CREDENTIALS?
Taprobana is a sustainable brand that works with minimal dyes, waste fabrics/trims and recycled products. Taprobana works with local artisans to uplift the craft industry and aims to bring out the essence of Sri Lanka to a modern platform. A percentage of the profits go towards humanitarian projects and animal welfare.
WHAT ARE YOU FASCINATED BY AT THE MOMENT AND HOW DOES IT FEED INTO YOUR WORK?
Currently, I am fascinated by how Sri Lankan ancestors used eco-friendly products in their daily lifestyle. I am planning on working with a few products for future collections.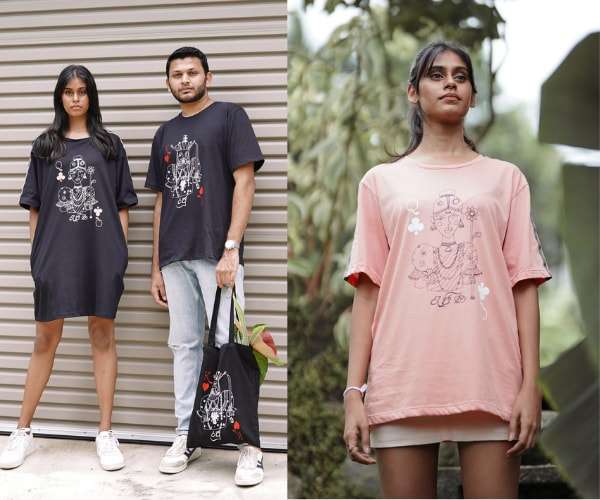 WHAT ROLE DO YOU THINK SOCIAL MEDIA PLAYS IN FASHION TODAY?
Social media plays an important role today where fashion brands use platforms like Instagram and Facebook for advertising and it's easier now to know about your target market. The consumer feels more connected with the brand through social media, which helps to create networking opportunities. It has also become a place where designers find inspiration for design solutions through current situations happening around the world.
WHAT IS YOUR FAVOURITE PART ABOUT BEING A DESIGNER?
Waking up every day to do what I love.