Kirulapone just got a whole lot luckier, because the Four Leafed Clover opened its doors not long ago. Nestled amongst the hustle and bustle its exterior appearance gives off a very inviting vibe. Its permanent address is No. 168, Maya Avenue Colombo and its opens at 12:30 pm in the afternoon, and stays that way till 11 pm. The Four Leafed Clover boasts an aura of fine dining, emboldened by the fact that they have valet parking, but is also a comfortable enough place at which you could spend a casual night out with a couple of friends or even your family.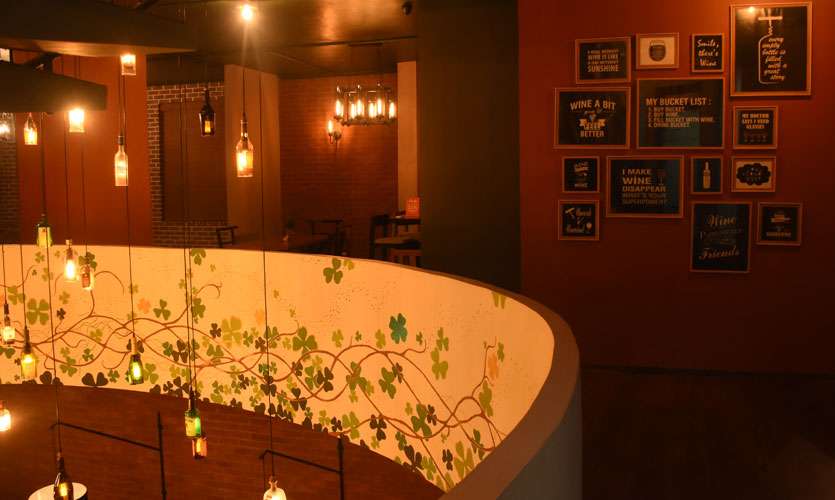 Ambience
Have you ever been instantaneously taken up by the decor and feel of a place? We have, the decor at the four-leafed clover is out of this world, and I doubt we could say enough of its ambiance actually, it's got warm lighting and gives off a cozy comfortable vibe. It's the kind of place you would want to go to, to be yourself and have a good time with whoever you take out. You could tell that the owners of the place, had put a lot of time into fixing up the place and converting it into the beauty that is today. The service is great, and they don't keep you waiting long, so that's a plus point right there.
Dublin Coddle
This was easily our most favorite dish, I mean who could say no to some good-old potato, bacon and chunks of meaty sausages. It was perfect in every way, the bacon was fried to perfection, it was crispy but not burnt while the potato was soft and would just turn to mash in your mouth and to top that off it was covered in a cheesy sauce, just enough actually, along with chunks after chunks of Irish Sausages. We implore you, if you do visit the Four Leafed Clover (and we strongly recommend that you should) ask for this dish and say we recommended it, you will not be disappointed.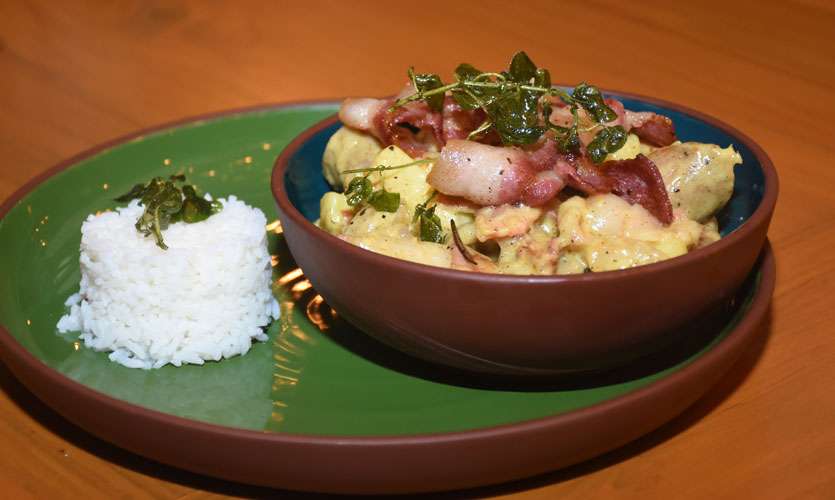 Scotch Bistecca Diavola
This dish sounds regal, doesn't it? Trust us when we say it looks as regal as it sounds! In terms of presentation we'd say this dish was the best of them all if it were possible to give it a 100/10 we definitely would but for now, a 10/10 would have to suffice. It was a large beef steak, large enough to get you through a week with no food, to be honest. The steak was accompanied by a side salad, a portion of chunky fries and garlic. I ordered a medium rare steak and they delivered to perfection, also one thing we appreciate about the restaurant is that it actually cares deeply about the temperature of the food it serves. They would go to lengths of asking you if you would like your food warmed once more if for instance you get caught up in conversation. We loved the steak, it's definitely filling, and that's one thing we noticed about the dishes, the portions are enormous.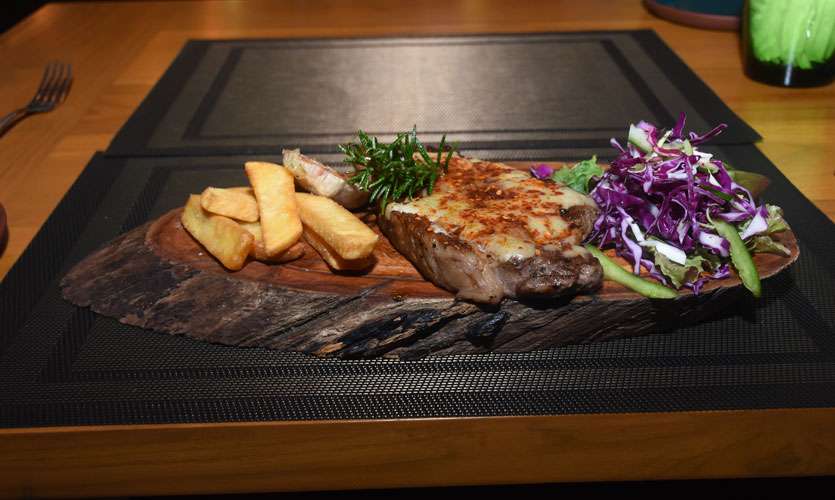 Desserts
Irish Apple Crumble Cake
This was the strangest cake we have ever eaten, but don't get us wrong, strangely does not mean it was bad, it was beyond great actually. It was crunchy in on top and soft in the middle and was topped off with a lovely caramel glaze. The size of the slice was huge, and I believe if you've had any of the mains, sharing one slice of this would be advisable, because as I've mentioned before 'The Four Leafed Clover' does not hold back in terms portion size. We at Life Online recommend that you try this out when you visit, or if by any chance you're looking for a place to have dessert, we would say this would be a good and interesting option to try.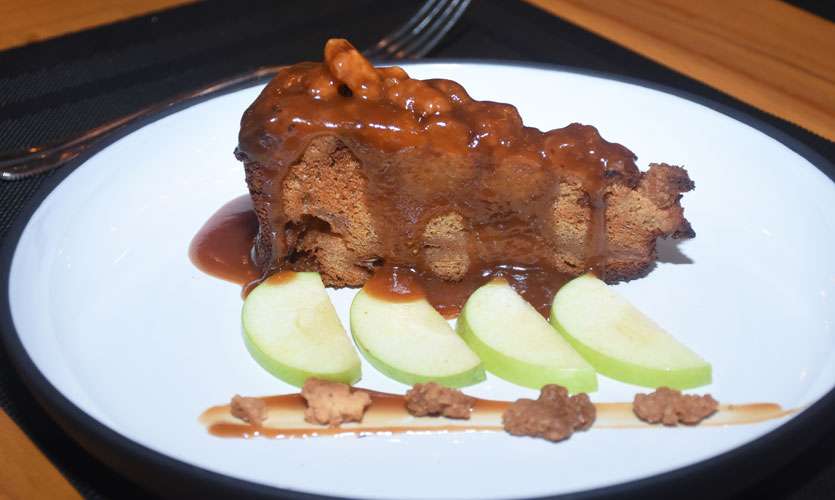 Drinks
Citrus Cooler
After asking the management, whether we should try the Virgin Piña colada or the Citrus Cooler, they told us that it would be rather different if we tried out the latter. After taking their word for it they brought us a glass of the most refreshing drink we've ever had in a long time. It was the perfect combination of sour and sweet, and it was a little fizzy and cold so, it somewhat breathed new life into us after a long day. The citrus cooler is somewhat of an energizer and is perfect if you feel like you're too tired to enjoy yourself and you want to perk up and stay alert.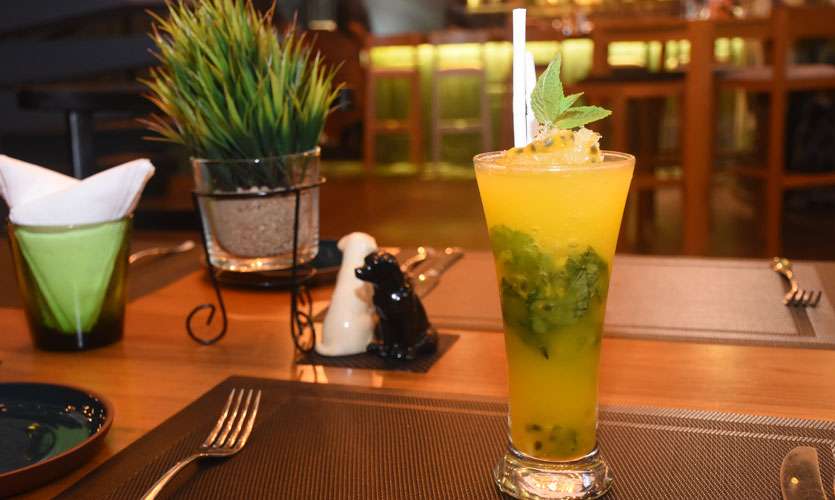 Things you need to know
The Four Leafed Clover has a number of private rooms that you can rent out for private meetings, birthday parties and even bachelorette parties. The staff is very helpful and the environment is non judgmental. They even let you rent out their beautiful rooftop out for your private events. They're a very reasonable establishment, and they're situated in the heart of Kirulapone, which is amazing because apart from a number of coffee shops there isn't a great restaurant for a considerable distance. Now they're relatively new, but they've come so far in such a short span of time. If it were possible to enter a GIF that shows a round of applause right here, we would.
Photographer: Kushan Pathiraja