Yet another press conference was held at the Ramanna Nikaya Headquarters in Colombo on 22 July by the Justice for Animals Organisation in a bid to put pressure on the passing of the proposed Animal Welfare Bill. Although the Court of Appeal has directed the expedition of the Bill, it continues to sit in the Attorney-General's Office where it's been for the past two months.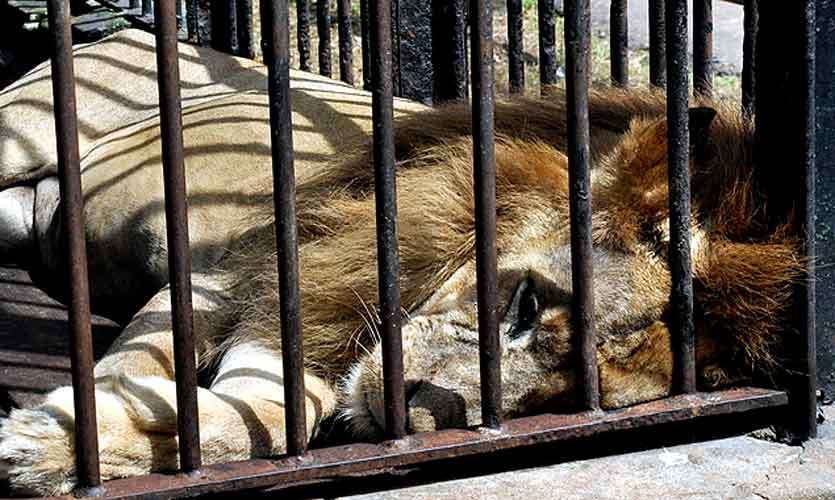 Each day that passes without protection for animals is another day filled with suffering. While only a small amount of cases ever make mainstream news, there is unimaginable cruelty happening every single day in unregulated farms, slaughterhouses, with commercial dog and cat breeders, zoos, religious institutions and in the wild.
It's easy in this day and age to become desensitised to the suffering of animals when the problems humans are facing are so great, but we must not let these acts become acceptable in society. We must remember those animals that have lost their lives while the Animal Welfare Bill remains inactive so that they never happen again:
May/July 2019 - To all the elephants who continue to be hit by trains every year, including the 15 year-old elephant who was killed by a train travelling between Gal Oya and Hingurakgoda and the 25-year-old elephant that was killed on the Northern Railway Line– We remember you.
June 2019 - To the thousands of yellow, fluffy, day-old chicks that were killed by the hatcheries after the Easter Sunday attacks because the demand for meat dropped, although if you would have only been allowed to live for 40 days anyway – We remember you.
June 2019 - To the German Shepherd dog in Udupeellagoda Hakmana who had his tongue severed off before being killed by a neighbour due to an argument - We remember you.
June 2019 - To the Pomeranian who had been caged outside continuously and killed by a neighbour in Kandala on Poson Poya because he was barking - We remember you.
April 2019 - To Braveheart, the little pony who was left for dead in a vacant block, you fought hard but your injuries were too much – We remember you.
Feb - 2019 – To the friendly, vaccinated and sterilised community dogs living around the Temple of the Tooth in Kandy that were brutally poisoned and taken away – We remember you.
Jan 2019 - To the 3-month-old puppy that was sexually assaulted to the point of death in Balangoda by a neighbour - We remember you.
April 2018 – To the six elephants who died from eating plastic garbage and toxic waste from the Deegawapi garbage dump – We remember you.
2017 - To the 500 sick dairy cows and their babies who were imported from Australia that died from disease in Sri Lanka, not only did you suffer but so did the farmers who were tricked into buying you - We remember you.
Dec 2018 - To Charlie the Labrador, who on New Year's Eve was set alight with kerosene inside a backyard cage after a neighbour became frustrated with his barking. You shouldn't have been in a cage but that was no reason for you to die - We remember you.
2018 - To the 319 elephants that died after being electrocuted, blown-up and shot due to encounters with frustrated villagers or ivory poachers, we know it's not your fault, you are just hungry and the humans live too close – We remember you.
June 2018 - To the leopard that was filmed being beaten to death in Killinochchi - We remember you.
2016 - To the racehorse, Charlatan, who was injured in a race in Nuwara Eliya and taken away and killed - We remember you.
March 2016 - To the endangered eagle who was tortured and skinned alive before having his legs cut off by a group of men who laughed as they committed the brutality - We remember you.
2015 - To the four horses in the Nuwara Eliya races that died of steroid overdoses - even though we don't know your names – We remember you.
2014 - To the lion and the hippopotamus who died in captivity at the Dehiwela Zoo, as well as all your animal brothers and sisters than continue to suffer for the entertainment of humans – We remember you.
2017 – The vaccinated and sterilised community dogs living at the Moratuwa and Jayewardenepura Universities that were poisoned and killed - We remember you.
And finally, to the hundreds and thousands of calves, cows, pigs, goats, and sheep that are transported in terror and killed in unhygienic and archaic slaughterhouses, we are trying to get you seen, but no-one wants to look.
Gandhi said "The greatness of a nation and its moral progress can be judged by the way its animals are treated" – so let's progress and get the Animal Welfare Bill passed.