Jack Tree is a cozy little dimly lit establishment located at number 200, Park Road
, Colombo
5, that serves mainly Thai and Chinese cuisine. It's run by the same group that owns Mango Tree hence the similarities in the name. We were invited to try their Ifthaar pack made especially of course for Ramadan.
Ambience
The interior decor is quite easy on the eyes with circular patterns on the walls that stick to its theme of yellow and green. The seating is comfortable and they have some nice music playing in the background. Additionally, if you're a sports fan, they usually have a sports channel on at all times. The service was great actually, they always check up on whether you're comfortable and they weren't too persistent either which was much appreciated. To put things in simple terms, we loved the vibe. It is good for an intimate talk over some good food, if that's what you're in the mood for.
They've got take away if you want to enjoy your meal at home. However, they recommend that you have the food as soon as it's prepared so as to enjoy it more.
It's family friendly and has abundant indoor seating on the 1st floor which is where the main dining area is.
Since we tried the Ifthaar pack, let us break it down for you. It comprised 3 dates (which is a must if you're breaking fast because it's mentioned in the Quran that if one must break fast it must be done so with dates and if you cannot find dates, then water would do. That being said, dates are high in nutrients which makes them the more practical option in terms of putting something in your tummy after you've not eaten for a while).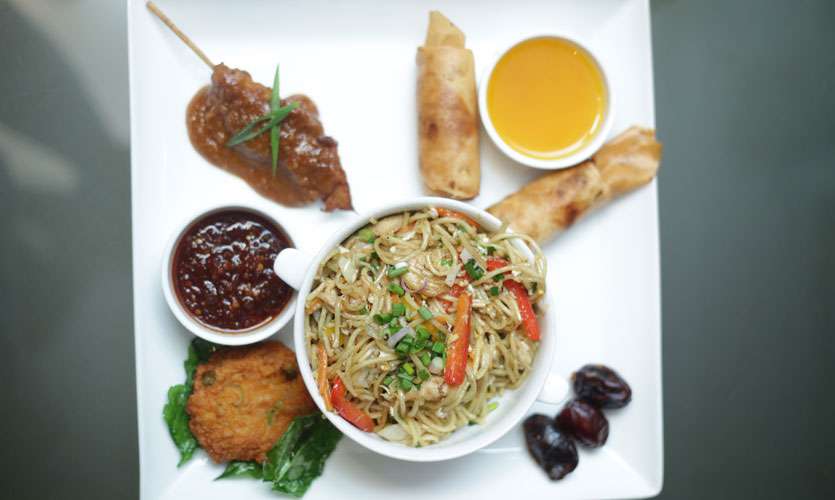 The pack also had a chicken satay, two spring rolls - a chicken and a vegetable (which came with an amazing sauce), a fish cake and of course, the main dish which was a healthy serving of Thai chicken noodles.
I must add that this platter came with an amazing fresh orange juice, which was a highlight for us because when most places say fresh, they don't mean fresh.
I love my citrus juice, and this particular one stuck to its claim of being an actual fresh fruit juice! They hadn't taken the pulp out which was amazing, and to top it off, they hadn't ruined it with too much sugar. All in all, I'd give Jack Tree's fresh orange juice 5 stars.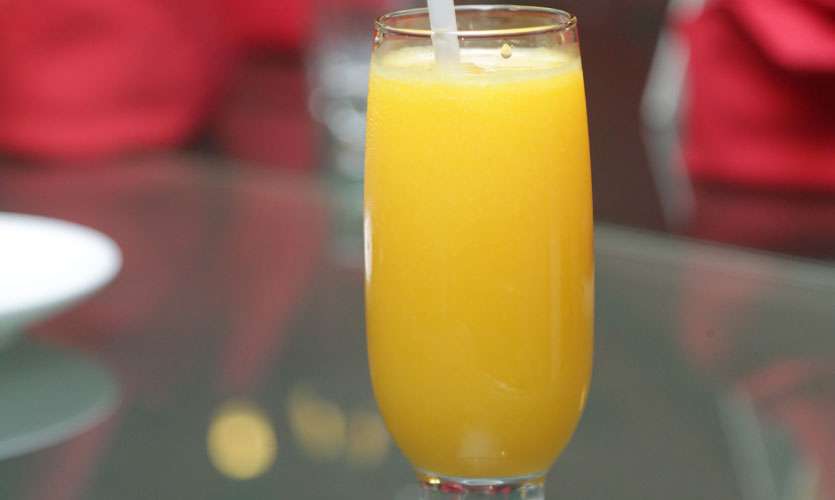 The Food
As the tradition goes, I started off with the dates and they weren't dry and tough; they were easy to eat.
Next, I went for the fish cake. Now I personally do not like fish, but this was nice! It was made so as to look like a little burger patty and had spices in the mix which I loved.
Afterwards, I had the spring rolls, and you must know that I love having my spring rolls really crispy, and these were made to perfection along with a sauce that was out of this world and again, it had a citrus base but it wasn't sour at all; it complemented the spring rolls perfectly.
Next up was the chicken satay, which to be honest, I felt had too much sauce in it. It tasted really good. I wouldn't dispute the taste of the meat nor the sauce but I wish the distribution of the sauce was done better; it came with the satay so I had no option of putting it on myself to my preference, and it threw me off only because I don't want tastes to overpower each other.
Finally, I arrived at the main dish, which was the actually my favourite in terms of the food! It was a creamy portion of chicken Thai noodles! And one thing I look out for when places say they prepare food with varieties of meat in it is the ratio of meat in the dish! And this was very satisfying in that sense! The portion of the noodles, considering that it was served along with an assortment of other things, was just right! You could eat the whole plate and I mean really wipe it clean, and be full but not full to a point where you'd be sick, which in my opinion is perfection.
Overall, it was a great gastronomic experience. There were many flavours and the portion was just right, and we would definitely recommend it for a family ifthaar outing. And the best part is everything is served together so you don't have to wait too long for another dish to arrive you can just dive right in.
Parking: Limited
Toilets: Available
Service: Good