The Hilton Colombo offers a lunch buffet of spectacular variety and choice at their newly renovated Graze Kitchen. It was an overall enjoyable experience as not only was there a range of options to choose from but on the whole, the food was delicious.

Guests can choose from an array of cuisines including Sri Lankan, Chinese, Vietnamese, Indian, Italian, Turkish, Japanese and Mediterranean. A unique feature of the Graze Kitchen buffet is that they have chefs from across the world, making food from their countries of origin which helped bring out the authenticity of the various cuisines. While the selection of food to choose from was extensive, it was not overwhelmingly so, as each type of cuisine was separated into live action stations, which was helpful in guiding guests to serve combinations of food that complemented each other. This also helped ensure that the freshness of the food served was maintained as chefs constantly replenished dishes.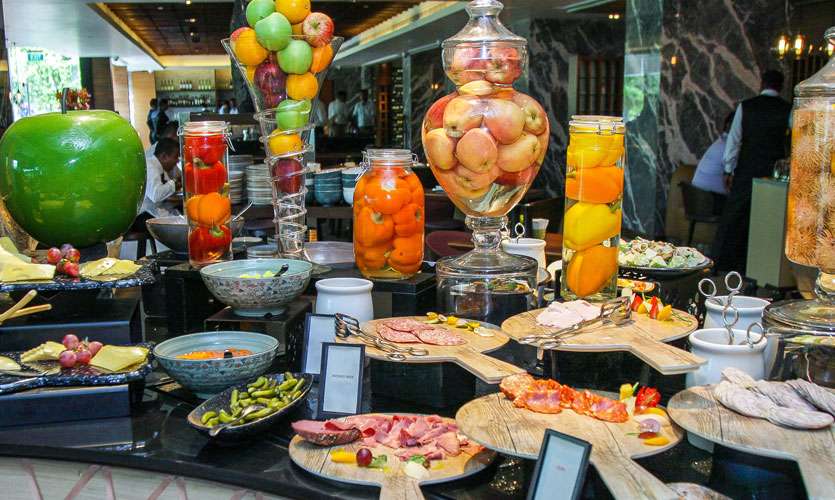 Ambiance
Refashioned into a taupe colour schemed, edgy, chic open-plan area, dowsed in natural light, Graze Kitchen embodies a very bold and modern interior. It has various action stations and sections dedicated to different cuisines. They have a diverse seating plan varying from small tables for two to semi- partitioned couch tables and private rooms. The restaurant's floor-to-ceiling glass window overlooks Hilton's iconic pond, inhabited by their fish and swans, giving guests an unobstructed view to watch on during feeding times.
Tables are placed at a distance from each other allowing guests to enjoy conversations without any disturbance and providing ample space for them to walk around freely.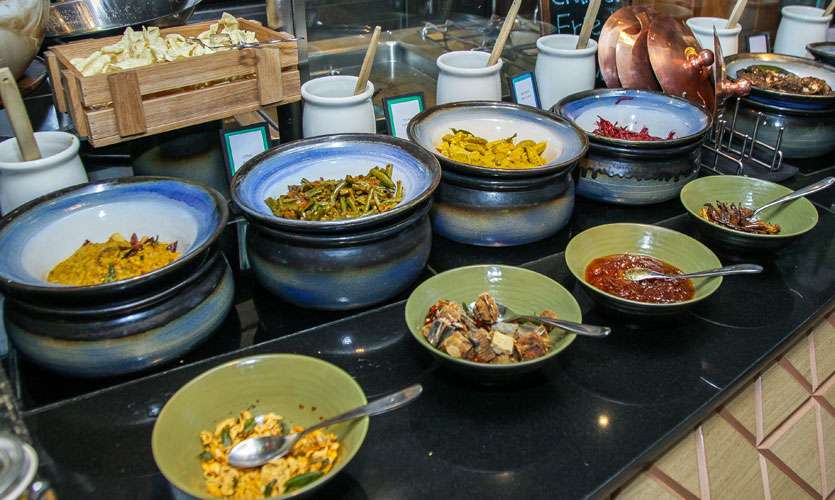 Drinks

There is an entire menu of drinks guests can choose from. We decided to try out a simple Orange fizz and detox drink.
The Orange Fizz was a simple drink but made a great impression. A perfect thirst quencher, the Orange fizz was so refreshing and light enough to complement a meal. (5/5)
Berries 'o' Berries is the detox drink we chose to try out. With its creamy base, we probably wouldn't recommend ordering it with a meal as it can be quite heavy but stand-alone, this drink is quite exquisite. The berry flavours really came through. (5/5)
Sidebar: We wanted to highlight the fact that we were pleasantly surprised to find that The Hilton no longer uses plastic straws. Instead, they use environmentally friendly cardboard straws.

Starters

Guests can choose from cold cuts, a variety of cheeses, readymade salads and also have the option to toss their own salads if they prefer, which speaks to Graze Kitchen's focus on extending their guests a wide variety to choose from.
The Mexican Style Three Bean Salad was fresh and full of flavour. (4/5)
Seafood and Dill with House Dressing was also fresh and flavourful. (3.5/5)
Salads served at the Graze Kitchen were consistently fresh, light and packed with flavour. It certainly helped that dishes were routinely replenished.
Lamb, Mushroom, Coloured Pepper with Balsamic Dressing was among the slightly heavier salads. The lamb was lightly peppery but it was complemented by the freshness of the vegetables it was served with. (3/5)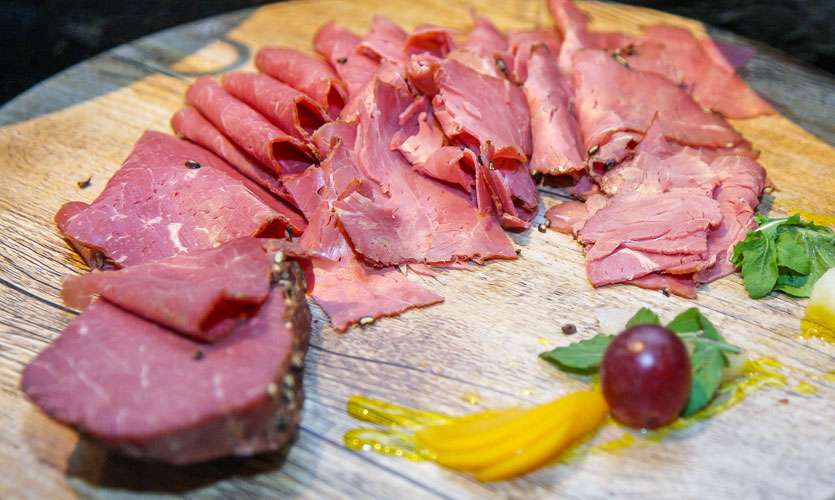 Mains
Japanese
We can see why the Japanese corner is so popular among guests. The food plated up was fresh (a running theme amongst the food at Graze Kitchen), and full of flavour. We tried the Nigiri, Vegetable Roll and Crab Stick Roll and were not disappointed. (5/5)
Pan East and Southeast Asian corner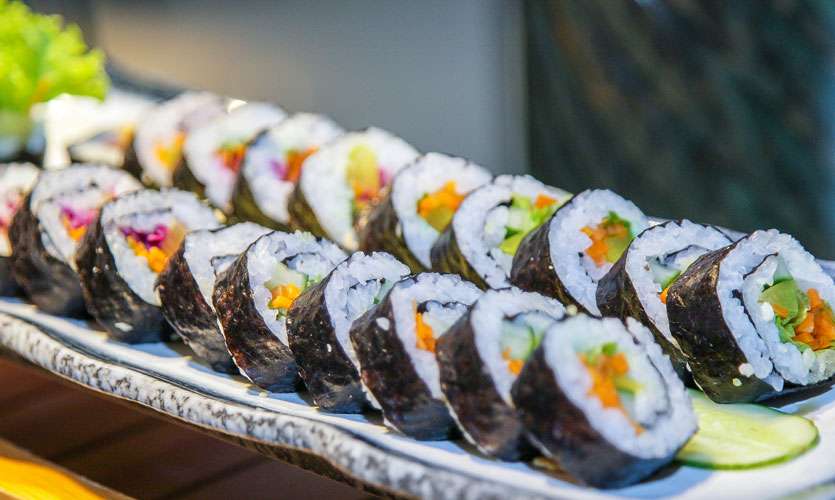 Within the pan East and Southeast Asian corner itself, guests had a wide variety of food from different countries to choose from, ranging from Chinese style dumplings to Singaporean style noodles. The food in this section was bursting with flavour.

Mee Hoon with Vegetables is a Singaporean style dish. The flavours were well infused. (4/5)
The Stir Fried Green Beans with Mushroom was also quite delicious. (3.5/5)
The Double Fried Pork Belly was, without a doubt, the best dish from this section. The flavours were well balanced and the spiciness of the dish was just right. Clearly, guests shared our sentiments as this dish in particular kept running out! (5/5)

The Spicy Chicken Fried Rice had more of a smoky taste to it than spicy. We preferred the Mee Hoon as a main over the Spicy Fried Rice. (2/5)
The Chicken Wonton was crispy and fresh. (5/5)
There was an assortment of seafood dumplings, chicken dumplings, vegetable bok choy kau and prawn sumai that had a real authentic taste to it. (5/5)
Indian

A recurring criticisms of many restaurants and buffets by those who opt for an all vegetarian meal is that their tastes and preferences are often forgotten; or at least, the options available to them aren't as well thought out. The Indian section of Graze Kitchen has put an end to that problem. Ranging from Methi Matar Malai (a style of green pea curry), Dhal Tadka to Kashmir style biriyani cooked with fruits, the Indian section of Graze Kitchen is a vegetarian's paradise. Upon speaking to the chef, you get a sense that everything served had an emotional tie back to family and this connection showed up through the taste of every dish made. His objective was to remind people of home and family through his style of cooking.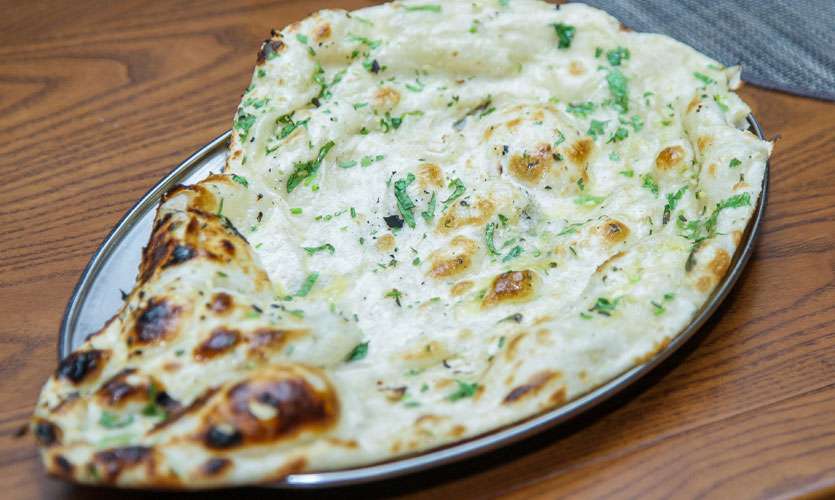 There were two types of biriyani available: the Kashmir style Biriyani cooked with fruit and the Mutton Biriyani. They were both pleasantly light and packed with flavour. (5/5)
The Bhuna Chicken was well cooked and was well complemented by a thick gravy. It was an incredibly flavourful dish and went well with the Butter Naan, as suggested by the chef. (5/5)
The Butter Naan 9873 was crisp and so delicious that it could even be enjoyed on its own. The wonderful thing about having the live action stations is that guests can request for whatever they like if it isn't readily available (which was what we did with the Butter Naan). (5/5)

Dessert

Overall, the desserts were superb. A smaller range in comparison to everything else, but just as enticing.
The Blueberry Cheese was one of our favourites. It was velvety, light, fruity and refreshing. (5/5)
The Chocolate Tart can be best described as a chocoholic's fantasy. From the garnishing to the biscuit base, chocolate was the focus of attraction in this dessert. A light, creamy chocolate layer on top was followed by a rich, bitter dark chocolate layer in the middle, a layer of wafers and a crumbly chocolate biscuit base. (5/5)
The Milk Chocolate Entement 9888, with its walnut cookie crumble base and milk chocolate goodness, was also sublime. (3.5/5)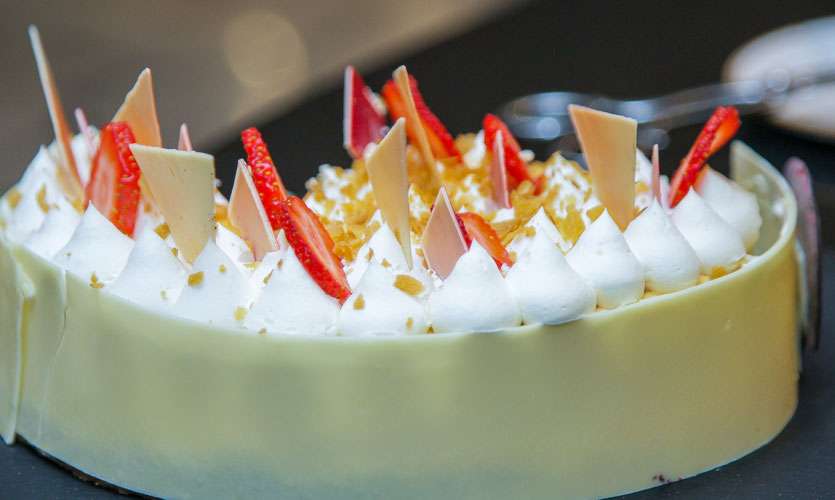 Service: 3.5/5
The staff seem very obliging but it was difficult to get their attention at times.

Conclusion
We would most definitely go again!

Tips/notes by author:
The lunch buffet is from 12:00pm- 2:30pm
Rs. 3388 net per person
Call ahead if you plan on going on a Saturday as they have a whole new concept ('The Endless High Tea') setup.

What steps has The Hilton taken to become more environmentally friendly?

They've stopped the use of plastic straws and currently use cardboard, environmentally friendly straws.

Photographer: Damith Wickramasinghe