Mr. Sutton is a development professional with more than 20 years of experience managing UNICEF's programmes for children and women in South Asia, the Middle East, the Pacific, and East Asia. A national of New Zealand, he first joined the UNICEF office in Bangladesh in 1996 as a project officer focusing on donor reporting and programme communication Mr. Tim Sutton assumed duties as the Representative of UNICEF Sri Lanka in October 2016. Prior to his current position, he was the Deputy Representative for UNICEF's programme in China. Mr. Sutton is a development professional with more than 20 years of experience managing UNICEF's programmes for children and women in South Asia, the Middle East, the Pacific, and East Asia. A national of New Zealand, he first joined the UNICEF office in Bangladesh in 1996 as a project officer focusing on donor reporting and programme communication. In 1999 he was transferred to Iraq to lead UNICEF's Advocacy and Communication programme in the country. In 2002, Mr. Sutton was appointed as the Deputy Representative for UNICEF's programme in Bhutan, and in 2006 he was transferred to the Pacific sub-regional office as the Deputy Representative to 14 Pacific Island Countries.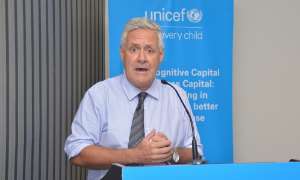 Q WHAT MADE YOU JOIN UNICEF - PASSION OR CAREER?
Passion. I remember in the interview for my first job with UNICEF in Bangladesh 25 years ago, I was asked why I wanted to join UNICEF. My answer then, which is still true today, was I want to change the world and UNICEF is the very best organisation for me to be part of to bring about change in the world.
Q HOW HEARTBREAKING AND REWARDING IS YOUR JOB?
Mainly rewarding – but of course occasionally heartbreaking. But even in the most heartbreaking situations, there is always something that can be done – something that can be made better, always some hope!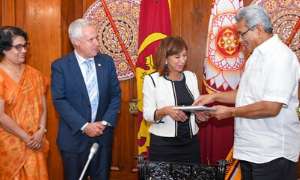 Q YOU SEEM TO HAVE WORKED PRIMARILY IN THE EAST – WAS THIS AS A RESULT OF CHOICE OR DID IT JUST SO HAPPEN THAT WAY?
It really just happened that way – no great plan – but I am so happy and privileged to have lived and worked in all the places we as a family have lived in and where I have worked.
Q WHAT IS THE MOST DIFFICULT AND CHALLENGING ASPECT OF YOUR JOB?
I love everything about my work but I don't really have a most difficult or most challenging aspect to it. I am an optimistic person, I actively look for the best in people and things and while I am disappointed sometimes, I am realistic and not everything works perfectly all the time – but most things work well most of the time.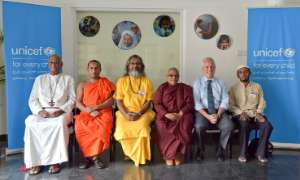 Q WITH REGARDS TO COPING WITH COVID 19, HOW SUCCESSFUL HAS UNICEF BEEN NOT JUST IN SRI LANKA BUT WORLD OVER?
I can only really speak of the situation and response in Sri Lanka. The Government and people of Sri Lanka have done an amazing job dealing with Covid19. I am pleased that UNICEF has been able to assist the Government where they have asked us to assist and we have delivered that assistance quickly. We should all be very proud of the response in Sri Lanka and we should all continue to do everything we can to support the measures taken to control Covid19.
Q MANY ACCUSATIONS ARE MADE AT UN ORGANISATIONS, ONE OF THEM BEING THAT MOST OF THE MONIES ARE SPENT ON ADMINISTRATIVE COSTS AND THE BENEFICIARIES RECEIVE VERY LITTLE OF ACTUAL BENEFICIARY MONIES. CAN YOU COMMENT ON THIS?
Yes from a UNICEF perspective. As an organisation we are entirely funded by voluntary contributions from Governments, Businesses, and Individuals. To all that fund us and to all those that we work with, we have had to be accountable for every dollar or rupee that we spend, not only that it was spent in the right way, but also that our assistance achieves what it is intended to achieve, and if it doesn't we understand why and learn from that. As a global organisation we maintain administrative costs at less than 10% of our total budget.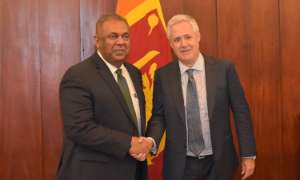 Q MOVING AROUND FROM COUNTRY TO COUNTRY AS YOU DO, HOW DO YOU ACTUALLY ASSESS THE IMPACT OF YOUR TENURE IN ANY PARTICULAR PLACE?
I leave that to others to assess my contribution to UNICEF's work and achievements. I take pride in knowing that I have contributed to the many wonderful achievements UNICEF has helped bring about in the countries that I have worked in.
Q IN YOUR OPINION, NOT THAT OF UNICEF, WHICH IS MORE IMPORTANT TO A CHILD – EDUCATION OR ENVIRONMENT?
Both are important to every child and every child is unique so it will vary from child to child across the world. Education is critically important to every child, so is their environment, so is the access to health care, good nutrition, protection from violence and other harm, access to clean water and safe sanitation and to be able to live in a family and home free of the grip of poverty.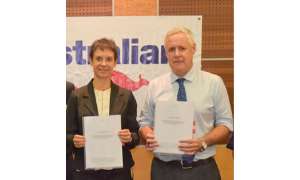 Q HOW SHOULD SPECIAL NEEDS CHILDREN AND ADULTS BE HANDLED – IN INSTITUTIONS WITH SPECIAL FACILITIES OR AT HOME?
All children have needs - some have more needs than others. The best place for any child is in their home with loving and caring parents and support. Families and Children with special needs need special support and this will often require support from the state to mobilise skilled professionals to support children and their families. Where family care is not available there can be a role for institutions. But for children, wherever possible the best place for them is in a loving and caring family home with necessary support available.
Q WHAT IS YOUR OPINION OF HOMESCHOOLING?
Homeschooling can work extremely well for some children, and not so well for others. The important thing in any form of schooling (at home or in a school) is the quality of the teaching and learning process. Where-ever children are schooled it is so important that children learn how to learn, not just learning things or facts. These skills are so important in supporting lifelong learning, which today's children will need to be successful in the new digital and post-Covid 19 world.
Q DOES RELIGION PLAY A DETERMINING ROLE IN SHAPING CHILDREN OR NOT?
Children are influenced by so many things and in many homes and families formal religion is very important, therefore it will be an important influence in the lives of children in those situations. In other households, religion might not play such an important role. Whether part of a religion or not, the moral code that we as adults live by will be an important influence on our children.
Q HOW RECEPTIVE HAS THE SRI LANKAN GOVT BEEN TOWARDS UNICEF AND ITS PROGRAMMES?
UNICEF has a very strong relationship with the Government of Sri Lanka and is very receptive to our assistance, ideas, and support. We have been with the Government of Sri Lanka working together to improve children's lives for many years, through conflicts and natural disasters and Sri Lanka's progress for children has been remarkable. Nearly all children are in school, there is near-universal literacy, nearly all children are immunized, there is access to healthcare for all, there are so many achievements that Sri Lanka can be proud of. And together we still have much to do for Sri Lanka's most precious and important resource – our Children!
Q WHICH COUNTRY'S GOVT HAS BEEN THE MOST RECEPTIVE TOWARDS IMPLEMENTING UNICEF'S PROGRAMMES?
All countries that I have worked in are very receptive to working with UNICEF. I think this is because our work is all about children and improving their lives and in doing so building a better future for us all.
Q WHAT IS THE GREATEST STUMBLING BLOCK YOU HAVE ENCOUNTERED WHEN WORKING IN DIFFERENT LOCALES?
I haven't come across significant stumbling blocks as such. In all countries that I have worked governments have always wanted to do more for their children and have prioritised this. As UNICEF we will always advocate more for more to be done, more resources to be invested and sometimes there is a gap between ambition and reality. We are also very practical and pragmatic and know setbacks are an invitation to prepare an even stronger case for critical policy changes and investments for children.
Q DO YOU THINK SRI LANKA HAS MANAGED TO SUCCESSFULLY REHABILITATE ITS CHILD SOLDIERS?
Yes – I think the work Sri Lanka has done on rehabilitating child soldiers is well recognised and acknowledged as being successful.
Q WHAT IS YOUR PASSION?
My family and my work.
Q WHAT ARE YOUR HOBBIES?
I love learning and playing music, I love cooking, I love being outdoors, I love playing tennis, I am enjoying learning to surf. I quite enjoy being a home handyman and fixing things around the house, but my family is not quite so keen on the mixed results of these efforts.
Q IF YOU COULD GIVE PARENTS ONE WORD OF ADVICE WHAT WOULD THAT BE?
Spend as much time as you can with your children. Be as involved with them and their interests, passions, and lives as you can be and as they allow. Childhood is all too short. Children have so much to learn from their parents and parents have so much to learn from their children.
By Anusha David