A comedy show is all about the jokes. But at Freddy, you may laugh during the show and may wonder whether you laughed at your own self a little while later. Written and directed by Feroze Kamaradeen, Freddy introduced a new trend of stand-up comedy among Sri Lankans.
What initially began as a five-member comedy show speaking on different issues concerning the citizens of the country has now expanded with new faces. Hence, this October look out for Freddy 3 – A New Hope as it hits the Wendt from October 18-23.

Speaking to the Daily Mirror Life, Feroze said that the whole play is brand new. "Each of them has their own content. Ifaz touches on matters relating to his religion but he will also touch upon some general content as well. We introduced Adin during the Temple Trees show and he is the darker element of the play. But I found out that people appreciated his content at the Temple Trees show. Shannon will be the first female standup and with her we can take things from a female perspective. Dino will be touching on social media and his content will be the most political along with the content Yasas will be talking about. Nisal will touch upon social issues and a little bit about media as well. So everybody will talk about these issues which will eventually boil down to our main theme of A New Hope."
Moving away from conventional comedy shows, each performer also has a unique song to wrap up their content. This adds more meaning to the concept. "The songs add a different element to it as it gives a break from listening to them right along," Kamardeen continued. "It also shows their repertoire as well. Personally I believe that standup will have a bright future in this country. It's a popular genre and a good form of entertainment. Even around the world, the comedians who are most popular are standup comedians because the medium is very flexible. Standup comedy is so dynamic that it will be able to keep up to changing trends in the political and social landscapes. Our concept is about issues Sri Lankans face. The response that we have had from audiences has been fabulous. In less than two years we have been able to perform to an audience of 2600 people which is a massive feat!".

Freddy is based on factual evidence and in one way it's a great eye-opener. For this, Feroze goes the extra mile to hunt for information, check for the accuracy and bring it out to the public. "I think Freddy has made such an impact that I have people calling me to keep me informed about certain issues that happen in the country," he added. "These include research companies talking about various findings they have come across, individuals talking about their individual issues, groups calling to talk about their rights etc."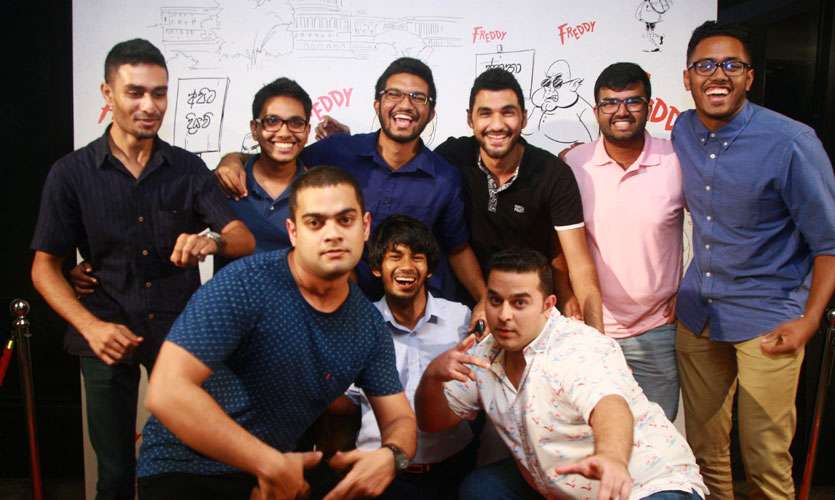 This time a cast of six members will perform with some fresh faces including a female. The cast include Dino Corera, Ifaz Bin Jameel, Adin Mathitharan, Shannon Misso, Nisal Katipearachchi and Yasas Ratnayake. As such, what began as a comedy show with regular faces has now expanded. When asked about this change, Feroze said Freddy is a time-consuming franchise. "Hence, sometimes performers feel they don't have time to invest in it but it also keeps the concept fresh. It's always good to have new faces; since the genre is big it shouldn't be dominated by the same faces as well. We are working with some young standups who are attending workshops every week. When I called for auditions after a few of the previous members left, I had more people coming than I thought. They were all good and some were brilliant. There were 25 and out of them we chose 12 and eventually ended up with six who are at the Freddy bench. We train the actors to have certain performance skills they need to have on the main stage."
Hence Freddy 3 – A New Hope will bring in some new hopes to the audience and it is strictly for adults – unless you want your child to chuckle at some adult jokes. Also watch out for some exciting promotions they are doing where you can win tickets and T-shirts! Stay tuned to Freddy 3 – A New Hope FB page for details.
Freddy 3 – A New Hope will be staged at the Lionel Wendt from October 18-23 from 7.00pm onwards.