Arcadia is a restaurant situated in Marine Drive, completely veiling what it actually is from outside. When you enter through the front door from the busy streets of Colpetty, you won't even for a second think that what's on the other end is a magical garden. I felt like Mary who finally opened the gate to the Secret Garden.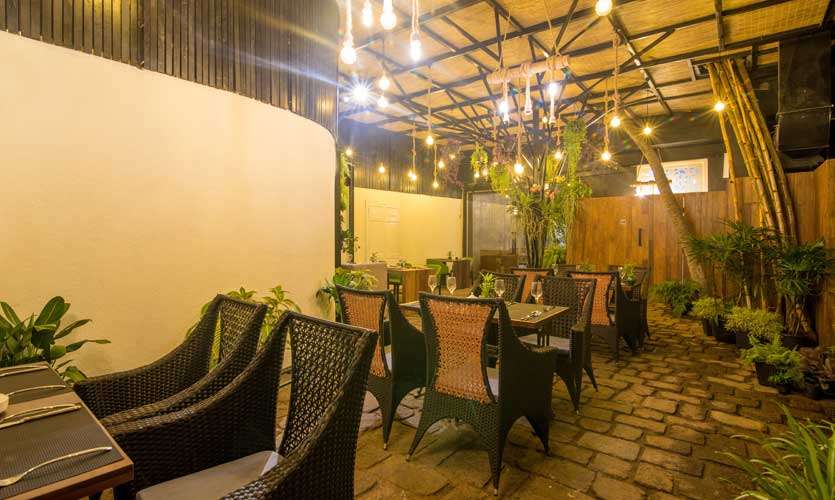 The café can accommodate up to 45 people and has both indoor and outdoor seating. They have takeaway options available and they will be initiating delivery options in about a week's time.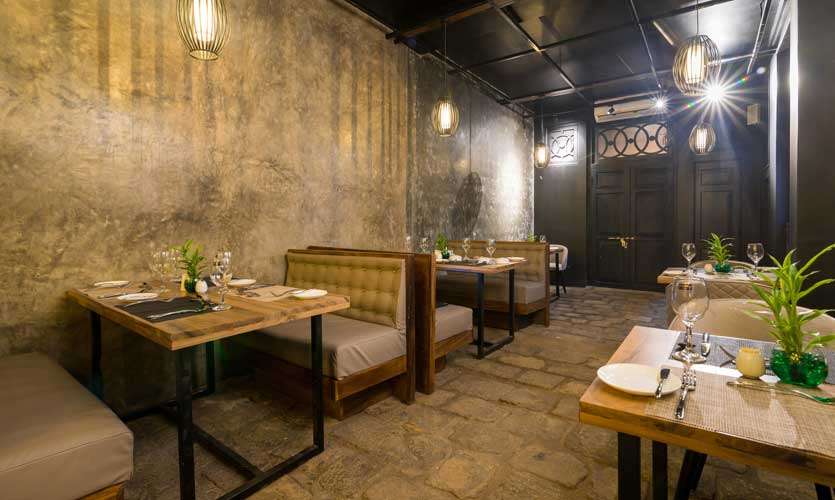 Drinks- 5/5
Chai Latte
The Chai Latte (Rs. 460) comes in a big cup and will last you throughout the evening. The only concern we had was they could have increased the amount of spices and their concentration more. I was only getting a hit of cardamom and I do love a chai latte that is packed flavour and pungency.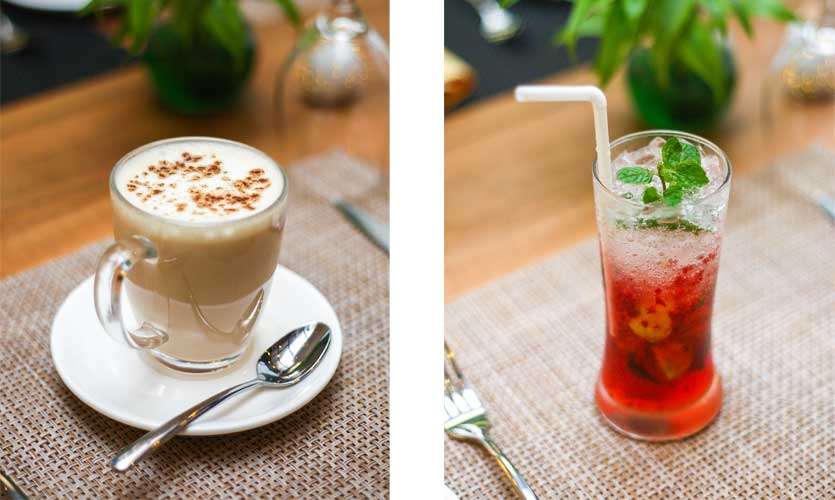 Raspberry Virgin Mojito
The Raspberry Virgin Mojito (Rs. 440) was quite refreshing and the taste of raspberry, lime and mint was nicely harmonized. No matter what the mojito is, it's always the mint and lime that should be the star, and this was exactly that.
Food – 5/5
Starters
Shellfish Stuffed Tortillas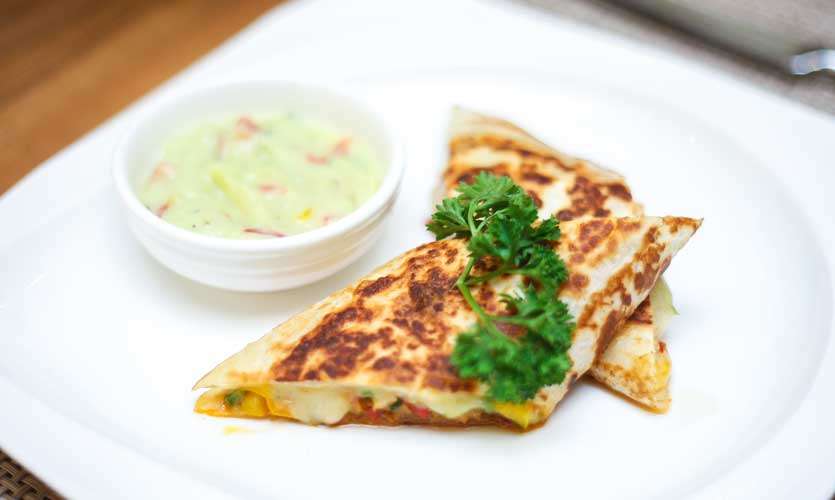 Shellfish Stuffed Tortillas (Rs. 890) come with tortillas stuffed with bell pepper and melted mozzarella cheese and you have the choice of picking either shredded crab meat or fire grilled shrimp. Not even Mexican restaurants make the tortillas this good! It was moist and juicy and loaded with veggies and crab meat and the tortilla was so soft too. So good!
Indian Ocean Shrimp Cocktail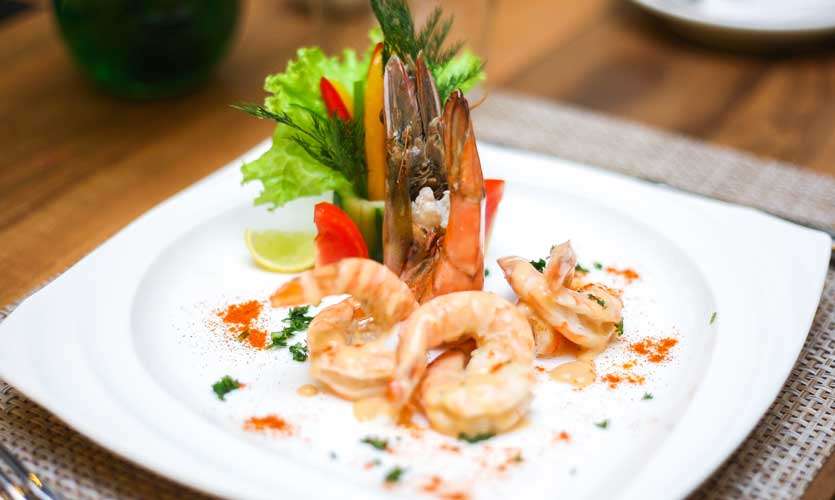 Indian Ocean Shrimp Cocktail (Rs. 940) has scrumptious wild shrimp served on a bed of lettuce, topped with cherry tomatoes and dressed in their house cocktail sauce with lime wedges on the side. This is definitely a refreshing delight to indulge in. They had kept the flavours of the ocean intact by not overcooking it and with the dressing, it was pretty darn good!
Salads
Grilled Chicken Caesar Salad with Herbed Croutons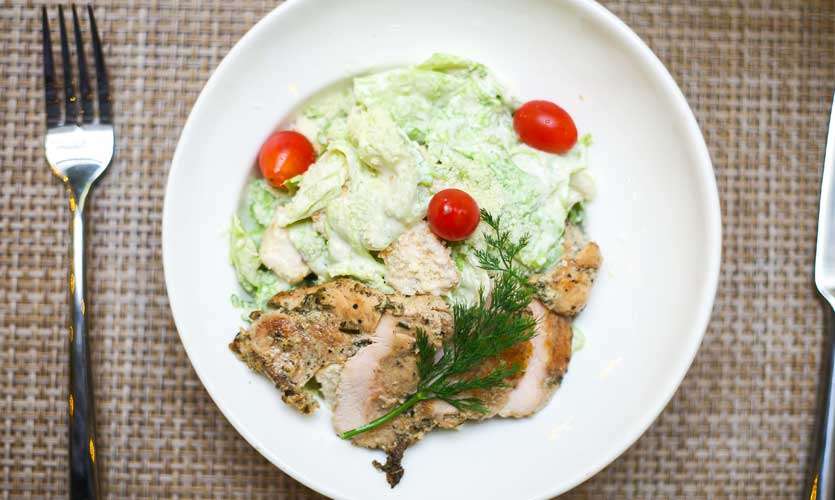 The Grilled Chicken Caesar Salad with Herbed Croutons (Rs. 790) consists of tender grilled chicken, crisp iceberg lettuce and herbed croutons flavoured with parmesan cheese and tossed with a traditional Caesar dressing of anchovies, roasted garlic and lemon. It's really hard to find good Caesar Salad these days and this was spot on! From the chicken, to lettuce to croutons, the ratio was textbook.
Soup
Fire Roasted Tomato and Basil Soup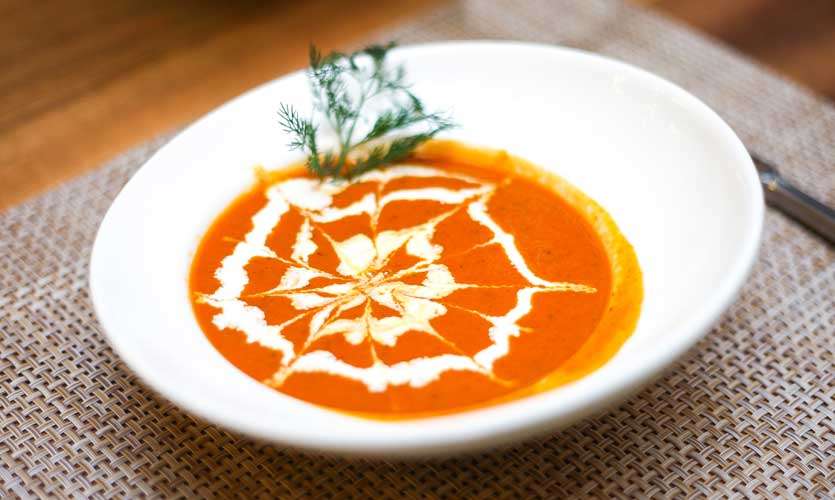 Fire Roasted Tomato and Basil Soup (Rs. 440) is made with juicy ripe tomatoes, sweet basil and caramelized onions, which is blended with fresh cream and optional white wine and this is served with either herb butter or garlic croutons. This is a soup that will fill you up just the right amount and make you hungry at the same time.
Mains
Honey Roasted Chicken with Sage and Walnuts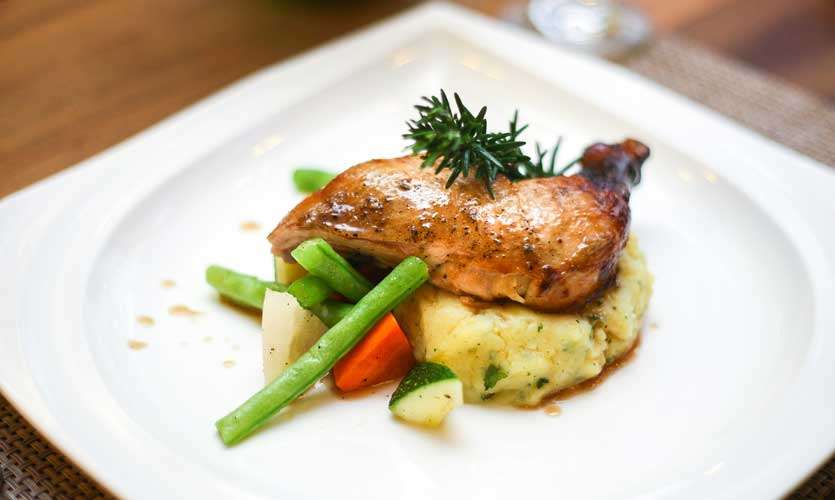 Honey Roasted Chicken with Sage and Walnuts (Rs. 1190) come with a roasted chicken that's glazed with sweet honey and dressed by sage and walnuts with vegetables that is reduced with wine on a bed of mashed potatoes. This was an elevated dish of the chicken, veggies and mashed potatoes we have on the regular. The chicken was spicy and sweet at the same time and what we loved the most were the veggies, because it was reduced with a wine and that was orgasmic.
Spaghetti Carbonara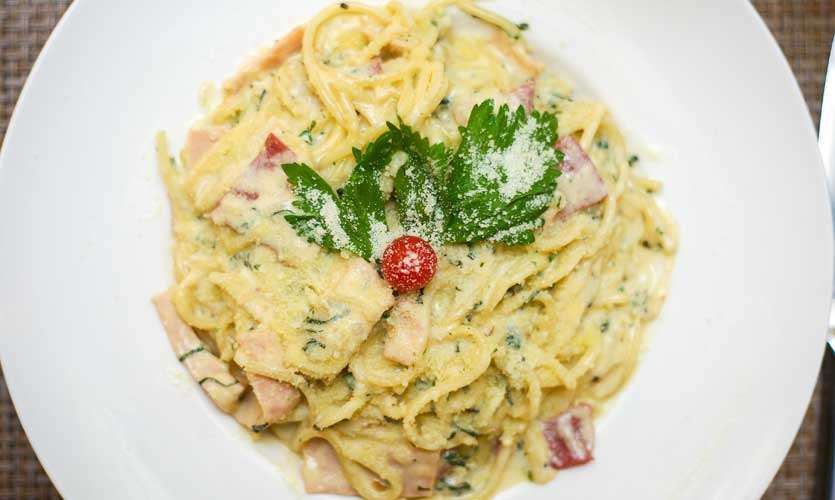 Spaghetti Carbonara (Rs. 740) comes with spaghetti cooked with egg, bacon, pancetta and cheese. This is probably the best carbonara I've ever had. It was creamy and cheesy and the seasoning was spot on and with the bacon it tasted heavenly.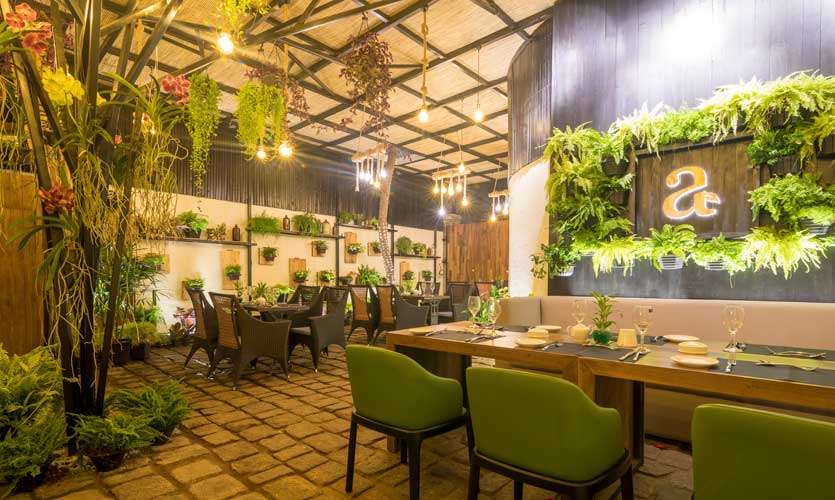 Dessert
Vanilla Raspberry Cheesecake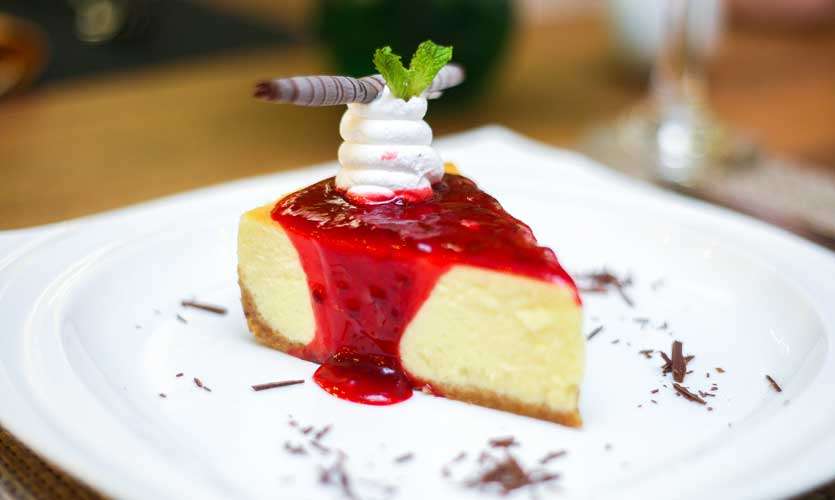 Vanilla Raspberry Cheesecake (Rs. 600) was baked to perfection. From the crust to the cream cheese to the raspberry topping, everything was perfect. You can fill up on just this!
What we recommend: The Shellfish Stuffed Tortillas, Indian Ocean Shrimp Cocktail, Grilled Chicken Caesar Salad, Spaghetti Carbonara, Vanilla Raspberry Cheesecake and Raspberry Virgin Mojito were our favourites.
Service: 5/5
Parking facilities: 5/5 please ask them where the parking areas are, they will direct you.
Toilets: 5/5
Arcadia definitely provides a unique experience with their eclectic food and their ambience. We would definitely go there again to try out their other dishes and can't wait to see what they come up with in the future.
Tips/notes by author – All prices are inclusive of government taxes and service charge. They also have a separate café for your breakfast fix.
Photographer – Damith Wickramasinghe