Located 7° north of the equator and sitting at the edge of the lake is this lounge bar and al fresco dining venue. Overlooking the serene lake which reflects the stars on a starry night and the distant darkness, this is an awesome place to chill out.The only thing that disturbs this perfect tranquillity is the brightly lit billboard that has recently come up right across the water. Serving Mediterranean dishes, Tapas and Steaks, 70has become one of the popular hangouts in the city among the young and the old.
Beverages
7° has a wide range of juices, cocktails and mocktails and the bartender will fix you just about any concoction you can dream up. I tried out the Virgin Strawberry Mojito which was a rather pleasant drink with a light flavour of strawberry.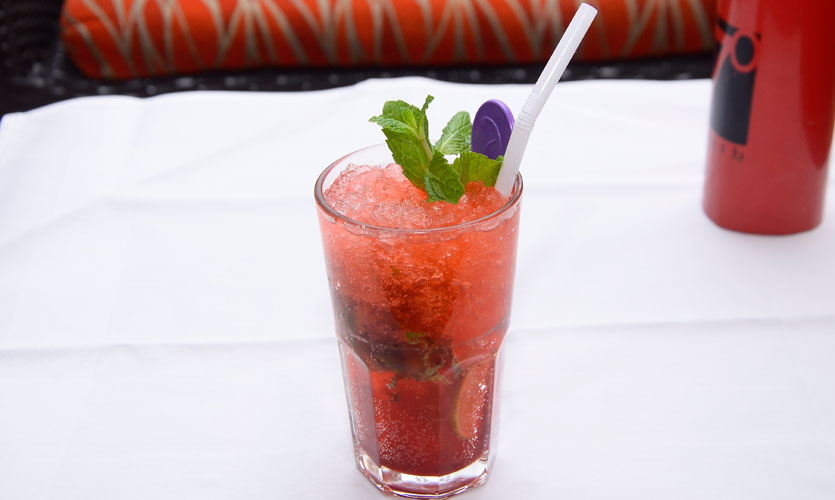 Bites &Tappas
The Bite Menu has six interesting items to select from. They are ideal to snack on with your beverages if you are not too interested in a heavy meal. There is the popular Hot butter cuttlefish, Garlic Prawns, Black pepper lamb, Fishcake, Basil crunch beef and Double fried pork belly Rs 550/- which we had. This was a tasty preparation, not too spicy with a slight aftertaste of sweetness but of course, as expected with pork belly it had a load of fat. Anything from the Tapas menu is priced at Rs 450/- and here also they have six varieties. The Fried seafood combo platter was a tad bit disappointing but the Avocado & green chilli chip and the Chicken Strips with spicy tomato were delicious dishes.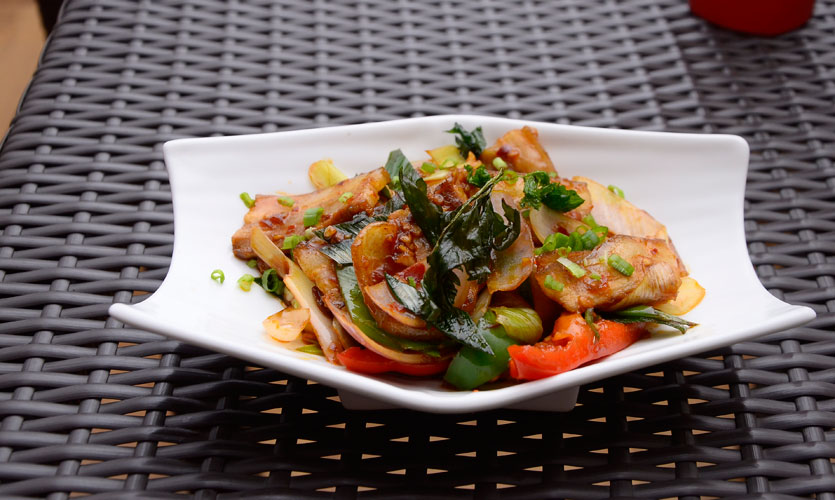 Double fried pork belly
Meat & Fish
They also have a selection of Meat & Fish preparations. Pecan butternut crusted salmon steak Rs 1,750/- is a must try if you go there. The Salmon was done just right. The Mixed green salad Rs 350/- from the side orders section of the menu is what goes best with the Salmon. The Mixed Grill 1,900/- is another super dish from this selection. Although it doesn't have a huge variety it is delicious and the sunny side up egg on top makes it very appetizing. The Paprika Potato wedges Rs 320/- were recommended by the chef as a side to have with this dish and it did, in fact, complement the dish.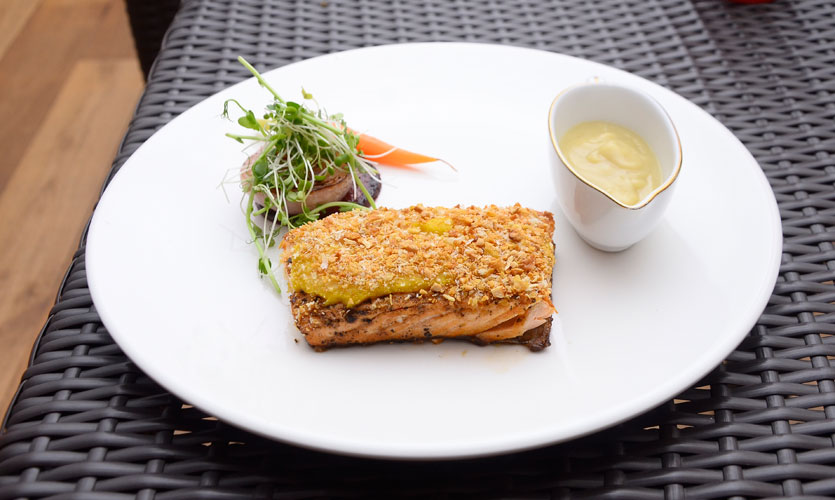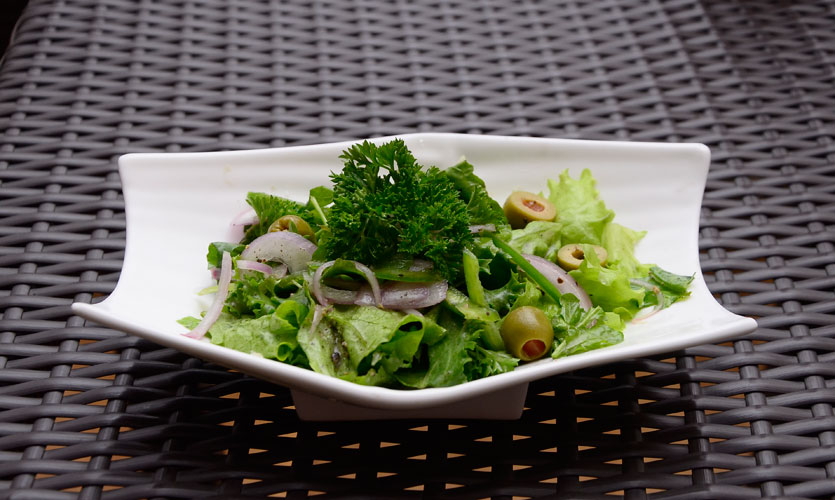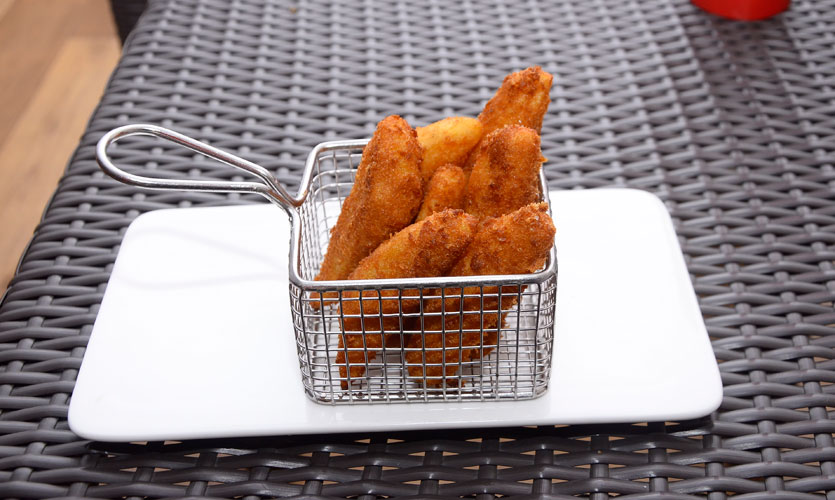 Pasta & Pizza
From the Pasta range, we tried out the delectable Creamy pesto seafood pasta Rs 850/-. It was made with Penne pasta, shrimps, sea bass and mussels and was topped with pesto béchamel dust with parmesan cheese. This was a lovely creamy pasta that anyone would love.The Pizza that was recommended to us from the Signature Pizza range was something called Chicken ad Astra Rs 890/-. This delightful Pizza which we really enjoyed had lots of chicken, sweet peppers, red onions and tomato blended with a bit of pesto oil. It also had a generous layer of mozzarella.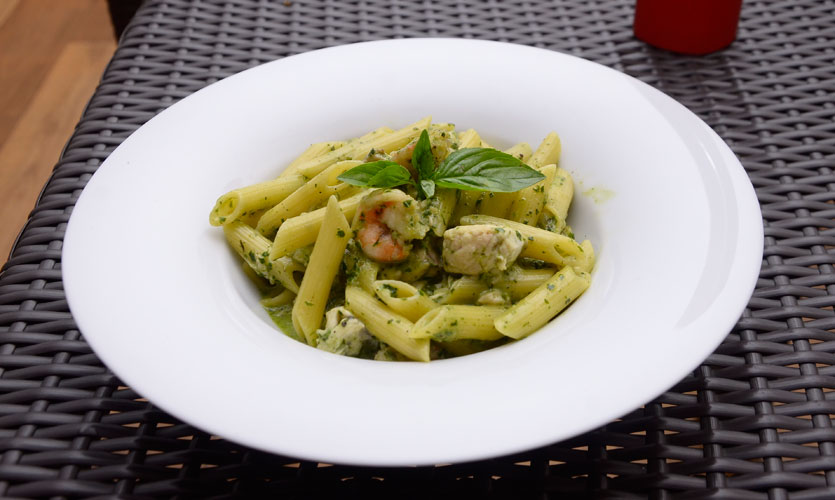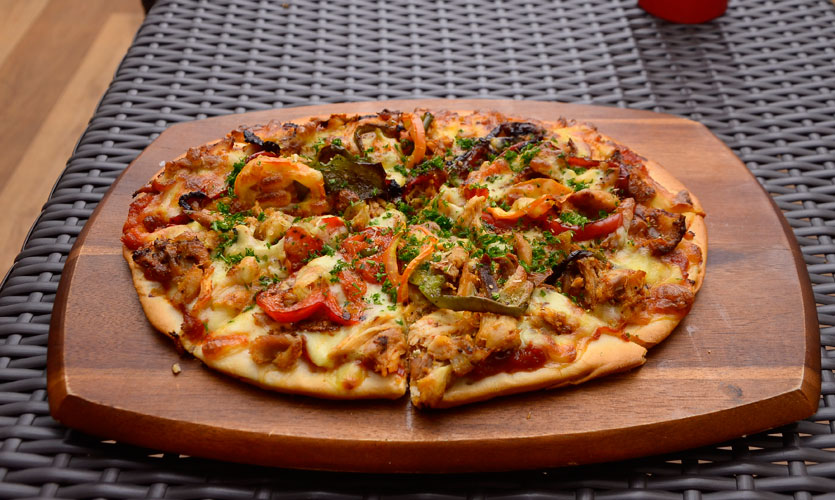 Entertainment
The entertainment and the ambience are the key elements that have made this venue so popular. They have been featuring good bands that people enjoy listening to when they want to chill out with some quality food and drinks after a hard day's work or during the weekend.If they don't have a band playing they have a DJ providing good music. They generally stick to mellow music on weekdays and it gets a bit more upbeat during weekends.
Service
The service was efficient and we didn't have to wait long for the food to arrive. The hospitality extended to us by Manager Prabath Fonseka and his team made our experience at 70 North very pleasant.
Open Daily: 5:00 pm to 1:00 am
Weekends until 2:00 am
For reservations - +94 11 2491948
Pics Waruna Wanniarachchi