Sushi is probably the most well known Japanese food of all. The moment you mention Japanese cuisine, the first thing that pops into your head is undoubtedly Sushi. It's such a loved, widely eaten, extremely delicious food, that there's a lot of pressure on "Itamae" or Sushi Chefs to satisfy these high expectations!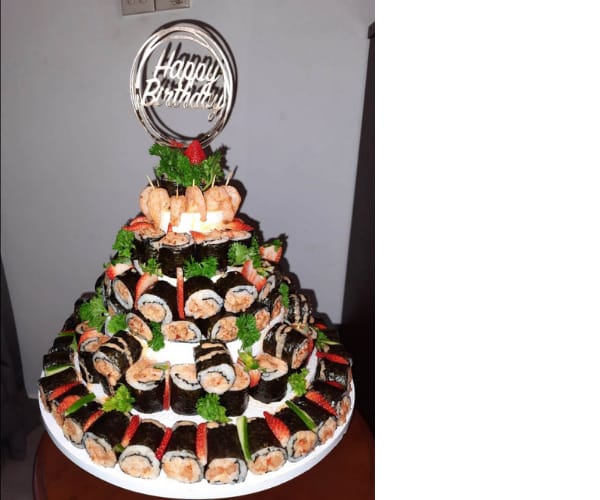 I've never had Sushi authentically from Japan so my experience is based purely on what I've eaten from Sri Lankan Japanese outlets. While most of the outlets do a splendid job of putting some great Sushi on my plate and truth be told I've enjoyed it, one thing I've always craved for was a touch of Sri Lankan flavour. It's hard to even explain it but I think all of us Sri Lankans love our spices, and we love fusing authentic foreign dishes and adding a bit of our own traditional flavours into them. While on the lookout for a Japanese restaurant that could cater to my needs, a friend recommended Sushi Ru.
Before I even tried it, I knew this place was going to be different. First off the brains behind the operation, Mrs Ruzaila Zivar Mukthar was operating from her home. That's the first time I've heard of Sushi being made by a home chef (in Sri Lanka at any rate). Instantly it had an appeal. Aside from being a Sushi Chef she was also a happy wife, a doting mom of twins and is also a part of "The Dream Team" a very enterprising and talented group of women who run their own businesses, selling their own homemade products, from foods to arts and crafts. I was intrigued. The next step was of course to taste the food!
Chillie Prawn, Smoked Salmon, Spicy Chicken and Beef were the samples that I tried out. The Chillie Prawn is what I'd recommend straight off the bat. The prawn itself was soft, flavourful and considerably large which allowed me to distinctly experience its flavour apart from the Sushi roll. However once wrapped in the Sushi roll and topped off with some soy sauce it was a great combination of sweet, spice and tang in one delightful bite! The Beef was another thriller! Being a playful twist on traditional sushi, the tender yet juicy beef complemented the sushi to give off a very strong, savoury, meaty flavour.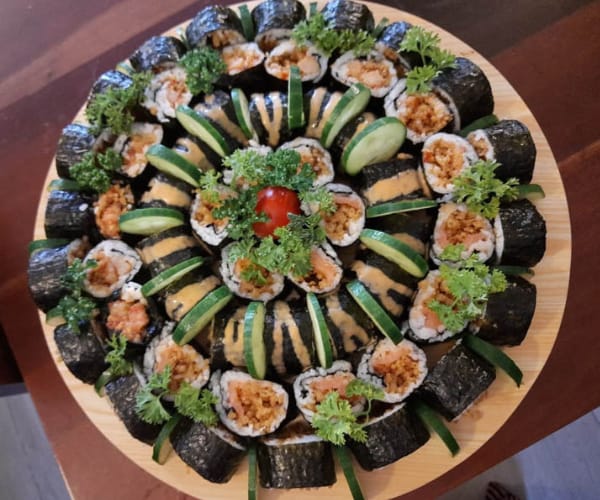 The "Spicy" Chicken wasn't as spicy as I expected. I think the Beef in comparison was spicier. Don't get me wrong, it tasted good. Complemented by the Vinegared rice and other ingredients it made for a very tasty roll. The smoked salmon was another superb Sushi roll! The salmon was soft and the Sushi overall had a mild, buttery flavour and just melted in my mouth! This is a great choice if you're a newbie to the world of Sushi.
A box of Sushi which consists of 12 to 14 rolls is available ranging from a price of Rs. 1200 to about Rs. 1700 depending on which flavour you decide to order. 12 of those is sure to fill you up and leave you content, and I think the price is pretty decent for a portion that size as well.
Whilst offering Sushi Cakes as well as the other items on their menu, they are also the pioneers in the concept of Sushi Towers, a novel concept, which like Sushi Cakes, is an alternative celebratory item, something different, that would be ideal to feature on your special day. So if you are craving some Sushi made to satisfy the Sri Lankan palate then "Sushi Ru" is the place for you!