Today on Fashionably Danu, I feature one of my favourite Lankan brands, La Ceyloné, and their cool new masks. When COVID19 lockdown just started, La Ceyloné started working on masks with a funky outlook to it, and it's great to see it in the market today... A set of 5 for LKR 2500. These re-usable masks are comfortable to wear and can be washed. Let's make the new "normal" Fashionable.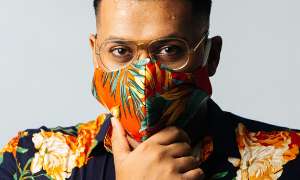 LA CEYLONÉ POSTED A MASK IMAGE JUST AFTER LOCKDOWN - WHAT MADE YOU GUYS WORK ON IT SO SOON?
We posted an image of a working sample of a mask in late March, where the current pandemic was in a rising stage in Sri Lanka. However, the majority of our global franchises knew from January onwards that it will come to a point where everyone will need protective masks. It was under that demand that we started testing different thicknesses, sizes, and patterns for our face masks. Keeping in mind that we could add our own touch of colour and prints to raise positivity into the lives of those who have chosen our brand.
Q WHEN YOU PICK FABRIC, WHAT DO YOU LOOK FOR? La Ceyloné has always been the pioneer of bringing bright, bold prints to the market under our savvy resort wear collection since December 2018. Comfort and durability are our main focus when picking fabrics, which have a natural dye-composition. In simple, high-quality fabrics with similarly dense dyes for a feather-light touch, with colour mismatching to suit any occasion. Another important factor we strive to uphold is to keep our products as eco-friendly as we possibly can.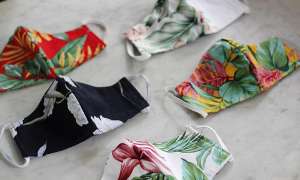 Q HOW DARING DO YOU THINK MEN AND WOMEN ARE IN FASHION TODAY; WOULD THEY PULL OFF A FLASHY MASK WITH COVID?
We think bold statements through clothes which people have worn, time and time again has proven to help create and showcase different identities and personalities. Since the launch of our brand, men, much like women, expressed their bolder, brighter side through our products. We have no doubt that people would want to brighten up their day (given the current times) by adding a subtle touch of colour to a now essential item like a face mask.
Q AS A BRAND HOW MANY PIECES DO YOU INTRODUCE IN ONE COLLECTION AND HOW WOULD IT WORK IN THE FUTURE?
To keep our print lines fresh, we add new prints every month. As of now, that collection varies between 10-30 prints per collection. Some exclusive prints go out to our global shops. In the future, we plan to introduce much more than our classic collections, by introducing to our customers, a premium range, and limited edition prints, as well as customizable prints for our more exclusive fans.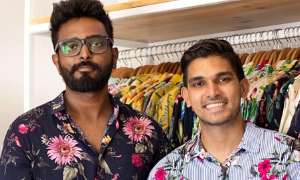 Q TELL ME ABOUT YOUR MASKS; WHAT HAVE YOU GUYS KEPT IN MIND WHEN CREATING IT? While maintaining the basic standard of a face mask, we wanted it to be comfortable, breathable, as well as re-usable. We have added dense-fusing to the middle, but one that will not make the mask too heavy for your face. Of course, the florals and prints make them that much more special!
Q FLORAL SHIRTS ARE A BIG DEAL, WHAT ARE YOUR BIGGEST SELLING PRINTS? THERE'S ALSO A CLUTTER IN THE MARKET - WHAT DO YOU SAY MAKES YOU STAND OUT?
We don't have a specific biggest-selling print per se, as people end up liking a dozen of our prints. Anyone who admires a large colour palette and different use cases such as various occasions that they wear our products to, usually love all the prints! As for the cluttered market, at the time, we introduced something that was lacking. Now we see others have taken note of it, but this is just the beginning of a much bigger brand. We have collections that are ready to go out to the world, our mission as always, is to take our Sri Lankan brand international. To compete with global statement fashion brands has always been our end goal.
Q HOW CAN ONE PLACE AN ORDER FROM YOU?
It's easy; find us on social media either under our Instagram, @la.ceylone or search for our Facebook page, 'La Ceyloné,' then, select a design from our recent images and drop us a message to order it, that's it! Until the lockdown eases, we will be delivering within Colombo. Afterwards, we will be back to delivering island-wide.
Q WHAT HAS THIS GLOBAL PANDEMIC TAUGHT OUR LOCAL BUSINESSES AND STARTUPS?
We think Sri Lanka is a resilient nation. If at all, it has taught us like everything in our past, from natural disasters to wars, to recent terrorist events, we have gotten through it all, and that this too, shall pass. An important lesson that we have learned, and will keep on learning, is to keep our heads held high and not to break under pressure.
Q HOW MANY FACE MASKS ARE OUT IN THE MARKET? WOULD YOU BE ABLE TO CUSTOMIZE, IF NEEDED?
Right now, we are working on global orders for the face masks, but with our current resources, we are also manufacturing a handful to cater to the local market. We plan on increasing our production soon, which will allow us to take any number of orders possible. As for the customizable element, we're looking into it!
Q WHAT WOULD YOU SAY ARE 5 IMPORTANT ITEMS WHICH NEED TO BE IN ANY MAN'S WARDROBE TODAY?
A pair of jeans that you can throw around with any outfit, a dress shoe, a pair of shades to beat the heat, a La Ceyloné shirt, and given the current circumstances, a facemask. After all, an expressive man is a fashionable one!
Photography - you're my favorite