Who - Viran
Today on WTF I take up a controversial subject: Make up for men. It's been around for many years, and the art of it is to wear it well and not show that you are in fact wearing any makeup while using it to your advantage.
Sometimes in Sri Lanka, you see men dolled up on their wedding day, and it can look very obvious as most probably they have used the make up which was assigned up for the bride. The makeup looks caked and artificial. I thought I'll speak to a trendsetter who is making waves in the makeup industry in Lanka on how to wear make up for men. I sat with him to try two looks, one which was the basic look, something subtle and light, and the other, we pushed for some fantasy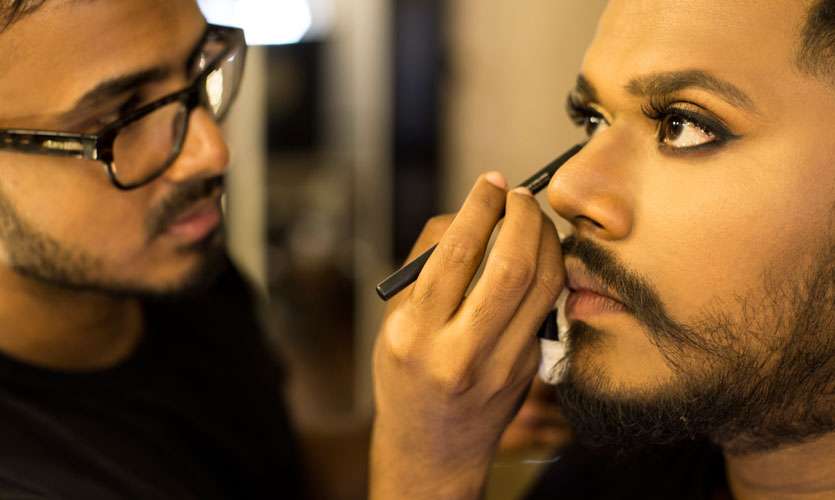 1. What made you take makeup as your carrier?
I have always loved doing creative things. I used to sketch all over my text books when I was a kid. After leaving the corporate world I found my passion for makeup. I then started doing it full time and it turned into a career.
2. Do men wear makeup? And how can one wear it?
Of course, they do. If you see all the male celebrities on tv and or even in magazines, they don't wake up looking like that. They get their hair and makeup professionally done. For men, I believe it has to be really natural. The skin has to look healthy and even, with a little bit of sculpting where it's needed.
3. Where can a man learn to wear
makeup
?
Well, you can learn anything on the internet these days. And you can get a professional to guide you through it as well.
4. What products do you use?
I use a lot of them. I'm very focused on the quality of the product. So there are loads of good products in the market.
5. Internationally is this a trend? Do men wear
makeup
? And who normally
uses
it?
As I mentioned before M.ale celebrities have always worn makeup because they are expected to look their best all the time. Now there is a lot more awareness about makeup so it has become a trend for men to use a bit of makeup. The right amount of makeup does give a lot more confidence to a person.
6. You did two looks on me today, tell me about the looks?
The first look is to show how men (in my opinion) should wear makeup. For the second look, I did what I would do on a female client to make her look glamorous without making her look completely different. It looked good on you Danu!
Photographs and video by – you're my favorite
Hair and Make up – Capello Salons
T-Shirt – Dr. Slim, available at Jump