Colombo gets flooded during heavy rainfall and this has been attributed to the haphazard filling of wetlands, mainly for developmental purposes. Since October 2018, Colombo has been accredited as South Asia's only Wetland City as per the RAMSAR Convention but environmentalists have raised concerns over authorities and their inaction in terms of protecting urban wetlands. Tharanga Herath, a passionate birdwatcher and wildlife artist has been a frequent visitor to the lesser-known Pepiliyana Wetland since childhood from the 1990s. But two decades later, he observes alarming threats that would impact the flora and fauna that dominated the once birdlife-rich habitat.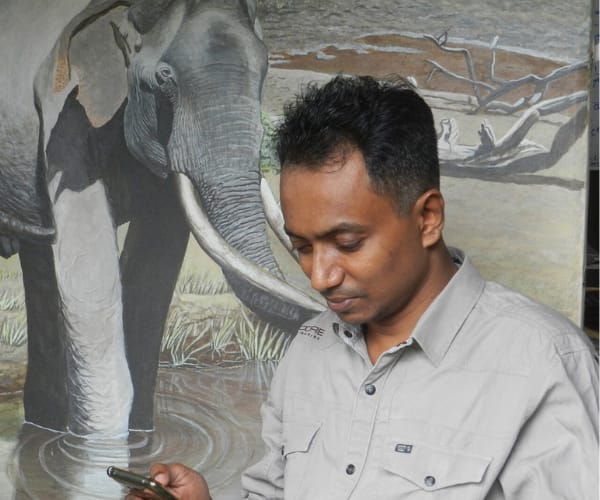 The Pepiliyana Wetland
Located in between Gamsabha and Pepiliyana Junctions on either side of the Nugegoda-Ratmalana road, the Pepiliyana Wetland spans nearly 20 hectares.
"It is a fine wetland with paddy fields and marshy habitat that provided a useful combination for waterfowl, butterflies and other wildlife," added Herath in an interview with the Daily Mirror Life. "It is a hotspot for migratory waterfowl and associated bird species and is a good ecosystem for students living in Colombo who study birds, ecology and natural history. This wetland serves greatly in water/ flood management in the area adjoining the crowded Nugegoda suburbs and also serves as land for paddy cultivation for a long time providing a mutual relationship between local agriculture and wildlife." According to his studies around 117 bird species have been recorded in a small area apart from around 75 butterfly species.
Importance of urban wetlands
Apart from maintaining the groundwater table, urban wetlands need to be protected for various reasons. "Wetlands serve various functions from water storage and recharge to the retention of sediments, improving water quality by water purification and removal of toxic compounds, nutrient cycling, agriculture, serving as natural cooling agents, air purification by vegetation and by acting as carbon sinks," added Herath. Apart from that, a wetland is a place for students and researchers to expand their knowledge on urban wetland wildlife.
Bird migration and nesting patterns
Speaking about migratory birds, Herath explained that migratory birds are more or less genetically programmed to migrate to the same site each year. "Migratory birds fly down to Sri Lanka in northern autumn-winter along the Central Asian Flyway. There are 2 migratory routes from which these birds enter Sri Lanka, namely Western and Eastern routes. Migratory birds, especially those that travel along the western route, enter the island along the western coast up to the Gulf of Mannar. After their long journeys of 10s of 1000s of kms they are very much exhausted at their landfall and their lives are at risk, being hit by vehicles or any obstacles, runovers and/or being preyed on or injured by domestic cats and dogs. Hence all coastal wetlands play a major role in the survival of migratory birds. They need a safe environment amongst busy urban habitats, particularly in a city and suburbs like in Colombo."
Herath further said that some migratory birds take respite in Colombo wetlands before they settle in their usual haunts for the winter. "Many other waterfowl spend their winter in these vital habitats till they leave for the northern latitude countries to breed towards the end of April next year. Migratory birds start to arrive in the island usually in September- October while a few species arrive during late August as well."
Speaking about the type of birds Herath said that the migratory bird population in Sri Lanka largely comprise waders or shorebirds. "They are small to medium-sized birds that walk/ wade in the shallow water to feed. These birds who travel very long distances need their essential habitats including shallow shorelines to survive."
"Ploughing fields are excellent habitats for wading birds. Shallow water habitats are essential for their survival. There is a nice correlation as 'Maha' season begins. Generally at the time when winter migratory birds arrive in the island where farmers set up mudflats, ideal habitats for migratory shorebirds. On the other hand, during the paddy growing season, such habitats are occupied by a different and more skulking set of birds including Warblers, Painted- snipes and Watercock etc.," he added.
But several threats exist. "Habitat loss is the major threat to migratory birds because they certainly need the same habitat in their return to wintering quarters annually. Habitat alteration and degradation is the other threat in urban habitats. Coastal construction also disrupts migratory birds' landfall."
Spotlight on rare and resident species
On www.birding.lk Herath presents some breathtaking photos of bird sightings witnessed at Colombo's wetlands. When asked about the different species he has spotted, Herath said he was thrilled to see a Grey-necked Bunting during the last migratory season on 26th December 2020. "My little daughter Tharulya who accompanied me found it twice, subsequently on the same visit. It is a vagrant species in Sri Lanka with only very few records. Among the waterfowl, the Greater Painted Snipe (Ulu Kaswatuwa) is a highlight as there is an established population of this species here. This is an uncommon and elusive resident breeding bird that is seen from time to time in this wetland depending on the status of the vegetation. It is mainly crepuscular and sometimes seen in broad daylight. Unlike most of the other bird species, the female is colourful compared to the male as the male does parental work including incubation and rearing young. Even though their population is intact, they need vegetation and paddy for their survival."
Some of the other highlights include:
Breeding populations of Black-winged Stilts (Kalapu Kirala)
Green Sandpiper (Kola Siliwatuwa) - an uncommon migrant to Sri Lanka is rare in Colombo wetlands.
Glossy Ibis – a rare migrant to Sri Lanka that has been recorded only from a
few sites
Watercock (Wil Kukula)
Ruddy-breasted Crake (Mati Korawakka)
All three Bitterns namely Cinnamon Bittern, Black Bittern and Yellow Bittern
Indian Nightjar (Bimbassa)
Indian Scops Owl and Brown Hawk Owl
Other fauna including fishing cats and saltwater crocodiles are found apart from the purple-faced langur spotted in adjoining woodlands. But according to Herath, a large number of respective bird species seen 10-15 years ago have reduced in numbers today. "For example back in 1994 I saw a flock of 39 Glossy Ibis species in Pepiliyana and that was the largest number recorded at that time. Thereafter it was recorded here only a few times and I haven't seen them recently here. In the 90s all Bitterns were common encounters.
Sadly populations of Cinnamon and Black Bitterns are declining so fast as they are seen very occasionally here. The clearing of reeds and vegetation in association with the canal and waterways causes this decline very much. The Indian Nightjar is usually a bird of dry zone open habitats, such as large national parks. They are occasionally found in the wet zone. I have found a population in Pepiliyana marsh in recent years, which is very significant. Being nocturnal birds they need vegetation to roost during daytime."

A rapidly changing greenery
Having visited the Pepiliyana Wetland since the 1990s, Herath observes various changes taking place in its surroundings. "A good number of native freshwater fishes were found in early days. But the drastic increase of invasive species such as Tank Cleaners and Tilapia has caused adverse impacts apart from water pollution. Vegetation along the main canal has been removed."
"There is an ongoing development project in the Wetland converting it to walking tracks by SLLDC. Walkways in urban wetlands is a new trend of development that has captured most of Colombo's urban wetlands. In addition, there has been a conversion of natural wetlands to 'parks' by UDA too. It is good if the attention of relevant authorities is drawn towards these vital eco-systems if such development is truly conservation-oriented. But with our field experience of the years we have observed that there is a prominent decline of waterfowl populations and some other fauna and flora as well as degradation of the natural system caused by depletion and alteration of habitats through the projects," Herath added.
He further said that several habitats such as shallow shorelines, mudflats, reedbeds and typical native wetland vegetation and habitat combinations should be present in order to keep the diversity and the wetland ecology as creating only a lake with open water surrounded by walking trails do not ensure the conservation of a wetland. "However, proper and sustainable development will create the opportunities for conservation and awareness activities such as research, education and proper tourism. 'Nature' MUST exist if your vision is to really promote nature."
"We as the general public also have the responsibility to preserve these resources which are crucial not only for the wildlife but for humans as we discussed above the importance of wetlands."
"With the present trends, wildlife photography has become popular, highly encouraged by social media and other online platforms and listings with easy reporting of species. Urban wetlands are also getting popular as the sites provide easy access and close encounters with birdlife. While enjoying the birdlife of over 150 species in Colombo wetlands, it is our duty not to disrupt their natural behaviour.
Sri Lanka being a small country the wildlife and their habitats are extremely vulnerable and when it comes to Colombo and its suburbs, wetlands are the only natural habitats remaining and must be preserved before it's too late," he said in his concluding remarks.

Images courtesy Tharanga Herath